Description
Celebrate with us at Memorial Tabernacle Church! Join us Saturday, September 15 at 5:30PM for our 93rd Anniversary Salad Festival!
Over 25+ of Salads

Raffle

Speakers

Resources promoting Health Eating & Mental Health

Treats by Deaconess Urealene (additional cost)
Participate in the Raffle! Only $10 each!
1st: 2 Warrior Game Tickets
2nd: $100 Cash
3rd: 50 Min. Massage for 2
4th: $50 Costco Gift Card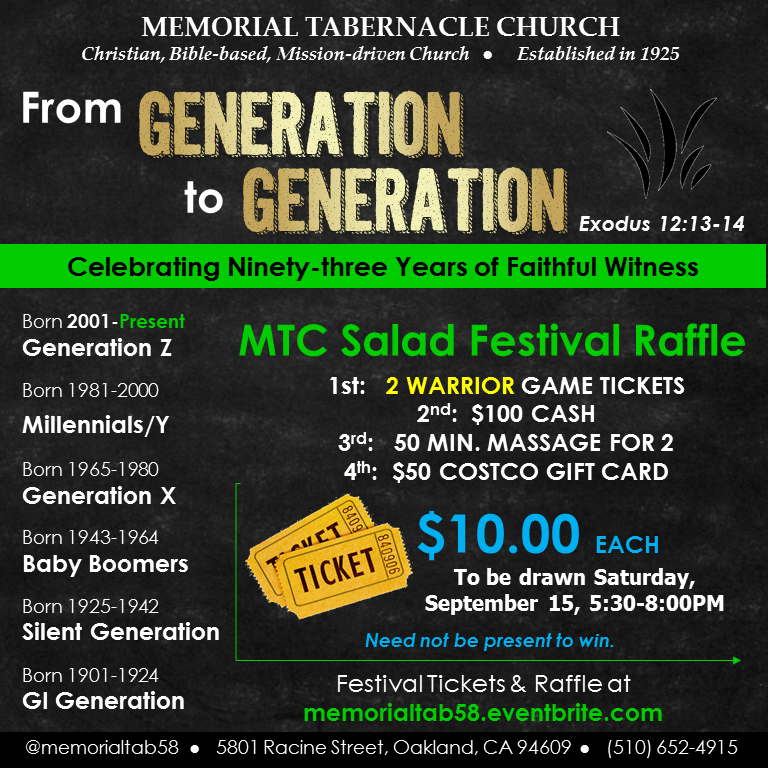 If you are a community partner or business wanting to table, please contact us at admin@memorialtabernacle.org.

#93YearsAndAdding

#FromGenerationToGeneration

#Faithfulness

#HealthyLivingHealthyEating

#WalkingInPower
About the Ninety-third Church Anniversary
"From Generation to Generation": Ninety-three Years of Faithful Witness (Exodus 12:13-14). We are standing on the promises of God as we enter our 93rd year of excellence in ministry, service, sharing, and impact. Each generation is tasked with identifying a way they can do to demonstrate the impact the church has had on their generation and to invite their generation to the celebration for continued engagement beyond. For more information, please visit memorialtabernacle.org.