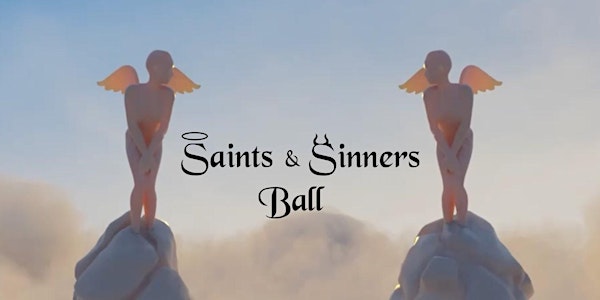 Saints & Sinners Ball
2nd annual Saints & Sinners Ball an exclusive, private, and immersive experience
When and where
Location
170 Dillon Rd 170 Dillon Road Hilton Head Island, SC 29926
About this event
Are you a Saint or a Sinner? You'll find out during our 2nd annual Saints & Sinners Ball. This immersive, 21 and over, exclusive experience will allow you to explore both sides of your personality as you let your inner angel and devil play. Throughout the night, you will indulge in opposing experiences where angels may visit Hell and demons may visit Heaven for one night only. The Saint's Ballroom and Sinner's Nightclub will both provide themed food, drinks (beer, wine, soft drinks), and entertainment included with the cost of admission. Themed cocktails will be available for purchase on both levels. Proceeds over event costs will be donated to a local charity.
What does your ticket include?
Full access to all experiences
Full access to the Saint's ballroom & passed hor d'oeuvres
Full access to the Sinner's nightclub & hor d'oeuvres buffet
Complementary Oniverse poison drink from the demon fountain
Ability to invite 4 additional guests (see details below)
Drink tickets can be purchased separately
Saints Ballroom
As the gates to the Saint's Ballroom open at 7 PM, you will find yourself dancing in the clouds among your fellow angels and demons while indulging in all the Saints have to offer.
Live music featuring a Piano Bar celebration with Ellie Stewart
Heavenly, passed hor d'oeuvres and desserts
Two bars: (1) featuring beer, wine, and a sparkling specialty beverage perfect for any Saint (included), and (2) featuring specialty Saintly cocktails you can purchase
A DJ playing a variety of danceable hits from the 80s, 90s, and today
Sinners Nightclub
The passage to the Sinner's Nightclub will open at 8:30 PM, and as you transition into darkness prepare your inner demon to come out and play.
Featuring Oniverse Productions, you'll step into the "Lair of Akumu" as you immerse yourself in a musical performance you won't forget
Devilish hor d'oeuvres and entrees to feed your soul
Two bars: (1) featuring beer, wine, and a sparkling specialty beverage perfect for any Sinner (included), and (2) featuring specialty Sinner cocktails you can purchase
Heron's Hell Spinners will provide an amazing spectacle around the firepit
Poison to Poison playing a variety of hits to let your devil play
Rules of exclusivity
Guest invitations: As our event is invitation only, each attendee may extend an invitation to 4. To add attendees please email Taryn at tarynwd@gmail.com, subject line Saints & Sinners Ball attendee, and include name. cell phone, and email address.
Photography: We will provide photographers to capture the night. There will be plenty of opportunities for our photographers to capture the fun. Photos will be shared to all attendee's email addresses immediately following.
Cell phone policy: To ensure privacy of our guests, we will not allow personal photography. We ask all Saints & Sinners to keep your cell phones tucked away throughout the event. No exceptions. If an attendee is seen taking a picture you will be ejected from the event and removed from future party invites.
Dress code
Are you a Saint, a Sinner, or in between? A complicated decision that can open a world of costume possibilities. Once you've selected your vibe let your creative juices flow
Costumes are recommended but not required, however we do ask that you dress in the spirit of the event (meaning if you aren't going to wear a costume, then dressing in white or black is a great substitute)
Costume ideas: you really can't go wrong and this year we are NOT reserving costumes in advance!

Sinner: Devil, Ted Bundy, Bad Priest, Demon, Jason, Babadook, Fallen Angel , Cruella
Saint: Angel, Nun, Priest, Cupid, Mother Teresa, Saint Patrick, Knight, Wonder Woman
Sponsors
Roy's Place Café & Catering
Rollers Wine & Spirits
Burnt Church Distillery
Custom Confections by Carrie Castano
Ticket Pricing
Initial tickets are at a special rate of $95 until October 3rd. Beginning October 21st ticket prices are $125 each. Doors close at 9 PM, no exceptions, no refunds