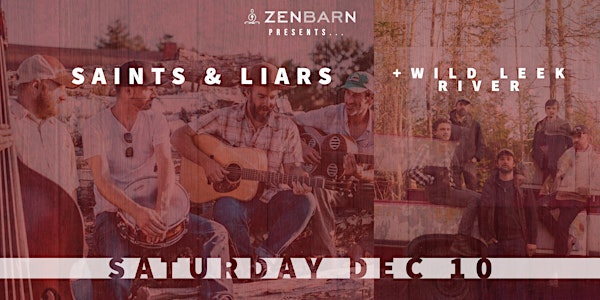 Saints & Liars and Wild Leek River
UNDER 21 WITH PARENT OR LEGAL GUARDIAN
Join us for two of Vermont's finest Americana/Country bands with Saints & Liars and Wild Leek River
When and where
Location
Zenbarn 179 Guptil Road Waterbury Center, VT 05677
Performers
Headliners
More Performers
About this event
Saints & Liars is a five-piece Americana band from Southern Vermont, blending their own variants of Country, Folk, Bluegrass, and Rock n Roll. Known as "Vermont's Roadhouse Roots Band", having thrived in such venues throughout New England since 2012, the group is blessed to have found themselves on festival stages like WinterWonderGrass and Eastbound Throwdown over the years.
In addition to teaming-up on stage with amazingly talented folks like Pappy Biondo (Cabinet), Andy Falco (Infamous Stringdusters), Charlie Rose (Elephant Revival) and many others, Saints & Liars has opened shows for distinguished acts such as Greensky Bluegrass, Sarah Shook & The Disarmers, Ghost of Paul Revere, and The Mallett Brothers Band.
---
Hailing from Northern Vermont, Wild Leek River is a regular 5-piece country band. The songs they play vibrate with sounds of new and old, steady back-beats and good stories. Their style and performances trace its roots from the honky tonks of days gone by, with rowdy shows across Vermont and throughout the Northeast.
In the release of their self-titled debut LP in 2021, they cultivated and honed in on the sound first sketched out in their 2019 release, "The Bacon EP." The band also took to recording songs by local Vermont Artists and other friends made along the way. On the LP, they perform versions of "Molly Bootlegger" by Jeremy Sicily of Beg, Steal or Borrow and "Good Intentions" by local VT legend Johnny Davis. Rumor has it that the band will also be heading back into the studio in 2022 to cut another full-length LP. Stay tuned, y'all.
"Burlington's Wild Leek River is a true blue five-piece country band, complete with pedal steel and fantastic musicianship."
-Monica Sandreczki "North Country Public Radio"
"When I listen to an album, I want strong steel, vocals that you can hear the feeling in, something I can dance to, and something I can sing along to. This album has all of that. You'll find the writing of Ian Burton to be catchy and clever. Not only is this a must have album, Wild Leek River puts on one helluva show too!"
-Taylor Austin "Honky Tonk Times"