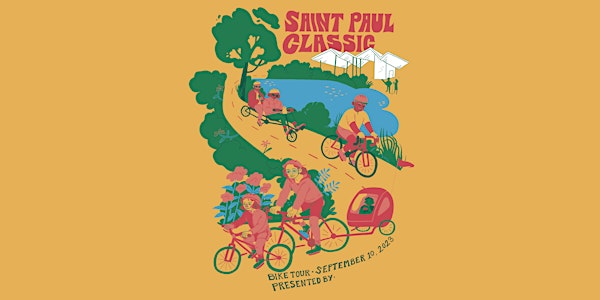 Saint Paul Classic Bike Tour 2023
Registration for the 2023 Saint Paul Classic (NOTE: There is no day-of registration)
By Bicycle Alliance of Minnesota
Date and time
Sunday, September 10 · 7:30am - 3pm CDT
Location
Como Lakeside Pavilion 1360 Lexington Parkway North Saint Paul, MN 55103
About this event
7 hours 30 minutes

Mobile eTicket
NEW! NEW! NEW! The $10 Phalen Fun Fest
Perfect for young or new riders. Pay just $10 (free for under 5) and do as many laps and visit the Lake Phalen rest stop as many times as you want. Jog with a kiddo on a strider or scooter, bring your unicycle, skateboard or inline skate, there's no wrong way to do the Phalen Fun Fest. Scroll down in the tickets to locate the Phalen Fun Test Tickets. This ticket is NOT for those who wish to do the Classic short or long routes.
Details for the 2023 Saint Paul Classic:
Two different check-in times: 7:30-8:30am and 8:30-9:30am.
For the $10 Phalen Fun Fest check-in anytime between 7:30am and 9:30am at Lake Phalen.
Please make sure you are purchasing the correct tickets for your desired check-in time. This will greatly help reduce congestion on the route and lines at rest stops! Thanks for your cooperation!
NOTE: Advanced T-shirt sales end on Aug. 18th 2023 at 11:59pm. Limited supply will be available on event day for purchase.
As always Classic riders enjoy the scenic and historic Grand Round in Saint Paul, a Silver Level Bicycle Friendly Community. The Grand Round celebrates the work of visionary landscape architect Horace Cleveland that helped preserve parks at Lake Como and Lake Phalen and connect them with beautiful off-road trails and a protected bikeway network.
LIMITED EDITION -- To help ensure rider safety and enjoyment we are limiting the Classic to just 2450 riders. Registration opens on May 2023.
1. The Classic will start and end at Como Lakeside Pavilion. Check-in begins at 7:30 a.m. and all riders should be on route by 9:30 a.m. Great food and beverages are included before, during and after the ride. Please note that the event ends at 1:30 p.m. The $10 Phalen Fun Fest starts and ends at Lake Phalen and your check-in will be there from 7:30am-9:30am.
2. We are limiting attendance to and there will be NO DAY OF REGISTRATION.
3. Riders will enjoy riding on paved trails, bicycle lanes and protected bikeways. Almost no roads will be closed to automobile traffic. Bicyclists must follow the rules of the road.
4. The Grand Round route will be 31 or 34 miles (the 34 mile route includes a lap around Lake Phalen) and features three rest stops including a new stop overlooking Pickerel Lake.
5. The Short Route will be a Lollipop Loop out to Lake Phalen and back to Como Lakeside Pavilion. Enjoy the rest stop and a loop around lovely Lake Phalen for a 14-mile tour.
The ride will be fully supported with sag wagons, bike mechanics and strategically located police officers to direct bicyclists at key intersections.
Helmets are required: Protect your melon! It's your only one.
Support statewide bicycle education: The Saint Paul Classic Bike Tour is a fundraiser for the Bicycle Alliance of Minnesota whose vision is for bicycling to be easy, safe, and fun for everyone. All fees are non-refundable. Registration cannot be transferred.
Apparel: Save by ordering in advance of the ride! 2023 Saint Paul Classic T-shirts (pictured below) may be ordered when registering until Thurs. Aug 18th at 11:59pm. SCROLL TO THE BOTTOM WHEN REGISTERING TO GET A SHIRT!
About the organizer
The Bicycle Alliance of Minnesota (BikeMN) works to unite and strengthen bicycle advocacy, provide education, and work for a more bicycle friendly Minnesota. We believe Minnesota should be a place where everyone can access active mobility that puts human life and health first.
Learn more at www.bikemn.org.