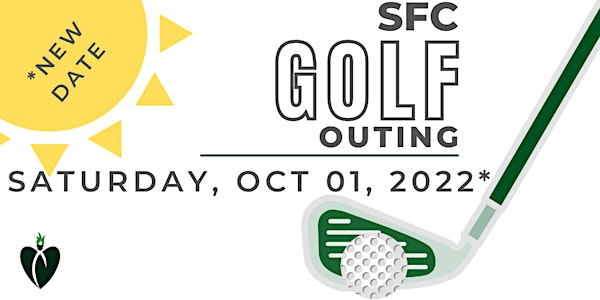 Saint Frances Cabrini - School & Parish - Golf Outing
Saint Frances Cabrini - School & Parish - Golf Outing Greens Fees Power Cart Cousins Subs - box lunch Catered Dinner - buffet
When and where
Location
Kettle Hills Golf Course 3375 Wisconsin 167 West Richfield, WI 53076
Refund Policy
Contact the organizer to request a refund.
Eventbrite's fee is nonrefundable.
About this event
ticket sales end: Sept 9, 11:30p
9 Hole Scramble
This is the NEW and popular format for charity outings. It accommodates a wide variety of golf skills, plays in 2.5 hours, and keeps the focus on friendships... and friendly competition.
Assemble your team!
Courses: Ponds 9 and Woods 9
Format
4 golfers per team.
2 teams play against each other (4 v. 4) on the same hole, at the same time, for 9 holes.
Scramble: Each player may tee off on each hole. The team selects one tee-shot location to continue playing from. Players continue in this scramble format of all hitting from the chosen location until the ball is on the green. Each player may putt it ONE time from the chosen location. Any 2nd putt is counted as if you made the 2nd putt.
Shotgun start (all teams start at the same time on their assigned starting hole)
Scoring
1 point is available per hole, won by the team with the lower score.
Each player may putt it ONE time from the chosen location. Any 2nd putt is counted as if you made the 2nd putt.
Maximum: +2 for the hole (double bogey)
Tie Breaker: lowest score from the highest handicap hole
Trophies
Winning team: names to be engraved on the traveling SFC trophy
Most lost golf balls
Pace of Play: 2.5 hours
Shotgun Start: Teams will be assigned 1 of 2 courses and a starting hole. Play the holes in numerical order from your starting hole until you have played all 9 holes on the course.
Tee box selection: choose the most forward tee box that fits the average skill level of the group
Ready Golf: keep up with the group in front of you
Use the entire width of the fairway to spread out and hit from the same distance as the chosen location… hit quickly after one another, or even at the same time to spice it up!
Leave all pins in the hole
2.5 hours is the projected pace of play
Timeline
12:00 check-in, Cousins Subs - box lunch
01:00 call to carts
01:30 shotgun start
04:00 scorecards to the Kettle Hills starter
04:30 Catered Dinner - buffet
Social
Share your photos! Send an email to: photos@wbparishes.org