Sailing Skills and Seamanship

Tuesday, December 3, 2013 from 12:00 AM to 2:00 AM (EST)
Event Details
Sailing Skills and Seamanship: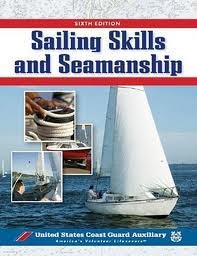 Class Meets Tuesdays and Thursdays from May 6th through May  22 from 6:00-8:00pm
Want to improve your sailing skills? Then Sailing Skills and Seamanship is a course for you. It is designed for both experienced and novice sailboat operators. 
The U.S. Coast Guard Auxiliary's Sailing Skills and Seamanship Course is a comprehensive course designed for both experienced and novice sailboat operators. The course will enhance the skills required for a safe voyage. Topics covered include: types of sailboats, equipment for your boat, how a boat sails, reading the wind, points of sailing, sail controls, running, close-hauled, reaching, and sail adjustments.  Basic maneuvers of tacking and jibing are explained along with picking up a mooring, leaving and approaching a dock, and anchoring. In addition, aids to navigation and an introduction to the rules of the nautical road are covered. Passing an optional exam at the end of the course leads to a certificate that can be used to show you have taken a boating safety course. Many boat insurance companies offer discounts on boating insurance to boat owners who have a certificate. 
Learn:
About Sailboats – Language of the sea; components of a sailboat; standing and running rigging; sails; types of sailboats.
How A Boat Sails – Reading the wind; points of sailing, running, close hauled, reaching, sail shape; sail adjustments; when the wind picks up.
Basic Sailboat Maneuvering – Tacking; jibbing; sailing a course; stability and angle of heel; knowing your boat.
Equipment For Your Boat – Requirements for your boat; your boat's equipment; legal considerations.
The Rules Of The Nautical Road - Two sets of rules; to whom do the rules apply; the general responsibility rule; general considerations.
Sailing Safety – Small boat safety; man overboard; cold water immersion; sharing the water with other boats.
Introduction To Navigation – Piloting tools; maps and charts; chart features, chart information block; other charted information; and your magnetic compass.
When & Where
243 Washington Street
Bath, 04530


Tuesday, December 3, 2013 from 12:00 AM to 2:00 AM (EST)
Add to my calendar
Organizer
Maine Maritime Museum
Maine Maritime Museum offers a myriad of opportunities to explore Maine's maritime heritage and culture and to experience the mystique of Maine.
Visitors can find:
fascinating exhibits brimming with art and artifacts
contemporary, interactive areas for children and adults
an historic shipyard with five of the original 19th century buildings
a Victorian-era shipyard owners home
an active waterfront
a life-size sculptural representation of the largest wooden sailing vessel ever built
a scenic campus on the bank of the Kennebec River
Click these links to learn more about the museum's history and mission, find out who is on our staff and how to contact us.
Sailing Skills and Seamanship