| | |
| --- | --- |
| | |
Event Details
Sailaway Winter
Cruise
Carnival Fascination Ship
Key West & Nassau, Bahamas
December 9-13, 2013 
Cruise Itinerary:
| Day | Port of Call | Arrival Time | Depart Time |
| --- | --- | --- | --- |
| Mon (12/9) | Jacksonville, FL |   | 04:00 PM |
| Tue (12/10) | Fun Day At Sea |   |   |
| Wed (12/11) | Key West, FL | 07:00 AM | 02:30 PM |
| Thu (12/12) | Nassau, The Bahamas | 12:00 PM | 08:00 PM |
| Fri (12/13) | Fun Day At Sea |   |   |
| Sat (12/14) | Jacksonville, FL | 08:00 AM |   |
Package Includes:
-Five nights accomodations aboard Carnival Fascination ship
-All meals, snack and non-carbonated beverages
-Onboard entertainment & activities
-All taxes and port charges
Cruise Prices (based on double occupancy)
Interior  -       $405 per person
Oceanview  - $445 per person
Payment Schedule:
$30 or more per person - February 28, 2013
$50 or more per person - March 15, 2013
$50 or more per person - April 15, 2013
$50 or more per person - May 15, 2013
$50 or more per person - June 15, 2013
$50 or more per person - July 15, 2013
$50 or more per person - August 15, 2013
Final Balance, if any - September 15, 2013
What's NOT included:
-Transportation to Jacksonville, FL
-Gratuities $57.50 per person
-Travel Insurance $49 per person
Policies:
-You must adhere to the payment guideline above. Your reservation can be cancelled if you fail to follow payment guidelines and all payments forfeited.
-All payments are non-refundable and non-transferable.
-Above rates are based on double occupancy (2 people per room), if roommate forfeitures, current registrant's cabin will automatically be changed to a single occupancy rate.
-All travelers to and from Canada, Mexico, the Caribbean and Bermuda must present a valid 1) PASSPORT OR 2) Official Certified US Birth Certificate (no copies) WITH Government Issued Photo ID (i.e. Driver's License).
-The name on both documents needs to match the name on the cruise line reservation, exactly. If it does not as a result of marriage or divorce, guests will need to provide their state, county or province issued marriage license or divorce decree. Guests who legally change their name will need to present a court document.
- Passports are highly recommended, but not required.
-If not clear on ID required to embark, please contact us for clarification.
-Gratuities of $57.50 can be prepaid, please inquire if interested.
-Travel Protection Insurance for this cruise is $49, please inquire if interested.
Contact Us
3D Paradise Travel
"Delivering Dream Destinations"
(404) 610-8149
Like us on Facebook
www.facebook.com/3dparadisetravel
Twitter 
@3paradisetravel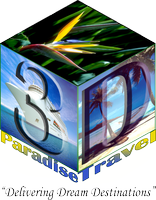 Organizer
3D Paradise Travel, LLC
3D Paradise Travel, LLC is a licensed full-service Atlanta-based travel and events agency, "delivering dream destinations" in paradise worldwide. We specialize in leisure, individual, group, organization and corporate travel and event services.
Services offered include, but not limited to" cruises, all-inclusive resorts, getaways, events, festivals, reunions, youth teams, fundraisers, custom packages, etc. Select from our pre-packaged travel or allow us to customize your experience for you or your group with convenient budget and affordable payment plans (when available).
3D Paradise Travel would like to take you to paradise, contact us today to coordinate your next exciting travel destination or event plans.
Contact:
Phone: (404) 610-8149