Sales Have Ended
Ticket sales have ended
Thank you! See you in Annapolis, and happy cruising in the meantime.
Sales Have Ended
Ticket sales have ended
Thank you! See you in Annapolis, and happy cruising in the meantime.
Description
Sail to the Sun Cruising Seminar
featuring - Lin Pardey, Guest Speaker
Discover how to cruise the ICW in comfort and truly enjoy this unique passage with world renowned cruising experts, Jeff and Jean Grossman and ICW pro Wally Moran. Then get the lowdown on crossing the Gulf Stream with Captain Dave Skolnick, and learn the ins and outs of cruising the Bahamas with the Bahamian Tourist Board!
Learn how to anchor to ensure a good night's sleep with Greg Knutson of Mantus Anchors, and discuss insurance issues with Cary Weiner of Pantaenius Insurance.
Lin Pardey, world famous cruising expert, will discuss cruising offshore, and for all your cruising questions, Lin will be available to answer them during our Roundtable Q&A, so bring your questions!

Who Are Your Presenters?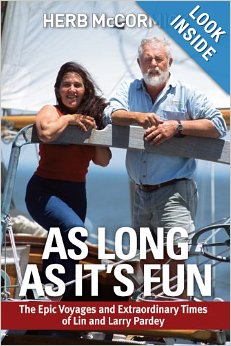 Lin Pardey of course needs no introduction. She and husband Larry built the 24 foot Seraffyn and, without an engine, sailed it round the world, exploring, adventuring and writing about it. Then they built the 29 foot Taleisin, also without an engine, and did it all again!
Their books and videos have inspired thousands of people to set sail with their mantra - Go small, go simple, go now.
Lin will be discussing offshore cruising from the perspective of the first time cruiser, and providing you with tips on how to handle the situations you will come up against.
Captains Jeff and Jean Grossman, of Two Can Sail - if you've ever seen them previously, you know that Jeff and Jean are fun speakers. They do couples training, as well as assist new cruisers in every phase of purchasing a boat and entering the cruising life.
They are regular speakers at many of the major boat shows, including Annapolis and Miami. They will discuss how to cruise effectively as a couple on the ICW. Their tips and techniques will both entertain and educate you and make your life aboard much easier.
Captain Dave Skolnick is a delivery captain, and a past president of the Seven Seas Cruising Association. Dave is also a marine electronics whiz, with special emphasis on HF and SSB radio.
He will be discussing the topic that is on everyone's mind - crossing the Gulf Stream - what to expect, how to plan and how to execute a safe and comfortable crossing. After hearing Dave speak, you'll be ready and much more relaxed about getting over to the Bahamas.
Dave is also reputed to be a bit of an onboard gourmet cook, so you can probably sneak in a question or two about onboard cooking during the Q&A roundtable session.
Discover how to cruise the Bahamas with a guest speaker from the Bahamian Tourist Board. Learn the best places to explore from your boat, and why they are so amazing.
Greg Knutson, owner of Mantus Anchors, will discuss how to guarantee a good night's sleep by explaining proper anchoring techniques for any anchor, along with an explanation of why the new generation of anchors are so far superior to anything you've put in the ground before.

Cary Wiener, of Pantaenius America will join us at the Roundtable discussion to answer any questions you might have on insuring your yacht, including insuring your vessel for travel to Cuba.

Wally Moran will present his signature Sailing South - First Timer's Guide to the ICW, the seminar that thousands have viewed and used to help them get south safely, comfortably, and enjoyable. Wally's fact filled and entertaining presentation sets the standard for cruisers seeking their way south on this amazing waterway.
Still got questions?
Ask them at the Roundtable Q&A session, which includes all of the presenters, plus Lin Pardey, who will discuss your first time heading offshore and how to deal with it. And if you've already got offshore experience, you'll most certainly have questions for Lin!

After all of this, enjoy an adult beverage and some nibbles with the presenters and your fellow cruisers.
Coffee will be served, plus lunch. Our thanks to event sponsors Pantaenius Insurance and Mantus Anchors
For more information, see our webpage at http://icwally.com/ICWally/Annapolis_Seminar.html
Getting there
You can take a water taxi from the boat show to the Museum, cab, or drive, although parking is limited. Or, it's about a 10 - 15 minute walk through Eastport.
NOTE: Early bird discount tickets are available ONLY until September 10.


For a five minute preview of what the ICW is like, take a look at this video of Wally created a couple of years ago during one trip south: https://youtu.be/40Z_RvztdT0
Special thanks to Pantaenius Insurance and Mantus Anchors, our sponsors for this event.