Event Information
Refund policy
Refunds up to 7 days before event
About this event
Sail Newport's
All Decked Out Summer Fundraiser
Every gift made in conjunction with All Decked Out will support Sail Newport's Admiral's Pier and Youth Dock Replacement Project. Additionally, we are pleased to share that every gift made will also be matched in full by the Alletta Morris McBean Charitable Trust with a contribution to Sail Newport's Endowment Fund.
Event Overview
Over the course of five evenings, Sail Newport's All Decked Out will feature live music, cocktails and hors d'oeuvres, a decadent three-course meal, complimentary full bar, a beautiful view and the opportunity to support Sail Newport.
We hope you will join us.
Our Event Committee
We are incredibly thankful for the guidance and ideas we have received from our Board and Development Committee, in particular:
Stuart Streuli, President of the Board
Susan Daly, Secretary, Board; Development Committee Chair
Katrina Hele, Board of Directors; Development Committee
Wendy Lotz, Advisory Council; Development Committee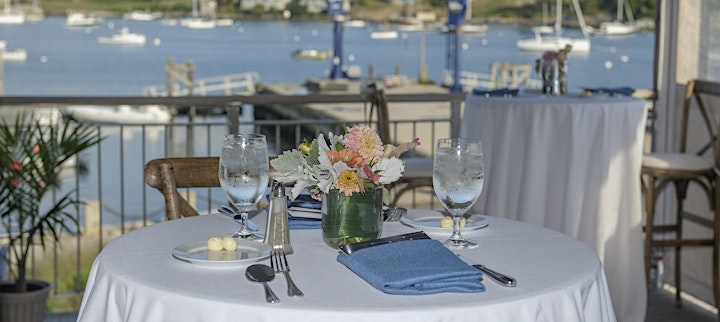 The Nightly Menus & Music Details
Sunday, August 15, 2021 features McGrath Clambakes and a local musician (tbd)
Monday, August 16, 2021 features Russell Morin Catering & Events and music by Morgan Johnson
Tuesday, August 17, 2021 features Russell Morin Catering & Events and music by Beth Barron
Wednesday, August 18, 2021 features Blackstone Caterers and music by The Cross Rhode Blues
Thursday, August 19, 2021 features Blackstone Caterers and a local musician (tbd)
Here's a downloadable PDF that includes the menu details for every night as well. Please note, though you are able to indicate allergies, we are not able to offer menu substitutions.
Seating, Tickets & Reservations
All seating is outside on the second floor deck at Sail Newport and limited to 60 guests per night. The deck is also covered top and sides, so foul weather will not foul our plans.
The base ticket price for the event is $200.00 per ticket, and all tickets are sold by table groups. Tables can accomodate two to eight guests per table. You will only be seated with guests in your group, hence the reservation by table. Tax-deductible donations in excess of the ticket price are greatly appreciated. Please note, the fair market value of each ticket is $100.00 and the remainder of your ticket purchase is a tax-deductible donation to Sail Newpot, and will be matched by the Alletta Morris McBean Charitable Trust with a contribution to Sail Newport's Endowment Fund.
Table Pricing Options
Table for 2: $400
Table for 3: $600
Table for 4: $800
Table for 5: $1000
Table for 6: $1200
Table for 8: $1600
We are also thankful for those supporters who are not able to attend but still make a donation, as well as those donors who make an additional gift above and beyond their ticket/table purchase.
Thank You!
Thank you to the Sail Newport Official Suppliers and Dining Partners!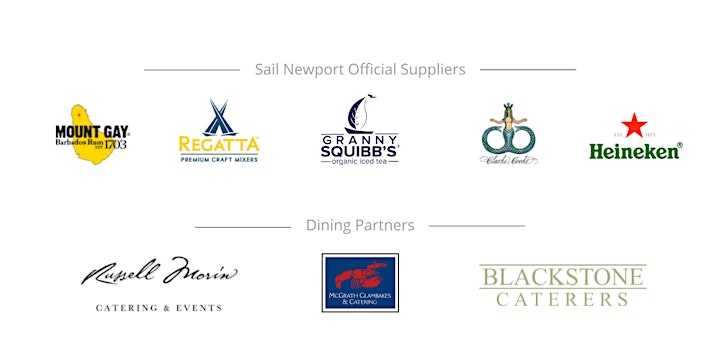 COVID-19 Safety Protocols
The safety of our guests is of the utmost importance to Sail Newport. The Sail Newport team will update attendees on any new and changing policies with the State of Rhode Island and Rhode Island Department of Environmental Management.
Executive Orders and RI Department of Health Regulations or Guidelines may require Sail Newport and/or the Department of Environmental Management to modify, limit or cancel this event.
Attendees agree to adhere to the Executive Orders and/or RI Department of Health Regulations or Guidelines in place at the time of the event.
Refund Policy
We will offer refunds up to seven days prior to the event start date via the Eventbrite platform. Please follow directions on the Eventbrite platform to request a refund. Unfortunately, Eventbrite's processing fees are non-refundable and will not be included in any refunds.
Accessibility
The lawn area and our deck are fully handicapped accessible.
Walk-ins
Unfortunately, we will not be able to accommodate walk-in guests this year.
Have Some Questions We Have Not Answered?
We are happy to answer your questions! Please contact Event Manager, Emily Greagori at Emily.Greagori@sailnewport.org.
We look forward to hosting you on the deck, and welcoming old friends and new.
Location
Refund policy
Refunds up to 7 days before event