Location
City Cruises Alexandria Water Taxi
3 Cameron Street
Alexandria, VA 22314
Refund policy
Contact the organizer to request a refund.
Eventbrite's fee is nonrefundable.
La Vida Soca returns to the DMV with 100% VIBES on the Potomac!
About this event
Welcome to La Vida Soca's...
𝙎𝙖𝙞𝙡 𝙇𝙖 𝙑𝙞𝙚 :: 💦 Breakfast 𝘽𝙤𝙖𝙩𝙍𝙞𝙙𝙚 💦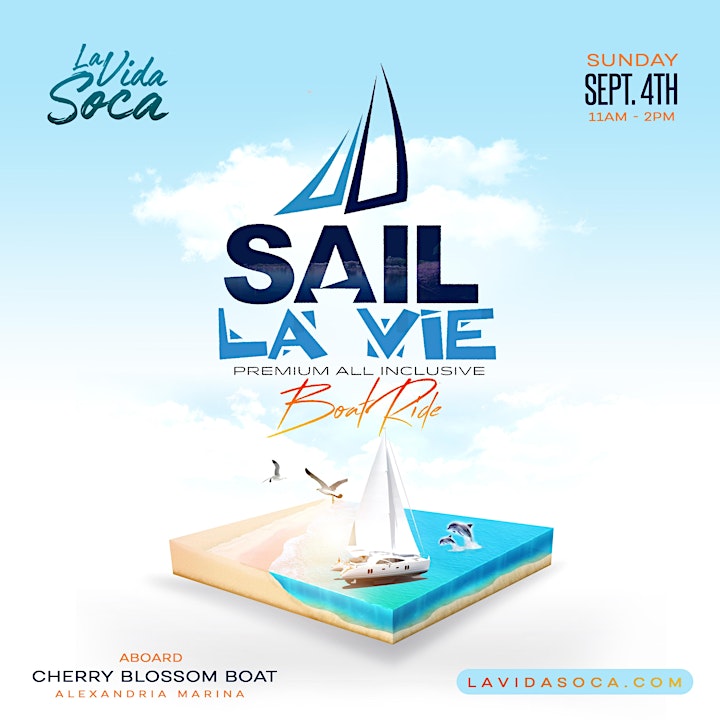 Welcome to DC's 1st All-Inclusive Breakfast Boatride!
𝙻𝙰𝙱𝙾𝚄𝚁 𝙳𝙰𝚈 𝚂𝚞𝚗𝚍𝚊𝚢, 𝚂𝚎𝚙𝚝𝚎𝚖𝚋𝚎𝚛 𝟺𝚝𝚑
📍: 𝙲𝚑𝚎𝚛𝚛𝚢 𝙱𝚕𝚘𝚜𝚜𝚘𝚖 𝙱𝚘𝚊𝚝 - 𝙰𝚕𝚎𝚡𝚊𝚗𝚍𝚛𝚒𝚊 𝙼𝚊𝚛𝚒𝚗𝚊
𝗕𝗼𝗮𝗿𝗱𝗶𝗻𝗴 𝗧𝗶𝗺𝗲: 𝟭𝟬:𝟬𝟬𝗔𝗠 𝗦𝗛𝗔𝗥𝗣! | 𝗦𝗮𝗶𝗹𝗶𝗻𝗴 𝗧𝗶𝗺𝗲: 𝟭𝟭:𝟬𝟬𝗮𝗺 𝘁𝗼 𝟮:𝟬𝟬𝗽𝗺 🤝
𝗪𝗵𝗮𝘁 𝗵𝗮𝗽𝗽𝗲𝗻𝘀 𝗮𝘁 𝗟𝗮 𝗩𝗶𝗱𝗮 𝗦𝗼𝗰𝗮, 𝘀𝘁𝗮𝘆𝘀 𝗮𝘁 𝗟𝗮 𝗩𝗶𝗱𝗮 𝗦𝗼𝗰𝗮 👀
[Event Disclaimer]
- This is a By Ticket ONLY event. You MUST purchase a ticket to have entry onto the cruise. No tickets will be held nor SOLD on the date of the event.
- Tickets are limited and are sold on a "first come, first serve basis".
- For any reason that passengers are NOT checked-in by 10:40, La Vida Soca reserves the RIGHT to re-sell those tickets to STAND-BY passengers between 10:45 and 11am.
- Absolutely NO REFUNDS.