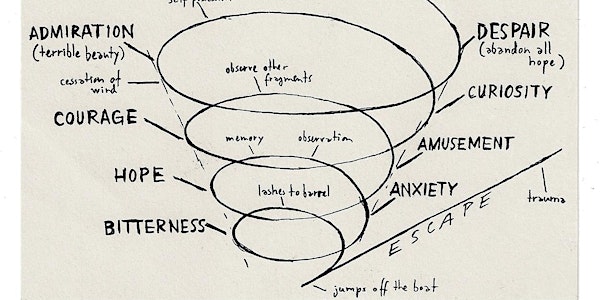 Sail Boat Tour: Do you hear anything? Do you see any change in the water?
Location
Spirit of Buffalo
44 Prime st. Buffalo ( at the central wharf at Canalside, downtown)
Description
*This event is in partnership with UB's Technē Institute for Arts and Emerging Technologies and visiting artists, Aurélien Gamboni (Geneva), Sandrine Teixido (Rio de Janeiro and Paris), Stéphane Verlet-Bottéro (Paris)
"Never shall I forget the sensations of awe, horror, and admiration with which I gazed about me. The boat appeared to be hanging, as if by magic, midway down, upon the interior surface of a funnel vast in circumference, prodigious in depth, and whose perfectly smooth sides might have been mistaken for ebony"
In Poe's short story 'A Descent into the Maelström', a fisherman leads the narrator onto a cliff to behold the whirlpool. From this point of view, he tells a story that no one ever believed: how he went down and escaped the great whirl, by observing and analyzing the trajectories of objects caught in the vortex …
This collective research experiment takes the form of a 2-hour journey across Lake Erie and Buffalo waterways, aboard a sailboat. We invite witnesses from all backgrounds – inhabitants, researchers, campaigners, community members – to share their experiences and knowledge, whether specialized or based on daily life observations. As climate disruption and ecological damage tend to intensify, the vastness and diversity of their effects implies that everybody, in their own place, can become a witness.
This event is part of The Indeterminacy Festival which is hosting a series of workshops, lectures, and screenings in the lead-up to two performances on May 18th and 19th at Silo City. For more information go to: indeterminacyfestival.com