Description
Featurings 4 Chefs from 3 different cities:
---
HELEN NGUYEN - New York
Raised in Seattle with roots in California and Vietnam, Helen Nguyen has always had a passion for food. After a decade in real estate business and sales, she decided to pursue her passion and moved to New York for culinary school. She started an apprenticeship at L'Appart under Chef Nicolas Abello, who led his team to earn their first Michelin star within the first year of opening and then worked her way into the kitchen of Chef Daniel Boulud's famed Restaurant Daniel, where she trained with the Feast and Fete catering and private events team for 2 years. Though trained in classic French dining, Vietnamese comfort food is where her heart resides. She has been busy curating Pop-Ups in different cities as she continues working on the design of her project, a Vietnamese restaurant coming to the heart of Long Island City within the next year. Stay tuned...
---
KHAI VU - Las Vegas
You can't mention Chinatown Las Vegas without thinking of Khai Vu. He has been working in Las Vegas restaurants since 1993, starting with his family's acclaimed Pho So 1 on Spring Mountain Blvd and Decatur. In 2013, Khai opened District One Kitchen & Bar, a Vietnamese restaurant with Southeast Asian influences which became an instant hit, gaining the hearts and interests of diners all over the world who'd fly in just to experience his Lobster Pho and Big Bone Soup. 2 years later, Khai opens LePho Vietnamese Kitchen in downtown Las Vegas, followed by District One Kitchen & Bar in Taipei, Taiwan, and recently opened Mordeo LV, a boutique wine bar offering Spanish and Latin dishes with Japanese influences. He is the treasurer for the Nevada Restaurant Association and is constantly on the go, cooking at events internationally, feeding his insatiable appetite for the food industry.
http://www.districtonelv.com/
https://instagram.com/districtonetpe
http://www.lephodtlv.com/
https://mordeolv.com
https://vegasmagazine.com/district-one-gives-vietnamese-food-a-makeover
https://vegas.eater.com/2018/6/27/17508658/mordeo-boutique-wine-bar-chinatown-khai-vu-open
---
MIKE LE & THANH HUYNH - San Diego
Mike Le and Thanh Huynh of Eight 58 Foods have been catering events in San Diego for the past several years. Growing up in the restaurant business their parents created, they understood the grit, challenges, hard work and dedication it took to thrive in the industry. Thanh's training and specialty has been with BBQ meats and Mike's training has been with French culinary. Though different in training, their travels and affinity for food ignited a joint business venture, leading them both back to their heritage and Vietnamese dining. They are working on their first project together, bringing a Vietnamese restaurant to San Diego in the near future.
--- ---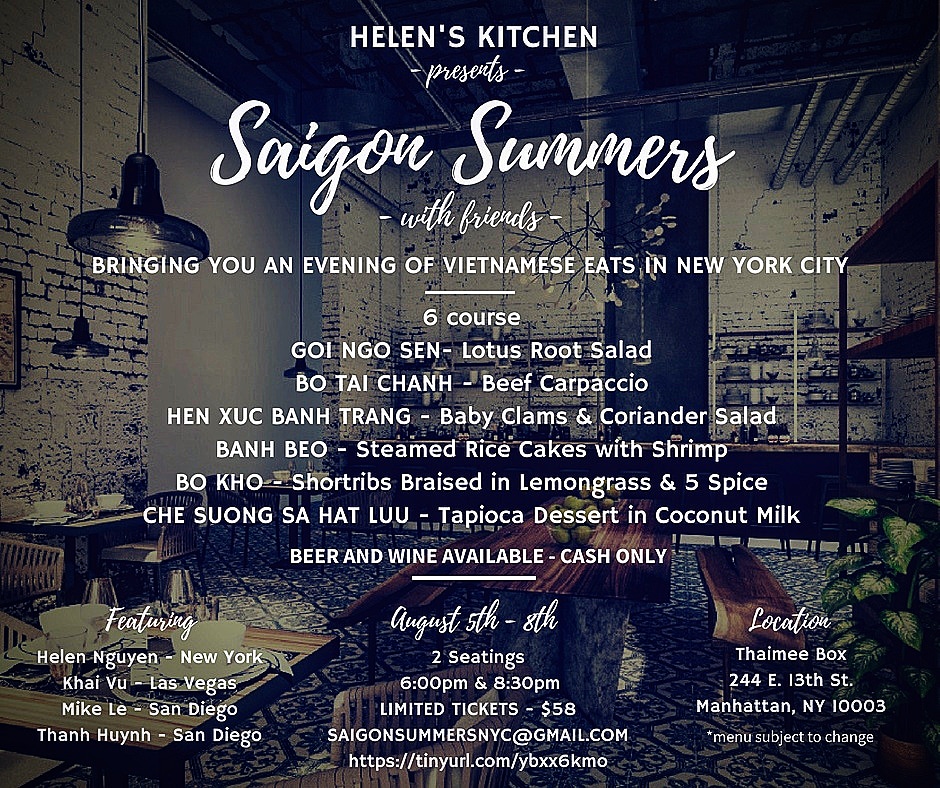 ---
Saigon Summers with Friends Dinner Series
Bringing you an evening of Vietnamese food.
4 nights, 2 seatings:
August 5th - 8th
6:00pm
8:30pm
LIMITED TICKETS
Contact: SAIGONSUMMERSNYC@GMAIL.COM
---
$58 - 6 courses
LOTUS ROOT SALAD - Goi Ngo Sen
BEEF CARPACCIO - Bo Tai Chanh
STEAMED RICE CAKES - Banh Beo
BABY CLAMS WITH SESAME RICE CRACKER - Hen Xuc Banh Trang
BRAISED SHORTRIBS - Bo Kho
TAPIOCA DESSERT - Che Suong Sa Hat Luu
---
Beer and Wine Available - CASH ONLY
---
Proudly serving 100% Black Angus Beef from Pat Lafrieda
---