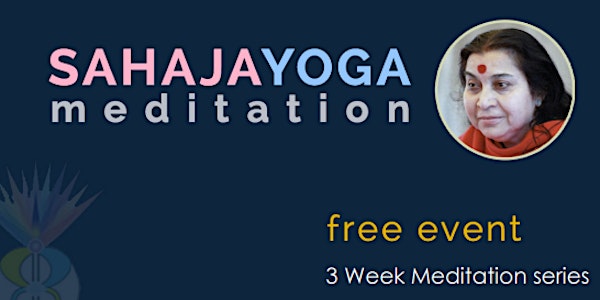 Sahaja Yoga Meditation- 3 Week Meditation series- Brambleton Library
The Warmth Within Illumines a Warm Smile! Feel this Illuminating Energy with the Sahaja Yoga Meditation Workshop (In Person).
When and where
Location
22850 Brambleton Plaza 22850 Brambleton Plaza Ashburn, VA 20148
About this event
Meditation – Journey Within
Stress – Overthinking can lead to anxiety, discomfort, and unhappiness. However, it is most definitely possible to go beyond the mind to find Silence, Peace and Joy. The first step is to SEEK or WANT that Silence, Peace and Joy.
The next step is to find the right technique to attain that Silence, Peace and Joy. Sahaja Yoga Meditation will show you the way.
Revitalize your Energy this month. Reboot your Subtle System with Inner Strength, Creativity, Compassion and Confidence.
Practice Meditation and Rediscover yourself!
What to Expect:
Whether you are a beginner, or have been practicing meditation… Sahaja Yoga Meditation will help you ascend to a higher level.
Our virtual workshop will include:
- What is Meditation?
- Why Meditation?
- What is Sahaja Yoga Meditation?
- How does it work?
- Hands-on Experience
- Simple and Effective Techniques
- How to keep up with the Meditation Practice at home?
"All the knowledge, all the spirituality, all the joy, is there- it's all contained within you!!!"
-H.H.Shri Mataji Nirmala Devi
About Sahaja Yoga Meditation
50 years and counting, Sahaja Yoga Meditation is transforming lives and enriching people's lives with its Revitalizing Meditation Workshops. Sahaja Yoga Meditation is proven to eliminate stress, anxiety and bring about balance through the most natural process of connecting your Inner Self with the Universal Spirit. Meditation is to be in a state of Thoughtless Awareness; where you are Silent but Aware, you know but do not reflect or dwell in the past or future: you remain in the Peaceful Present.