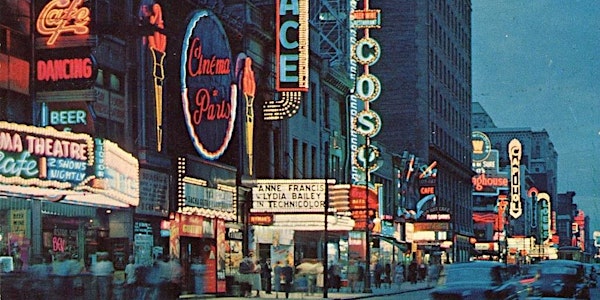 SAH Montréal Seminar | Montréal by Night
Scholars and activists will discuss the historic and nuanced contributions that nightlife has made to Montréal and its built environment.
By Society of Architectural Historians
Date and time
Saturday, April 15 · 9am - 12pm EDT
Location
Canadian Centre for Architecture 1920 Rue Baile Montréal, QC H3H 2S6 Canada
Refund Policy
Contact the organizer to request a refund.
Eventbrite's fee is nonrefundable.
About this event
Tickets: $10 USD
Montréal has a reputation as a city with a vibrant nightlife, a city more welcoming to illicit activities which often occur under the cover of darkness. Montréal's French heritage and its flourishing musical scene, combined with a proximity to the American border made it a hotspot throughout Prohibition and thereafter. Long-term Mayor Jean Drapeau famously built his career—which culminated in the hosting of Expo 67 and the 1976 Olympics—on his reputation as a vice-fighting lawyer. Over the years, streets such as Sainte Catherine and Saint Laurent Boulevard became well known as the places of bars and sex workers but also as spaces of cultural exchange between the different ethnic and linguistic groups populating the city. Marginalized groups such as LGBT and racial minorities used night spaces to form underground communities. These groups were effectively able to hide in plain sight, but they also suffered at the mercy of police raids and under the influence of criminal groups who owned and operated many of these night spaces.
In recent years, the construction of higher-end residential spaces in neighborhoods previously known as nightlife districts or working-class neighborhoods has created tensions around who has the right to use these spaces, and especially as to what kind of activities—and related noise and distractions—should happen at night.
The SAH Montréal Seminar will underline the importance of nightlife in shaping Montréal's heritage and explore some of the challenges that are currently faced around the preservation of a dynamic and diverse nightlife. Building on recent efforts by both community organizations and city officials to address the tensions and avoid the disappearance of nightlife institutions, speakers will discuss how the needs and desires of different city users can be reconciled. The seminar will bring together scholars and activists thinking about the historic and nuanced contributions that nightlife has made to the city and its built environment, making it a place of celebration and inclusivity.
Moderator:
Valeria Téllez Niemeyer, PhD student, Université du Québec à Montréal
Panelists:
Will Straw, professor, McGill University
Alex Tigchelaar, PhD student, Concordia University, and artist and activist
Bruno Laprade, queer activist, Égides - Alliance internationale francophone pour l'égalité et les diversités
Matthieu Caron, Postdoctoral Fellow, Simon Fraser University
About the organizer
The Society of Architectural Historians (SAH) promotes the study, interpretation, and conservation of architecture, design, landscapes, and urbanism worldwide for the benefit of all. SAH serves a network of local, national, and international institutions and individuals who, by vocation or avocation, focus on the built environment and its role in shaping contemporary life.