SAGITTARIUS ROYALS: An Invitation from the Bighit Castle--A Birthday Event for Flower King BTS Jin and Flower Prince TXT Soobin(TO-GO ONLY)
About this Event
SAGITTARIUS ROYALS:
A Birthday Event for Flower King BTS Jin and Flower Prince TXT Soobin
An Invitation from the Bighit Castle to celebrate our Bighit Royalties Kim Seokjin and Choi Soobin in the Bay Area!
Due to the unfortunate rise of COVID-19 cases in Santa Clara County, this event is STRICTLY RSVP and TO-GO ONLY!
We will be strictly adhering to the guidelines mandated by the State of California.
Individuals should not attend if they have symptoms consistent with COVID-19 (such as fever or a cough), have been diagnosed with COVID-19, or are undergoing a quarantine for potential exposure to COVID-19.
𝐌𝐚𝐢𝐧 𝐕𝐞𝐧𝐮𝐞:
𝑪𝑬𝑳𝑺𝑰𝑼𝑺 𝑰𝑪𝑬 𝑪𝑹𝑬𝑨𝑴 (Tickets Needed)
1350 S Park Victoria Dr #37, Milpitas, CA 95035
1PM - 9PM (Merchants on site until 7pm)
*Onsite/Walk-In orders only
𝐀𝐝𝐝𝐢𝐭𝐢𝐨𝐧𝐚𝐥 𝐕𝐞𝐧𝐮𝐞:
𝑯𝑨𝑷𝑷𝒀 𝑳𝑬𝑴𝑶𝑵
Tanforan Way, San Bruno, CA 94066
11AM - 7PM (Sunday: until 6PM only)
*Onsite/Walk-In orders only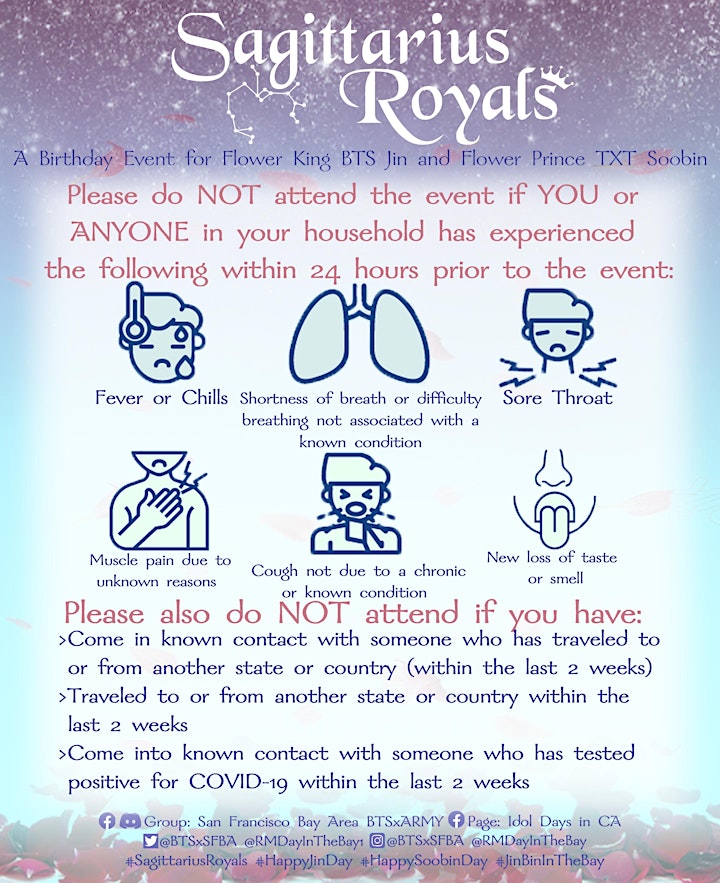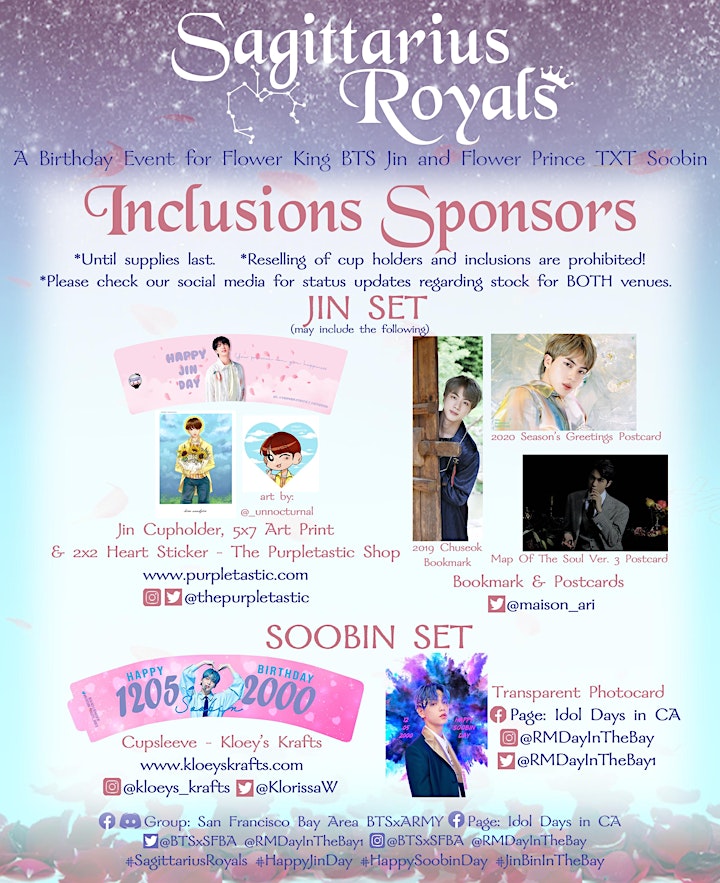 𝐂𝐮𝐩𝐡𝐨𝐥𝐝𝐞𝐫𝐬 & 𝐈𝐧𝐜𝐥𝐮𝐬𝐢𝐨𝐧𝐬:
1 DRINK = 1 MEMBER SET POLICY (Until Supplies Last!)
JIN SET:
> Jin Cupholder + 2x2 Heart Sticker (from The Purpletastic Shop
> a choice of 5x7 Art Print (from The Purpletastic Shop), SG 2020, or MOTS 7 Ver.3 Postcards (from maison_ari)
>2019 Chuseok Bookmark (from maison_ari)
[*Bookmarks: will be given to every attendee at both locations:
Celsius Ice Cream: First 180 | Happy Lemon: First 100]
SOOBIN SET:
> Soobin Cupsleeve (from Kloey's Krafts)
> Soobin Transparent Photocard (from Idol Days in CA)