A dapperly dope occasion-- Take a break from the usual. #DUVALTrapGala celebrates the culture @ the best time of the year: Sagittarius SZN
About this Event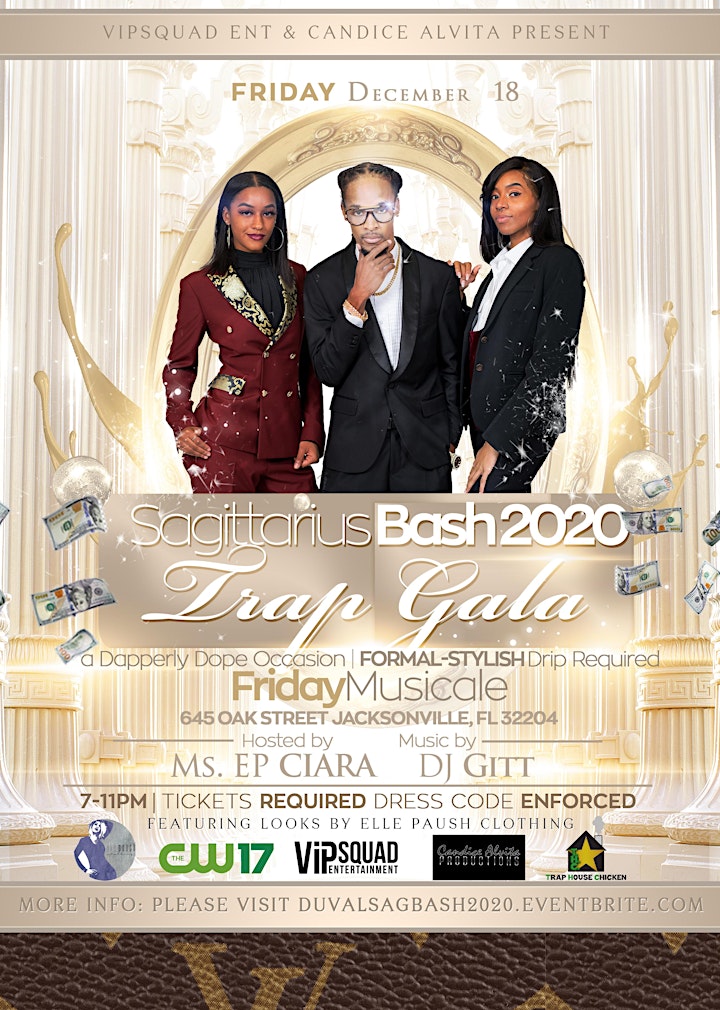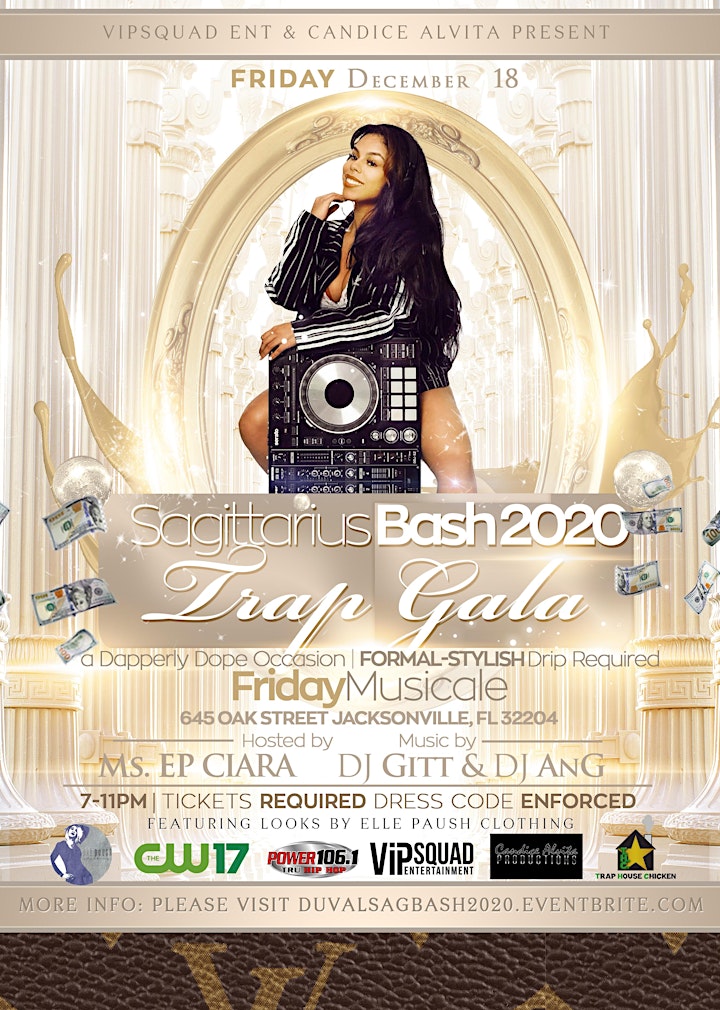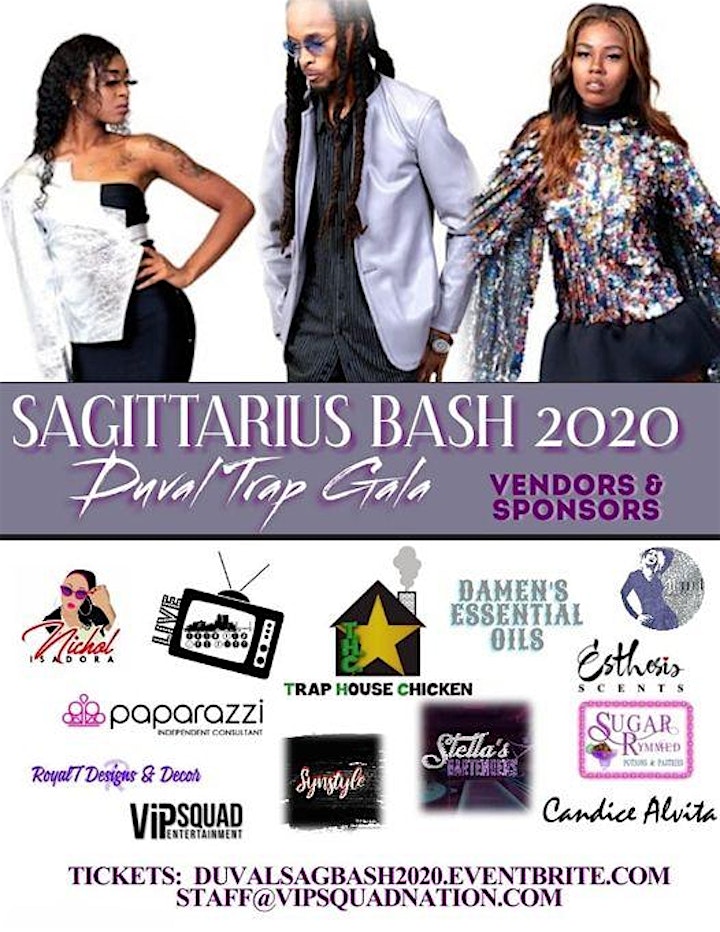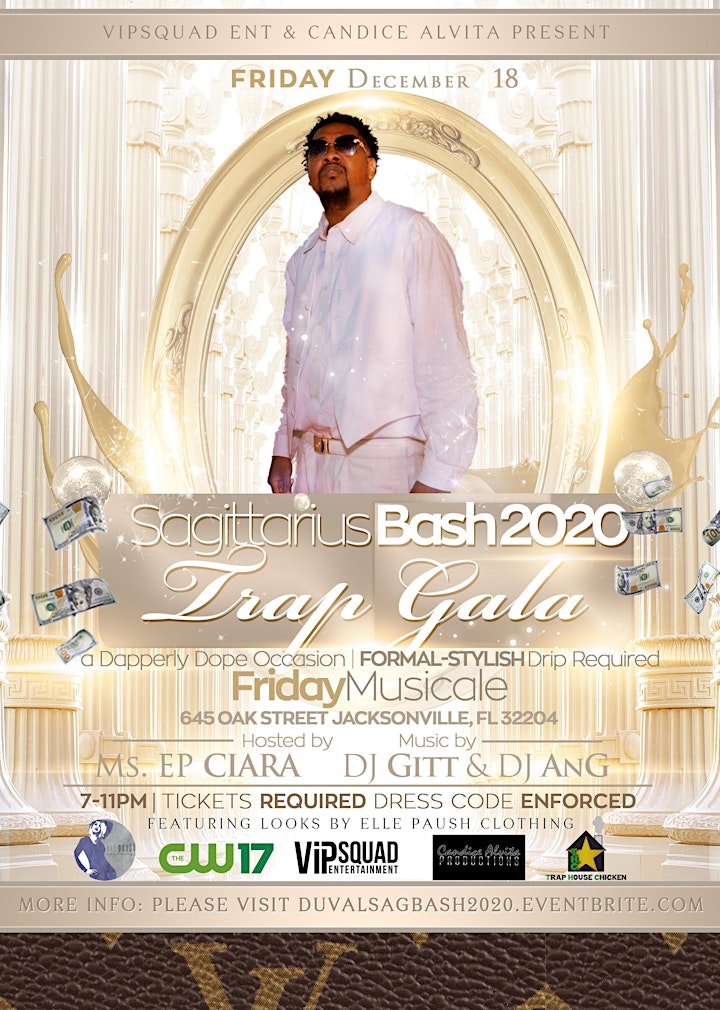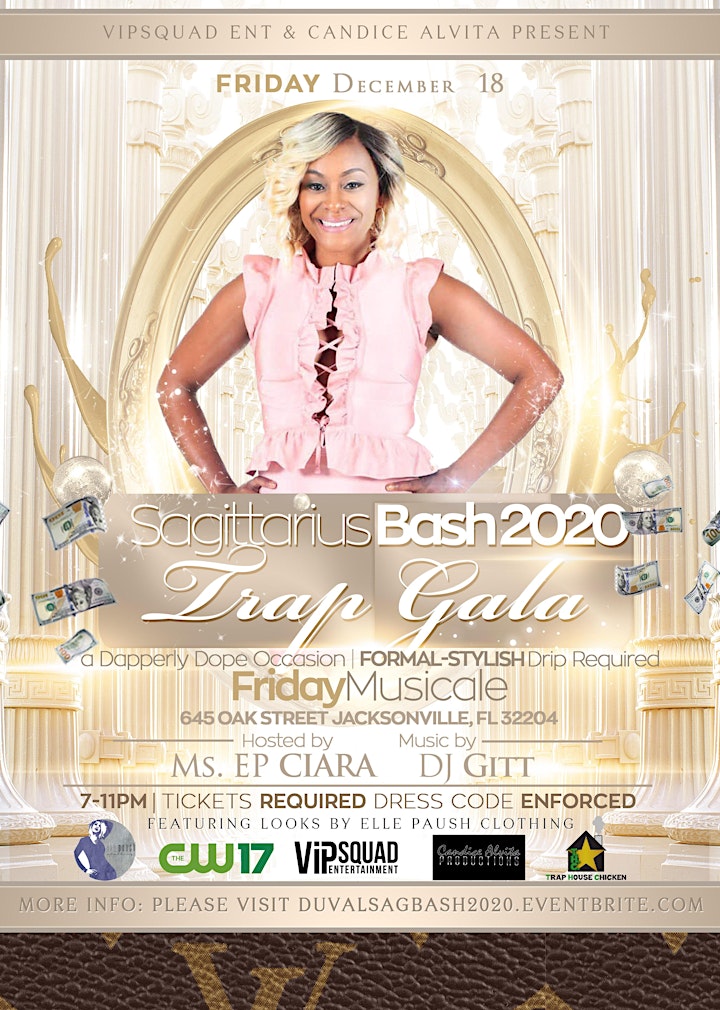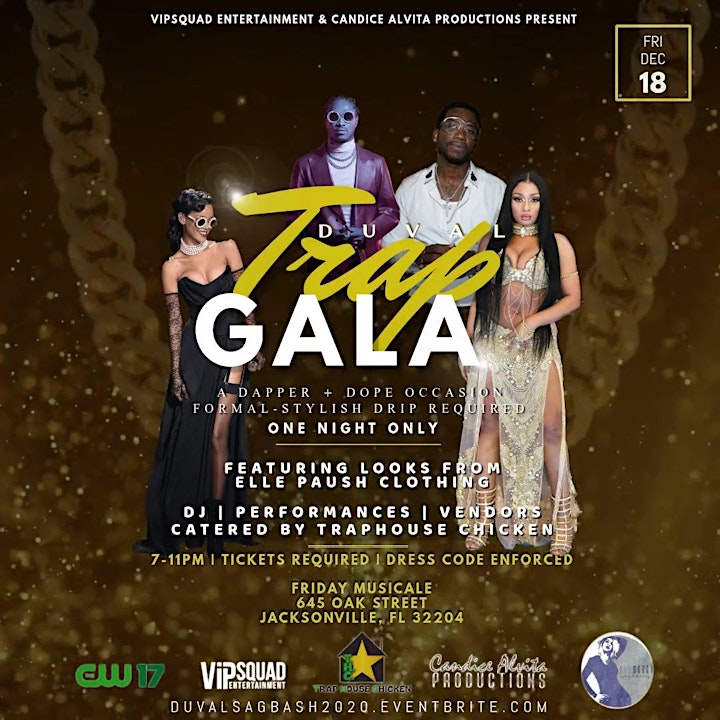 VIPSquad Entertainment | Candice Alvita Productions | CW17's New Jax City Uncut | Elle Paush Clothing
SAGITTARIUS BASH 2020: Duval Trap Gala
–a dapperly dope occasion; formal-stylish drip required
>> FRI DEC 18TH
The Trap Gala #LITUATION commences at 7pm and concludes promptly and expeditiously at 11pm @ the TRAP -- Friday Musicale | 645 OAK STREET Jacksonville, FL 32204
**No Drama @ the Bando** Full Security On Site | 21+ Entry ONLY | Cash Bar & Each Ticket Includes Full Access to the Buffet | Catered by TRAP HOUSE CHICKEN -- home of the famous Hennessy Wings and Side Chick Sandwiches | Drinks mixed by Stella's Bartending | Hosted by Miss EP Ciara | Music by DJ Gitt & POWER 106.1's DJ A&G
Guests are encouraged to bring donations of kids' toys, school supplies, and/or sanitary supplies for our annual holiday drive for underserved local students and teachers. Also featuring Trap Kings & Trap Queens Fashion Show coordinated by Candice Alvita including custom formal/trendy looks by Elle Paush Clothing & LIVE Taping of Jacksonville-based CW17 Urban Entertainment TV Series -- LIVE from New Jax City's New Jax City: Uncut -- CONTENT recorded from the events will be TELEVISED on CW17 & DeKalb-Comcast 25 Atlanta -- like/follow these links to be the first to check out the footage which might feature YOU -->
www.youtube.com/LifeGrindDuval | SUBSCRIBE to Live from New Jax City/New Jax City Uncut: https://www.youtube.com/channel/UC45nxzzJT9dsKPzATawYWQQ
Sagittarius Bash 2020: Duval Trap Gala Eventbrite Page: www.DuvalSagBash2020.eventbrite.com
Sagittarius Bash 2020: Duval Trap Gala Facebook Page: www.facebook.com/events/408028596850452
TICKET INFO (ALL TICKETS INCLUDE BUFFET TICKET; EARLY ARRIVAL STRONGLY SUGGESTED)
SUPER EARLY BIRD TICKETS: $16
EARLY BIRD TICKETS: $20
REGULAR TICKETS: $26
VIP (INCLUDES BOTTLE OF CHAMPAGNE* AND GUARANTEED + PREFERRED SEATING): $42 [8 TICKETS LEFT]
VIPTASTIC (STAGE SEATING; LIMITED TO 5): $51/$192 FOR GROUP OF 5 [SOLD OUT!]
PERFORMANCE SPOT (WITH ADVANCE PROMO AND FOOTAGE): EMAIL STAFF@VIPSQUADNATION.COM FOR INFO
VENDOR SPOT (WITH ADVANCE PROMO): EMAIL STAFF@VIPSQUADNATION.COM FOR INFO
CW17 Commercial features New Single "LITUATION" by Dez Nado feat. Bridget J., Charlie Bravo, Kay Bee, and K Lub available TODAY @
Spotify: https://open.spotify.com/album/2RH3FeSYNMVmc5Al6R8kzW
Apple Music: https://music.apple.com/us/album/lpyh-ssnz-the-90s-tape/
TIDAL: tidal.com/browse/track/125347412?play=true
Google Play: https://bit.ly/3d0nlNn
Amazon Music: https://www.amazon.com/Lituation-Explicit/dp/B082P2BYLZ
iHeart Music: https://www.iheart.com/artist/dez-nado-937851/songs/lituation-85712629/
and VIPSquadNation.com where you can buy the whole #LPYH90sTape album for the exclusive price of $4
**MASKS & SOCIAL DISTANCING STRICTLY ENFORCED -- Limited Entry**
Guests MUST have tickets in order to attend, no exceptions
-Interested in Vending at these Events?
-Got a Brand/Business, Event, Talent, or Client who Could Benefit from Exposure to 80,000+ Potential Consumers that our Promotional/Marketing Campaign will Reach?
-Interested in Sponsoring any of these Televised Events and Receiving Unmatchable Visibility and Unrivaled Access to our NE Florida/SE Georgia Demographic? Let's Work!
>> CONTACT: 323-379-2476 or STAFF@VIPSquadNation.com <<
END OF SAGITTARIUS BASH 2020 DUVAL TRAP GALA INFORMATION
________________________________________________
Check Out our Affiliates' Recent Projects:
#FreestyleFilez7 the unofficial #BETHipHopAwards weekend mixtape includes live audio taken straight from the RED CARPET at the 2019 Awards along with #BARZin60Seconds, a new freestyle/cypher style segment that will air on CW17 bi-weekly as a part of LIVE from New Jax City's spin off: New Jax City Uncut -- #FreestyleFilez8 Drops BET Hip Hop Awards weekend October 2020, want on? Hit us up! VIPSquadNation.com
**The #FreestyleFilez mixtape and #FLAsFinest mixtape both contain exclusive tracks from the newly released album "LPYH SSNZ: 90s Tape" by @deznado for promotional use only. Follow Dez on instagram and/or Facebook for updates on upcoming showcase/networking/celebrity events. The album is officially available TODAY at VIPSquadNation.com and everywhere music is streamable via online/mobile app. Those who purchase the album will receive discounted entry to the Saucy Sunday event of their choice starting when Saucy Sundays returns in 2021 OR to the Sagittarius Bash 2020 TRAP GALA on Fri December 18th -- www.facebook.com/saucysundaysjax | www.facebook.com/VIPSquadEnt
Every September/October, the unofficial BET Hip Hop Awards Weekend mixtape FREESTYLE FILEZ hits #ATL (or wherever the Awards are; #Miami in 2018 and 2017) and features some of the HOTTEST indie & major bars, freestyles, cyphers, and conscious talent all on one tape -- like the page www.facebook.com/FreestyleFilez & be the first to DL/stream 2020's release OR download the latest editions directly from VIPSquadNation.com in FULL for FREE today
The latest mixtape features exclusive behind the scenes content from the 2019 #BETHipHopAwards in #ATL in 2019.. #FreestyleFilez7 - www.soundcloud.com/freestylefilez7 OR https://audiomack.com/freestylefilez7 to stream today
The mixtape series that follows Freestyle Filez produced by VIPSquad DJs is Florida's Finest/ #FLAsFinest which is released in November after #FAMUHomecoming weekend & before #FloridaClassic weekend where the #FLAsFinest6 release party was held in Orlando in 2018 and was held again in 2019 for Florida's Finest Vol. 7 -- visit www.Patreon.com/deznado or EMAIL STAFF@VIPSquadNation.com for exclusive access and VIP offers to these events and more upcoming events 1st quarter 2021 like HBCU & SE College Spring Break, Black Bike Week, Black Beach Week, Orange Crush, Memorial Day weekend FL-GA-SC, Black Luv Fest, DUVAL Spring Fest, and info relating to the new regional cable TV series New Jax City: Uncut (WCWJ/CW17) airing late 2020.
The mixtape series that have generated over 500,000 REAL plays/downloads: Freestyle Filez + Florida's Finest!-- prod by VIPSquad DJs @vipsquadent -- www.facebook.com/vipsquaddjs
+Florida All-Star Mixtape #FLAsFinest6 (2018) Available TODAY [Click the Hashtag to Stream or visit www.VIPSquadNation.com to download in FULL for FREE] -- Florida's Finest 7 ALSO available exclusively in FULL for FREE @ VIPSquadNation.com -- streaming at https://audiomack.com/artist/flasfinest7
+The Much Anticipated album "LogophiliYaH" from Dez Nado will be preceded by two mixtapes, the 1st of the 2 was released Dec 24th 2019 #LPYH90sTape -- a groundbreaking original mixtape 100% inspired by trends and classics from the greatest decade of the century-- Freestyle Filez the unofficial BET Hip Hop Awards wknd mixtape and Florida's Finest the unofficial Florida Classic wknd mixtape are the only two mixtapes with previews and samples from the upcoming decade mixtapes (LogophiliYaH 90s and 80s Tapes) and the LogophiliYaH album, available late 2021.
_____________________________________________________________________
***Celebrating the release of the #ShootYaShot LP featuring the hit single "Shoot Ya Shot" by Dez Nado featuring G-Slim, as seen on Thisis50.com, featured in Playboy Magazine, and HYPE Magazine, and crossing the 100,000 Spotify stream mark within the first 6 weeks of its release, along with #LPYH90sTape + #FLAsFinest + #FreestyleFilez -- THE go-to mixtapes for your #HipHopAwards weekend, Howard U + FAMU + Bethune + CAU + Spelhouse and general college Homecoming weekend, Florida Classic weekend, Saucy Sundays, EOY/New Year's festivities and beyond -- FF6 Series Available NOW @ audiomack.com/artist/flasfinest6/ + https://audiomack.com/artist/dez-nado-1 and the brand new FF7 series can be found at https://audiomack.com/artist/freestylefilez7 or download in FULL @ www.VIPSquadNation.com --FEATURING
Rick Ross | Tory Lanez | Rapsody | Kamillion | Big Pun & Terror Squad | Ace Hood | Drag-On | Lil Duval | Jay-Z | Drake | Lil Wayne | Dez Nado | DMX | G-Slim da Vet | Bangem Banzz | Cassidy| Chris Rivers | Cardi B | Wiz Khalifa | Nipsey Hussle | Lil Kim | Ludacris | J Cole | Common | 2Pac | 2 Chainz | Andre 3000 | Killer Mike | Big Boi | DaBaby & MORE
[Florida's Finest 7: The Classic Weekend mixtape uploaded/released live on Soundcloud and Audiomack Nov 11-24 2019; with the full FREE version available @ VIPSquadNation.com]
Check out past versions (500,000+ REAL Plays/Downloads since 2012) BELOW
Freestyle Filez: Volume 1 (Mixtape - Hosted by Dez Nado) - May 2012 - Indie release – DatPiff Rating: 3 Stars; 332 plays/downloads DatPiff/MediaFire, 500 CDs distributed – Album of the Summer 2011 (Hip Hop Stardom Magazine) https://www.datpiff.com/Dez-Nado-Freestyle-Filez-Volume-1-mixtape.345073.html
Freestyle Filez: Volume 2 (Mixtape - Hosted by Dez Nado) - October 2012 - DatPiff Rating: 5 Stars; 1,302 plays/downloads, 350 CDs distributed https://www.datpiff.com/Dez-Nado-Freestyle-Filez-Volume-2-mixtape.410094.html
#FLAsFinest (Mixtape - Hosted by VIPSquad Entertainment) - June 2013 - DatPiff Rating: 5 Stars; 128,210 plays/downloads | www.soundcloud.com/flasfinest
#FLAsFinest2 (Mixtape - Hosted by VIPSquad Entertainment) - July 2014 - Indie - DatPiff Rating: 3 Stars; 11,751 plays/downloads | www.soundcloud.com/flasfinest2
Freestyle Filez: Volume 3 (Double Mixtape - Hosted by Dez Nado & VIPSquad DJs) - Sept 2015 - Indie - DatPiff Rating: 5 Stars; 9,616 plays/downloads www.soundcloud.com/freestylefilez3
Florida's Finest 3 (Double Album - Hosted by Dez Nado & VIPSquad DJs) - Nov 2015 - DatPiff Rating: 5 Stars; 177,985 plays/downloads www.audiomack.com/artist/flasfinest3/
LaDolceVita (Album)/Futuristic A-Side; Duele B-Side Singles - March 2016 - Universal Music Group/VIPSquad Entertainment 85,000 Sound Exchange/Pandora streams, 1,113 Spotify Streams/Downloads, 719 iTunes/Amazon Streams/Downloads, Indie Digi/Physical Distribution: 13,560 (Digiwaxx/PlayMPE Int'l distribution); 389 Total DJ downloads, global www.soundcloud.com/DezNadoLaDolceVita
Freestyle Filez: Volume 4 (Double Mixtape - Hosted by Dez Nado & VIPSquad DJs) - Sept 2016 - Indie - Independent Release; 6,558 https://www.audiomack.com/artist/freestylefilez4
Florida's Finest Vol. 4 (Double Mixtape - Hosted by Dez Nado & VIPSquad DJs) - Nov 2016 - Indie - VibeMixtapes/Independent Release Rating: 5 Stars; 3,054 Independent Downloads (Media Fire) 9,407 plays https://www.audiomack.com/artist/flasfinest4
Florida's Finest Vol. 5 (Double Mixtape - Released Independently & Hosted by 1017 Brick Squad Mafia Gang Nation Artist Seerious Penny & Dez Nado) - Nov 2017 - MEDIAFIRE Secure Full Download - SoundCloud -- 815 Independent Downloads, 10,011 multi-platform plays/streams Total http://www.mediafire.com/file/6d4zaz5b5jom5uc/FLAsFinest5_FULL_Final_-_VIPSquad_DJs.zip/file
Freestyle Filez Vol. 5 (Double Mixtape - Released Independently & Hosted by 1017 Brick Squad Mafia Gang Nation Artist Seerious Penny & Dez Nado) - Oct 2017 - MEDIAFIRE Secure Full Download - SoundCloud -- 425 Independent Downloads, 5,885 multi-platform plays/streams Total http://www.mediafire.com/file/e5wmeigavgsppcp/Freestyle_Filez_5_-_VIPSquad_DJs_FULL_DOUBLE_MIXTAPE.zip/file
Freestyle Filez Vol. 6 (Double Mixtape - Released Independently & Hosted by Dez Nado) - Sept 2018 - MEDIAFIRE Secure Full Download - SoundCloud -- 296 Independent Downloads, 6,989 multi-platform plays/streams Total https://audiomack.com/artist/dez-nado-1 | http://www.mediafire.com/file/iqcjhytk71d394t/Freestyile_Filez_6_FULL_Final.zip/file
Florida's Finest Vol. 6 (Double Mixtape - Released Independently & Hosted by Dez Nado & DJ Purfiya) - Oct 2018 - MEDIAFIRE Secure Full Download - SoundCloud -- 175 Independent Downloads, 9,612 multi-platform plays/streams Total https://audiomack.com/artist/flasfinest6 | http://www.mediafire.com/file/lyvv04wucmpciju/FLAsFinest6_Official_Double_SauceTape_-_VIPSquad_ENT.zip/file
Shoot Ya Shot LP (Album)/Shoot Ya Shot A-Side; Squad Goals/What U Tellum B-Side Singles - March-Sept 2019 - VIPSquad Entertainment 231,318 Spotify/Pandora/Apple Music streams + Sales -- https://open.spotify.com/album/4uh5ZoWlVfIsJWIiwCozDC | https://vipsquadnation.com/album/1006814/shoot-ya-shot-lp | www.youtube.com/deznado
PRESS/INFO >>
>>> Follow www.facebook.com/VIPSquadDJs for up-to-the-minute updates as each month's featured event approaches
CONTENT recorded from the events will be TELEVISED on CW17 & DeKalb-Comcast 25 Atlanta -- like/follow these links to be the first to check out the footage which might feature YOU -->
www.youtube.com/LifeGrindDuval | SUBSCRIBE to Live from New Jax City/New Jax City Uncut: https://www.youtube.com/channel/UC45nxzzJT9dsKPzATawYWQQ
www.facebook.com/LifeGrindDuval | www,facebook.com/NewJaxCityLIVE -- Instagram: @LifeGrindDuval & @NewJaxCityLIVE | @SaucySundaysJax | http://www.instagram.com/saucysundaysjax | LIVE from New Jax City BET Awards 2018 Media Coverage -- https://youtu.be/Dnvq-NoQY8c | www.facebook.com/LifeGrindATL
#Support the #Indie MOVEMENT! #Vippin