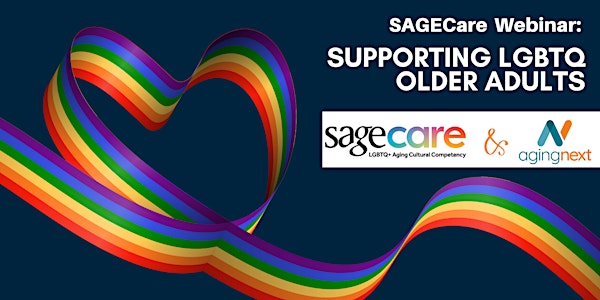 SAGECare Webinar: Supporting LGBTQ Older Adults
This training introduces the specific needs and experiences of LGBTQ older adults. Join us on Tuesday, June 6 at 10:00 am via ZOOM.
Date and time
Tuesday, June 6 · 10 - 11am PDT
About this event
Participants will learn the definition of terms such as Lesbian, Gay, Transgender, & others. After this introduction to proper terminology, participants will contextualize the lives of LGBTQ older adults through case studies and videos of real individuals to understand why some LGBTQ older adults may choose not to come out. Participants will receive local & national resources and best practices.
This is a joint partnership between SAGECare and AgingNext.
About the organizer
Discover a fresh approach to aging. AgingNext is your community's go-to expert resource for aging adults and their families, especially those who want to continue living independently at home. We connect you to the programs, resources, and volunteers you need to lead a happier and more fulfilling life. Don't wait for an emergency. Plan ahead so you can live your best life today and tomorrow.