Location
Center for Advanced Study in the Behavioral Sciences at Stanford University
75 Alta Road
Stanford, CA 94305
Description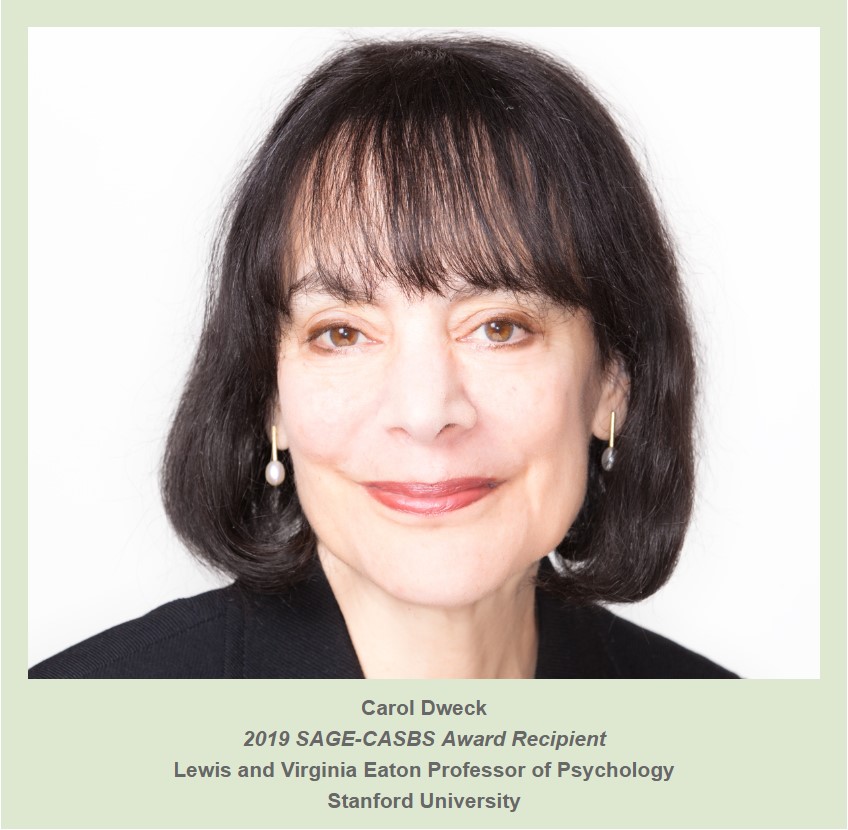 Mindsets: Toward a New Perspective on Motivation and Human Potential
Carol Dweck's career has been devoted to understanding how to help people, particularly young people, fulfill their untapped potential. Her work has special resonance in today's society, as we struggle to understand the kinds of experiences that will prepare people for life and work in the modern world.

Professor Dweck's award lecture begins with her landmark research on the fixed and growth mindsets — the belief that human abilities are carved in stone and immutable, as opposed to the belief that human abilities can be developed. She shows how the fruits of this research have been used to create programs at a national level that can elevate students' motivation and achievement. She then moves to research on practices that teachers, parents, and employers can use to embed growth mindset in real-world settings. But is growth mindset just about individual development, or is it also about collective effort toward common goals? Exciting new research begins to speak to this issue. Dweck concludes by integrating her findings with recent research in neuroscience and the psychology of learning to sketch a new perspective on motivation and human potential.
---
Thursday, March 14, 2019
Reception at 5:00pm. Talk from 5:30pm - 6:30pm.

Center for Advanced Study in the Behavioral Sciences (CASBS)
at Stanford University
75 Alta Road, Stanford, CA 94305
casbs.stanford.edu
CASBS will broadcast this event via livewebstream. The stream will go live once the talk begins on March 14, 2019 at 5:30pm PST.
Please scroll down the CASBS website homepage – casbs.stanford.edu – to view the livestream.
---
View the release announcing Carol Dweck as the SAGE-CASBS Award recipient here.


Carol Dweck is one of the most influential and pioneering social science scholars of the past three decades, with work spanning the fields of social psychology, developmental psychology, and personality psychology. At Stanford University since 2004, she previously she held posts at Columbia University, Harvard University, and the University of Illinois. She also served as a CASBS consulting scholar during the 2014-15 academic year.

Dweck is renowned for the study of motivations and self-conceptions that guide human behavior. She is most associated with launching a body of research showing that individuals possess implicit theories of intelligence that reside on a continuum from "fixed mindset" to "growth mindset" – now widely-used concepts that Dweck defined and elucidated. In addition to edited volumes and dozens of peer review journal articles, Dweck explores mindset research in two books. The first, Self-theories: Their Role in Motivation, Personality, and Development (1999), is an academic treatment that was awarded Book of the Year by the World Education Federation. She is widely known and acclaimed, however, for Mindset: The New Psychology of Success (2006), written for a mainstream audience. More than twelve years after its publication, Mindset remains a bestseller and has been translated into 20 languages. Dweck's 2014 TED Talk based on the book has been viewed more than eight million times.

Dweck is an elected member of the National Academy of Sciences, the Academy of Political and Social Science, and the American Academy of Arts and Sciences. Among the many honors she has received are the Distinguished Scientific Contribution Award from the American Psychological Association, the James McKeen Cattell Lifetime Achievement Award from the Association for Psychological Science, the Thorndike Career Achievement Award in Educational Psychology from the American Psychological Association, and the Donald Campbell Career Achievement Award in Social Psychology from the Society for Personality and Social Psychology.