Sag Harbor American Music Festival Presents John Hammond

Friday, September 28, 2012 from 8:00 PM to 10:00 PM (EDT)
Event Details
"John's sound is so compelling, complete, symmetrical and soulful with just his voice, guitar and harmonica, it is at first impossible to imagine improving it... He's a great force of nature. John sounds like a big train coming. He chops them all down." - Tom Waits
John Hammond

With a career that spans over four decades, John Hammond is an internationally acclaimed musician who continues to entertain blues, folk and rock audiences around the world, performing intense solo-acoustic blues. Hammond played a critical role in the blues renaissance of the mid-1960s and has shared the stage and/or recorded with many of the masters, including Jimi Hendrix, Eric Clapton, Muddy Waters, Howlin' Wolf, Duane Allman, Mike Bloomfield, JJ Cale, Tom Waits, The Band, John Lee Hooker, Dr. John and many more. 

A Grammy Award winner and 7 time nominee, Hammond is a multiple W.C. Handy award winner and was a 2011 inductee into the Blues Hall of Fame. Hammond has recorded over thirty albums and his passionate commitment to traditional blues made him the natural choice to host the BRAVO TV special and Sony Home Video, The Search for Robert Johnson. His latest album, Rough & Tough, was nominated for a 2010 Grammy Award and quickly reached #13 on the Billboard Blues charts.

A regular fixture at East Hampton's Stephen Talkhouse in the 80s and 90s, Hammond will be welcomed home to the East End when he opens the second annual Sag Harbor American Music Festival this fall.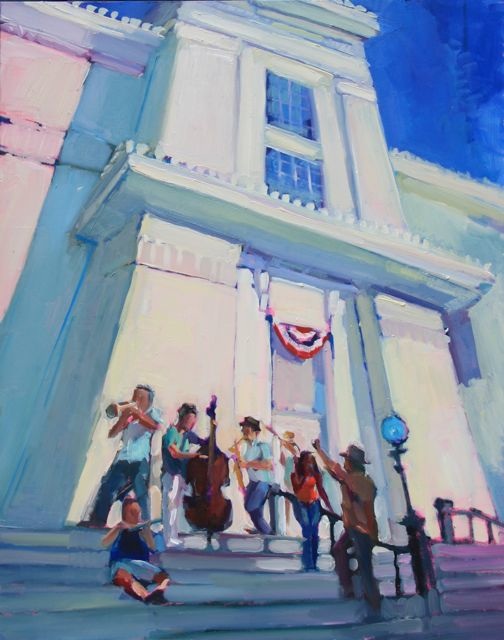 Musicians at the Old Whalers Church by Maryann Lucas
Old Whalers Church

The First Presbyterian Church of Sag Harbor was built in 1844, replacing the former church of 1816 which had become too small to accommodate the growing congregation.  That one, in turn, had replaced the Old Barn Church of 1766, an early meeting house, a homely structure with a leaky roof.

By the 1840's Sag Harbor was at the height of its prosperity, with 63 whaling ships calling the village their home port.  The money was available to build a grand new structure, and ship owners, captains and local business men readily agreed to contribute to the project.  A well-known New York architect, Minard LaFever, was commissioned to design the building; the property was bought for $2,000 and the building, without furnishings, cost $17,000.  The structure, which combines elements of both the Egyptian Revival Style and the Greek Revival Style, was topped by a magnificent steeple of 185 feet, which could be seen by returning mariners as they sailed towards home.  When the church was dedicated on May 16, 1844, the vessels in port were granted an extra day at home by the ship owners so that all could attend the ceremony. 

In 1994 the church was named a National Historic landmark by the U.S. Department of the Interior and was placed on the National Register of Historic Places.  During recent years much needed restorations have been made, exterior and interior painting done, woodwork refinished, new windows installed, new carpets put down and reconstruction and renovation done on the 1899 Chapel.  The great steeple, which crashed to the ground during the hurricane of 1938, will, it is hoped, be rebuilt at some future time.  



When & Where

Old Whalers Church
44 Union St
Sag Harbor, NY 11963


Friday, September 28, 2012 from 8:00 PM to 10:00 PM (EDT)
Add to my calendar
Organizer
Sag Harbor American Music Festival
Join us September 21 - 24, 2017 - Local to Global, Jazz and Blues, Roots and Folk, Pop and more! The Festival includes 2 Main Stage concerts, 2 days of FREE music with dozens of acts, and an original concert film of American Music Legends. Local galleries, restaurants and businesses serve as more intimate venues along with outdoor locations, offering a wide variety of performances during the Festival weekend. These venues are free and open to the public, with costs covered by sponsorships and donations.
The Sag Harbor American Music Festival is a 501(c)(3) non-profit organization and all donations are tax deductible. 86% of the Festival budget goes towards the musicians and related production expenses. Festival income is used to support local school music programs and free live music performances throughout the year.
Sag Harbor American Music Festival Presents John Hammond