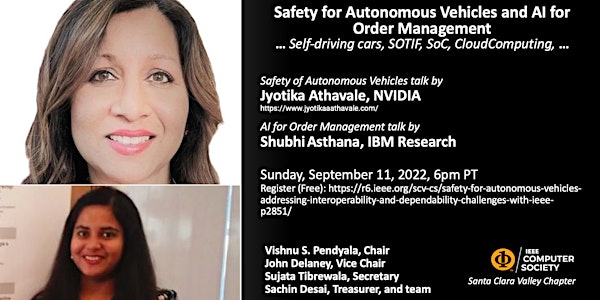 Safety for Autonomous Vehicles / AI for order management process
Location
Santa Clara University
500 El Camino Real
Santa Clara, CA 95053
...IEEE P2851, SOTIF, SoC, Safety critical systems, Self-driving cars, CloudComputing...
About this event
Collocated with IEEE GHTC
Includes award presentation and a short technical talk by the awardee, Shubhi Asthana, IBM Research
Seating is limited. Please be kind to register for in-person attendance only if you are very sure to attend. The venue provider may require proof of vaccination for entry. Masks and spaced seating will be required indoors.
Talk 1 Safety of Autonomous Vehicles
Abstract: The IEEE P2851 standard defines a dependability lifecycle of products with focus on interoperable activities related to functional safety and its interactions with reliability, cybersecurity, SOTIF (Safety of the intended functionality) and real time. The standard also describes methods, description languages, data models, and databases that have been identified as necessary or critical, to enable the exchange/interoperability of data across all steps of the lifecycle encompassing activities executed at IP, SoC, system and item levels, in a technology independent way across application domains such as automotive, industrial, medical and avionics safety critical systems. The speaker, who is the chair of the working group on the standard will provide more insights into the topic.
Keywords: IEEE P2851, SOTIF, SoC, Safety critical systems, Self-driving cars
Biography: Jyotika Athavale is a senior technical leader in automotive functional safety at NVIDIA, driving capability development, safety architectures and methodologies, system safety engineering activities and pathfinding for safety critical markets such as autonomous driving and avionics. Prior to NVIDIA, Jyotika was Principal Engineer (Director) at Intel Corporation where she led functional safety platform architecture for Automotive and Avionics use cases and drove Corporate wide methodologies for radiation effects modeling and product qualification across market segments. She is a Senior IEEE Member and an influencer in emerging technologies and standardization initiatives. She was awarded the IEEE Computer Society Golden Core Award in 2022. Currently, an elected member of the Computer Society Board of Governors and Executive Committee, Jyotika also serves as the 2022 Secretary and Distinguished Visitor of the Computer Society. She chairs the IEEE P2851 Standard on Functional Safety interoperability.
Jyotika is a core member of the IEEE Computer Society Functional Safety Standards Committee, Design Automation Standards Committee and Diversity and Inclusion Committee. In addition, she represents the Computer Society at the IEEE USA AI Policy Committee, IEEE SA Industry Connection Group on Mobility as a Service (MaaS) related standardization activities, the IEEE Women in Engineering (WIE) Committee and the IEEE Systems Council. Jyotika also serves on various technical conference committees and has authored patents and technical publications in various conferences and journals. For more information, please refer to https://www.jyotikaaathavale.com/
Talk 2 Transforming the Order Management process using Neural Networks and Risk Modelling
Abstract: The transactions of goods and services between large businesses are often driven by contracts and orders. Based on usage of services, invoices are billed to the customer who settle them. Enterprise service provider process thousands of orders every year and it takes considerable manual effort to process them. The invoice's billed data is not always maintained in the same system as the orders, and it takes effort to match them. Sometimes the invoices may get into a dispute due to over exhaustion of allocated funds or may be billed to an expired order. Hence managing the billing of order is a huge undertaking along with increased cost. To address these challenges, we developed an order management workflow system, that transforms the overall orders process to increase their renewals and decrease disputes. It comprises of two components – an automated order-invoice model and a risk analytics model that evaluates the contracts and orders against the invoices billed to the customer. The output is the ranking of orders based on customer portfolio, risk level as well as market trends in usage of services. The speaker will illustrate their approach with some promising results on data of one of the world's largest IT service providers.
Speaker Shubhi Asthana is the winner of this year's Industry Rising Star award from the chapter: https://r6.ieee.org/scv-cs/industry-rising-star-2022-shubhi-asthana/
Note: The pandemic is not over yet. By registering to attend this event in-person, on behalf of yourself and your next of kin, heirs and representatives, you agree to release from all liability and promise not to sue the IEEE Computer Society, Santa Clara chapter and all other organizers, volunteers of this event from any and all claims, including claims of the organizers' negligence, resulting in any and all kinds of losses. Registration is purely voluntary and at your own risk.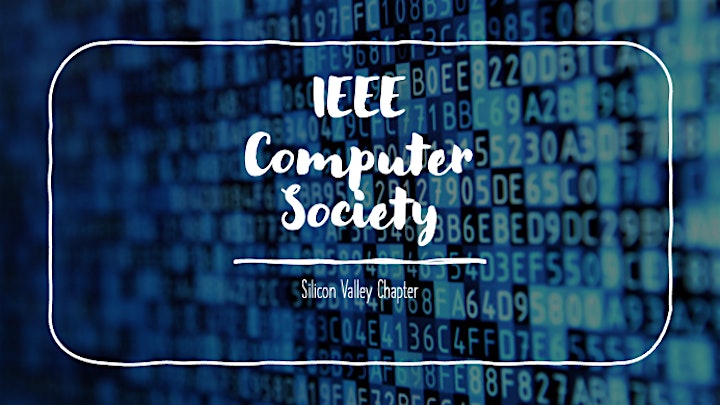 IEEE Computer Society, Silicon Valley Chapter