About this Event
**Note: This conversation will be hosted digitally, not in the real live world.**
Click HERE to tune in to the conversation.
How can our communities prepare for future outbreaks? How can we improve hazard resilience for the sake of preparedness?
Join us for a cyber conversation with the Sustainable Development Policy Director at SPUR, Laura Tam, on how to improve hazard resilience in the Bay Area.
More about Laura Tam:
Laura Tam is the Sustainable Development Policy Director at SPUR, a Bay Area think-tank and one of the leading urban policy groups in the United States. She is a thought-leader on urban sustainability and climate resilience, and has led SPUR's work on water, energy, and climate change since 2007. She has authored or co-authored numerous reports and policy studies including Fossil-Free Bay Area, Future-Proof Water, Climate Change Hits Home, and the book, Resilient Coastal City Regions. Her work has been featured in the San Francisco Chronicle, the New York Times, KQED and other media outlets. She is a frequent speaker and presenter, and has guest-lectured at all of the Bay Area's major universities including Stanford and UC Berkeley.
Laura currently serves on the Advisory Committee of the San Francisco Bay Restoration Authority, and the Executive Board of the Bay Area Resilient by Design Challenge. She has served on numerous other nonprofit boards and advisory bodies to government over the last ten years, including Friends of the Urban Forest, the Resilient City Steering Committees (in both Oakland and San Francisco), the Green Infrastructure Foundation, the Bay Area Air Quality Management District, and others.
Prior to working at SPUR, Laura worked for the U.S. Environmental Protection Agency in the Office of the Inspector General, where she designed and conducted environmental program evaluations of national significance. She has a Master's degree in environmental management from the Yale School of Forestry and Environmental Studies, and a BA in geography from Dartmouth College.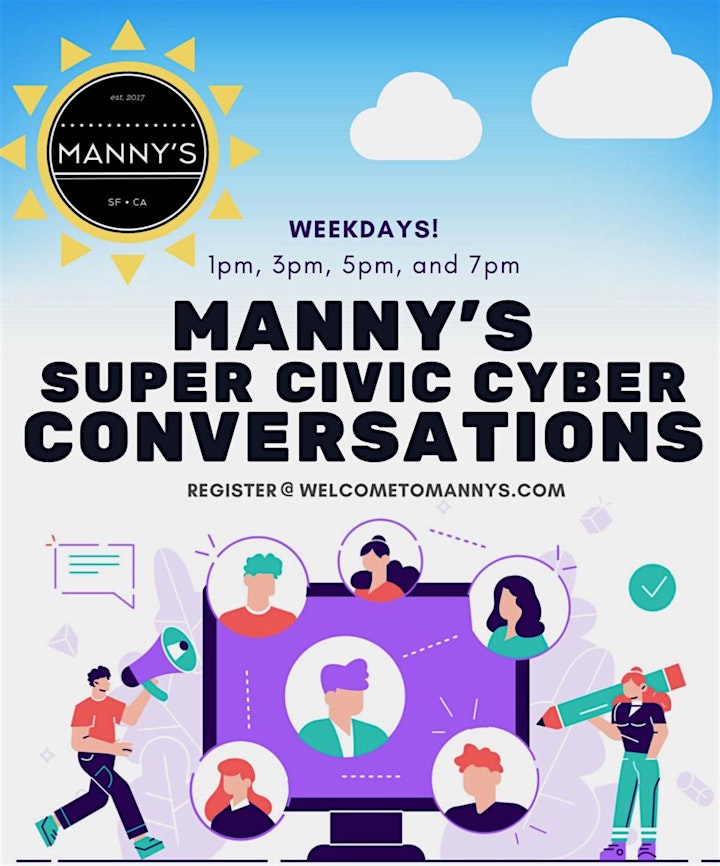 About Manny's Super Civic Cyber Conversations:
San Francisco and the surrounding 5 counties are in the midst of mandated shelter-in-place. All businesses except those deemed essential are closed and many Bay Area residents and scared, nervous, and wondering about the future.
Manny's, a civic gathering and events space located in the heart of San Francisco, is rising to the occasion to create and promote a month's worth of live civic conversations to distribute needed information, give people the hope, and continue to civically engage the public in a time of need.
About Manny's:
Manny's was opened on election night 2018 to create a physical place for people to go to become better informed and more involved citizens. Since opening we've hosted 17 of the Presidential candidates, over 550 civic events, talks, and gatherings, over 40 members of Congress including Speaker Nancy Pelosi, and leaders across different social justice movements like Alicia Garza, Jose Antonio Vargas, Michael Brune, Cleve Jones, and Gabby Giffords.