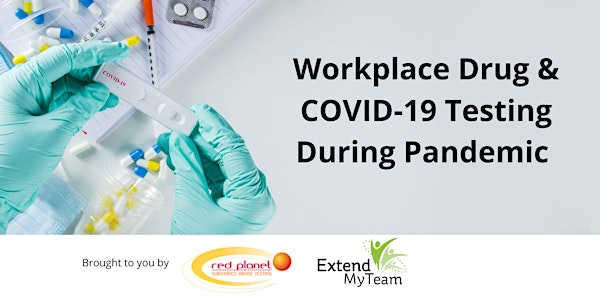 Safety 1st: Workplace Drug & COVID-19 Testing During Pandemic
Safety 1st: Workplace Drug & COVID-19 Testing During Pandemic
About this event
Returning employees to work safely and hiring new employees can be challenging while adhering to CDC guidelines. Judy Swartley, owner of Red Planet Testing, will guide us through the new drug and COVID-19 tests available and how to administer them correctly during the pandemic. This presentation is applicable to HR professionals and companies needing to test employees for drugs and COVID-19.
About Judy:
As the owner of Red Planet Testing, Judy specializes in guiding companies through the maze of drug testing products. For over 20 years, she has been educating employers about substance abuse programs (pre-employment, random, etc.) and substance abuse products (urine, saliva, hair).
Judy earned an M.B.A. from Lehigh University. She has published numerous articles on workplace safety and drug testing. Her company is certified by National Women's Business Enterprise, Women's Business Enterprise in PA, and the PA Gaming and Control Board.
This event is brought to you by ExtendMyTeam, LLC, your trusted partner for talent solutions to meet the growing demands of your business. We offer a full suite of human resources and recruiting advisory services, customizable to fit your needs.