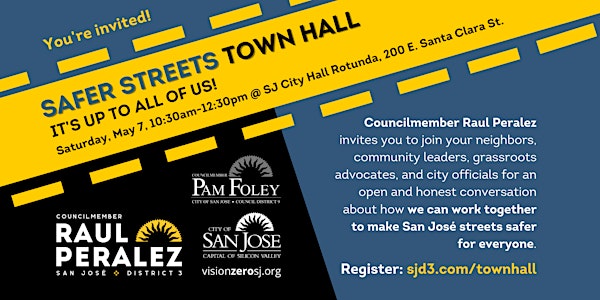 Safer Streets Town Hall
It's up to all of us to make San José streets safer for everyone.
When and where
Location
San José City Hall 200 East Santa Clara Street San Jose, CA 95113
About this event
Councilmember Raul Peralez invites you to join Councilmember Pam Foley, the Vision Zero Task Force, neighbors, community leaders, grassroots advocates, city staff, and more for an open and honest conversation. Together, we will:
Hear an update on the City's Vision Zero initiative
Learn about recent proposals to recalibrate and advance the program
Share your experiences
Raise questions and concerns
Meet organizations working to improve street safety
This event is free and open to the public. Registration in advance is highly encouraged to speed up the check-in process. If you have any questions, please contact district3@sanjoseca.gov.
Special thanks to the Silicon Valley Bicycle Coalition, California Walks/Walk San José, and the AARP for their partnership in organizing and promoting this event!
——
El concejal Raúl Peralez los invita a unirse a la concejal Pam Foley, el grupo de trabajo Vision Zero, vecinos, líderes comunitarios, defensores de base, personal de la ciudad y más para una conversación abierta y honesta. Juntos, haremos lo siguiente:
Escuche una actualización sobre la iniciativa Vision Zero de la Ciudad
Conozca las propuestas recientes para recalibrar y adelantar el programa
Comparte tus experiencias
Plantear preguntas e inquietudes
Conozca a las organizaciones que trabajan para mejorar la seguridad en las calles
Este evento es gratis y abierto al público. Se recomienda encarecidamente registrarse con anticipación para acelerar el proceso de registro. Si tiene alguna pregunta, comuníquese con district3@sanjoseca.gov.
¡Un agradecimiento especial a Silicon Valley Bicycle Coalition, California Walks/Walk San José y AARP por su colaboración en la organización!
——
Nghị viên Raul Peralez mời qúy vị̣ tham gia Nghị viên Pam Foley, Lực lượng Đặc nhiệm Vision Zero, hàng xóm, các nhà lãnh đạo cộng đồng và các quan chức thành phố cho một cuộc trò chuyện cởi mở và trung thực. Với nhau, chúng tôi sẽ
Nghe thông tin cập nhật về sáng kiến Vision Zero của Thành phố
Tìm hiểu về các đề xuất để trợ giúp chương trình này
Chia sẻ kinh nghiệm
Đặt ra câu hỏi và mối quan tâm
Gặp gỡ các tổ chức làm việc về an toàn đường phố
Sự kiện này là miễn phí và mở cửa cho cộng đồng. Đăng ký trước rất được khuyến khích. Nếu qúy vị̣ có bất kỳ câu hỏi nào, vui lòng liên lạc district3@sanjoseca.gov.
Xinh cảm ơn Silicon Valley Bicycle Coalition, California Walks/Walk San José và AARP vì sự hợp tác của họ trong việc tổ chức và quảng bá sự kiện này!