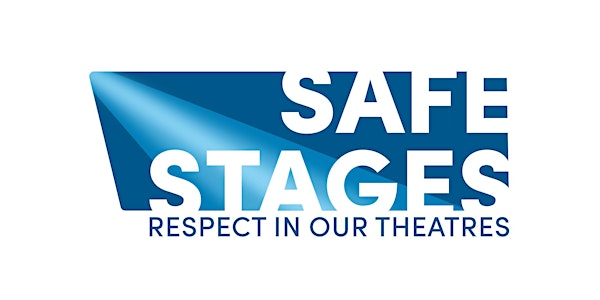 Safe Stages – Sexual Harassment & Bullying Prevention Workshop (Wgtn) #2
BE PART OF THE CHANGE. Create a safe culture in your theatre community by recognising, preventing and addressing sexual harm and bullying.
When and where
Location
Toi Whakaari: NZ Drama School 11 Hutchison Road Newtown Wellington, Wellington 6021 New Zealand
About this event
Safe Stages – Sexual Harassment and Bullying Prevention Workshops
Post #METOO - how are you keeping your theatre community safe?
Do you know what your rights and responsibilities are around sexual harassment and bullying in the live performance sector?
Whether you are a professional or non-professional performer, a director, producer, volunteer board member for a community theatre organisation, a drama coach, a stage manager, a venue manager or theatre technician it's important that you know your obligations to maintain a safe workplace under the Health and Safety in Employment Act. This workshop is designed to help you create policies to prevent and address sexual harm and bullying and create a safe culture for live performance to flourish.
Equity New Zealand, the trade union for professional performers, with support from WorkSafe New Zealand, is offering free one-day workshops as part of our commitment to reducing sexual harm and bullying in all parts of the live performance sector.
LAST CHANCE - this is the last time the workshop will be run in WELLINGTON. Get some folk from your organisation to book and commit ASAP.
The workshops will run from 9.00am – 5pm on a weekend day in centres across New Zealand and will talk about bullying but mostly focus on preventing sexual harm. The workshops are based on a model of similar training that is being run throughout the screen sector, music and comedy sector in Aotearoa and will cover:
• Definitions of sexual harassment and sexual harm and bullying within New Zealand legislation
• WorkSafe obligations and legal requirements
• Guidance for receiving disclosures of sexual harm and supporting survivors
• Options and pathways for reporting sexual harm and support services available
• Guidance for working on intimate scenes
• Strategies for preventing sexual harm and fostering a respectful work environment
• Practical tips for bystander intervention
The training will be facilitated by Rachel Harrison and Meredith Kennett who are experienced specialists in this field and they will ensure that the discussion is safe, constructive and respectful. If you do have any concerns and would like to discuss how to attend or contribute in a safe way then please feel free to contact us at mail@actorsequity.org.nz or contact Rachel directly on rachelharrison103@gmail.com
There is also a range of support services available. We have partnered with Help, the sexual harm crisis agency, and they are available 24/7 on 08006231700 (you can call anonymously if you wish,) or by email on info@helpauckland.org.nz , or directly via its website https://www.helpauckland.org.nz
HELP can provide information, support and practical assistance to anyone who has experienced sexual harm, or anyone supporting a friend or family member who has experienced it, or anyone else who is affected.