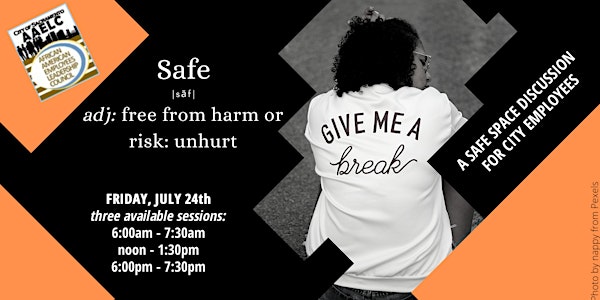 Safe Space Discussion for City of Sacramento Employees of African Ancestry
Join AAELC for a safe space discussion for people of African ancestry to connect, process and heal.
About this event
Join AAELC for a safe space discussion for City of Sacramento Employees of African ancestry.
We all recognize that we are in trying times that can weigh heavy on our hearts, minds, and spirits. Incident after incident, from microaggressions in the workplace to international outcries stemming from public displays of racial injustice, can cause stress and trauma effecting every area of life.
AAELC is offering 3 safe space discussions on topics that affect our community. A safe space discussion is one that is free from harm and the risk of retaliation or judgement. Such discussions are intended to offer a sense of comfort and hope in times that feel hopeless. It is a space for us to celebrate our unique yet shared experiences, collectively grieve, release burdens, and embrace tools for healing.
If you are a City of Sacramento employee of African ancestry, register for this FREE online discussion.* Join your friends and colleagues and African American mental health providers in a safe space discussion designed specifically by us and designed just for us.
*These sessions are reserved for City of Sacramento employees of African ancestry only. as we will be discussing experiences unique to that community.