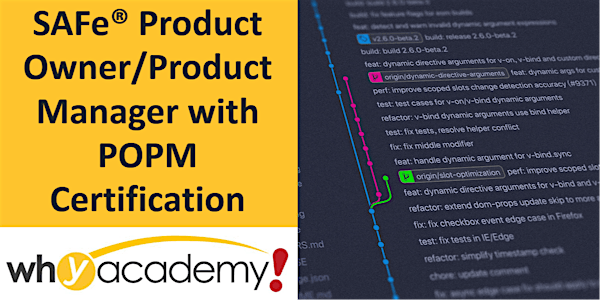 SAFe® Product Owner/Product Manager with POPM Certification - SG
SAFe® Product Owner/Product Manager with POPM Certification
Refund Policy
Contact the organizer to request a refund.
About this event
Delivering value through Programme Increment execution
Course key information
Duration: 2 days

Languages: English, Mandarin

Certification: POPM (Scaled Agile, Inc.)

Funding: null
About
In this two-day course, you will learn how the roles of Product Owner, Product Manager, Solution Manager, and Epic Owner drive the delivery of value in the SAFe® enterprise. Read more about our why! approach to trainings.
Online class available (adjusted duration for optimal learning experience).
Learning Outcomes
With this training, you will learn how to:
Articulate the Product Owner and Product Manager roles
Decompose Epics into Features and decompose Features into Stories
Refine Features into Stories
Manage Programme and Team backlogs
Collaborate with Agile teams in estimating and forecasting work
Represent Customer needs in Programme Increment Planning
Execute the Programme Increment and deliver continuous value
Why Bother?
Explore how to apply Lean Thinking in backlogs
Discover Continuous Delivery Pipeline and DevOps culture
Become a Product Owner/Product Manager in the SAFe enterprise
Certified SAFe® Product Owner / Product Manager
1-year membership to the SAFe Community Platform
Become a member of the why innovation! Alumni
Audience
This course is intended for Product Owner/Product Manager who is a SAFe professional works with customers and development organisations to identify and prioritise requirements.
Prerequisites
All are welcome to attend the course, regardless of experience.
However, the following prerequisites are highly recommended:
Attend a Leading SAFe® course
Experience working in a SAFe environment
Experience with Lean, Agile, or other relevant certifications
Further information on this training:
Do you need any help?
You can't find a convenient schedule? You need to register your team? You want to attend to more than one course?