Description
Notice: Due to COVID-19 precautions, this course will be held online. If you are interested in scheduling or inquiring about other online SAFe training, please contact darcy.kruse@gosprintahead.com to schedule an online SAFe class.
In this two-day course, you will learn how the roles of Product Manager, Product Owner, Solution Manager, and Epic Owner drive the delivery of value in the Scaled Agile Framework (SAFe) enterprise, taught by a SAFe Silver Partner and an instructor with real world experience as a Release Train Engineer and Product Manager within multiple SAFe implementations at Intel Corporation and Verimatrix.

You'll get an overview of the Scaled Agile Framework® (SAFe®), the Lean-Agile mindset, and an understanding of how the Product Manager and Product Owner roles operate in the enterprise to drive the delivery of value. Finally, you will get an in-depth understanding of the specific activities, tools, and mechanics used to effectively deliver value to the enterprise.
By the end of this course, you should be able to write Epics, Capabilities, Features, and User Stories within the context of SAFe, and have a solid foundation for managing backlogs and programs in a Lean-Agile enterprise.


Audience:
Product Managers, Product Line Managers, Product Owners, Business Owners, and Business Analysts
Solution Managers, Portfolio Managers, Program Managers, PMO personnel, and Process Leads
Enterprise, Solution, and System Architects
Learning Goals:
After this course, you should be able to:
Identify the major components of the Scaled Agile Framework
Connect the Scaled Agile Framework to core Lean-Agile principles and values
Identify key roles and responsibilities within a SAFe implementation
Contribute to Portfolio content using epics and the Portfolio kanban
Apply Value Stream strategies to define and manage solution value
Engage in Product Manager strategies
Operate as a SAFe Product Owner
Develop a stakeholder engagement plan
Build and grow communities of practice


Topics Covered:
SAFe PM/PO Introduction
Embracing the Lean-Agile mindset
Exploring Product Manger and Product Owner roles
Contributing to Portfolio content
Defining and managing solution value
Being an effective SAFe Product Manager
Being an effective SAFe Product Owner
Engaging stakeholders
Building your Communities of Practice


Every Participant Will Receive: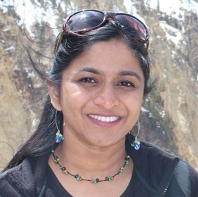 Sowmyalatha Srinivasmurthy has experience within multiple SAFe implementations; she is currently a Release Train Engineer at Verimatrix and previously was a Program Manager and Agile Coach at Intel, helping launch some of Intel's first Agile Release Trains. She has been in the software industry for over 12 years with more than 6 years in Agile teams. Sowmyalatha has helped launch multiple SAFe Agile trains, and trained Business Owners, Product Owners and Scrum Masters in Leading SAFe. She has also worked within the SAFe system as a Release Train Engineer and Scrum Master. She will share her real world experiences with multiple Scaled Agile Framework implementations.
Student Feedback:
"Very engaging and well led class. Sowmyalatha was very knowledgeable and presented real-life examples of the material to make it easier to absorb and relate."
"Very interesting class, she's a great instructor making a complex topic easy to understand."
"Sowmyalatha is extremely knowledgeable regarding the material and how to apply in the real world. Amazing instructor!"
"Sowmyalatha was able to make the classroom warm and open to interaction."
"I was very confident with Sowmyalatha's experience in SAFe."
Exact location in Orange County (Irvine/Mission Viejo area) will be dependent upon number of registrants. Attendees will be notified of exact location at least 2 weeks prior to training.

Cancelation policy: Full refunds will be issued for cancelations made more than 30 days from the start of the course. For cancellations less than 30 days prior to course start, registrants may contact us to change their registration to another offering.

Notice: If you are booking travel please be sure to book refundable tickets. If 6 or more students do not register for the course, the course will be canceled and you will be notified of cancellation at least 2 weeks prior to class. Sprint Ahead will not be responsible for any canceled airline or hotel reservations.

For group rates, on-site intact training or to request alternate date/location/course contact darcy.kruse@gosprintahead.com.
See our other SAFe certification and training offerings.