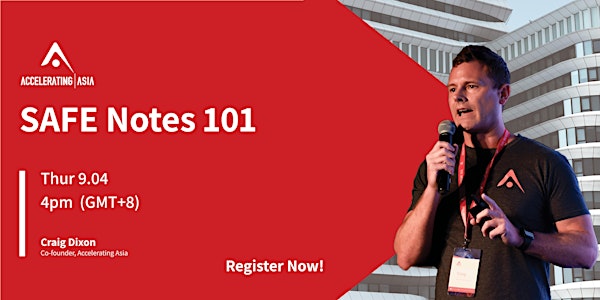 SAFE Notes 101
Attention Startup Founders. Join Accelerating Asia for SAFE Notes 101 to learn about what we use to invest
About this event
Safe notes
Convertible debt
Term Sheets
There's all kinds of different types of investment documents when it comes to startup.
Sometimes it can be overwhelming or sometimes it's easy and straightforward.
We think SAFE notes make it easy for early stage startup founders and investors, it's how Accelerating Asia invests in startups.
SAFEs were first pioneered by YCombinator as an alternative to convertible debt, which was widely used.
They are typically shorter and simpler documents that can be executed between the parties without much due diligence, legal expense or registration with government or regulators.
Want to know more about SAFE notes? Join Accelerating Asia Co-Founder Craig Bristol Dixon for SAFE notes 101 as he outlines the essentials.
What we'll cover
The basics of SAFE notes
How Accelerating Asia' uses SAFE notes to invest in startups
Benefits and costs of SAFE notes
Who should join
Startup founders who are interested in applying to Accelerating Asia or who just want to learn more about early-stage.
Investors interested in early-stage startup investment and learning more about different options for investment.
Who we are
Accelerating Asia is a pre-Series A venture capital fund and award-winning startup accelerator based in Singapore. As an independent startup accelerator, we focus on our startups and founders first which means our interests are aligned from Day 1. Our startups receive competitive funding, access to the best-in-class mentors, active angel and institutional investors, customers and our network of partners. You'll have access to a great space in the downtown area in Singapore with a high-value and efficiently-run program that offers tremendous value while giving you time to run your business.