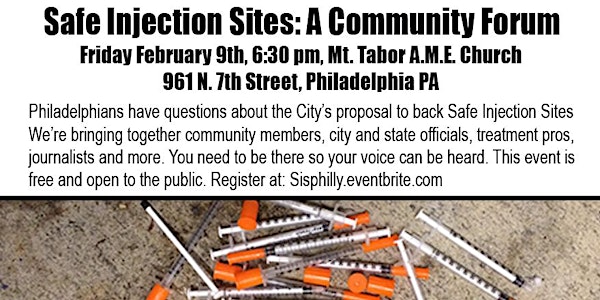 Safe Injection Sites: A Community Forum
When and where
Location
Mt. Tabor AME Church 961 North 7th Street Philadelphia, PA 19123
Description
Amid the drug crisis that caused an estimated 1200 overdose deaths in Philadelphia last year, city leaders have proposed Safe Injection Sites where intravenous drug users can inject drugs under the supervision of medical personnel.
Philadelphians have many questions and concerns about the city's proposal. Solomon Jones and Praise 107.9 FM are bringing together community members, city and state officials, treatment pros, journalists and more to talk about both sides of the issue. You need to be there so your voice can finally be heard.
Safe Injection Sites: A Community Forum
Friday February 9th at 6:30 pm, Mt. Tabor AME Church, 961 N. 7th Street, Philadelphia PA
Panelists include
Moderator, Solomon Jones of Praise 107.9 and the Philadelphia Daily News
City Councilwoman Cindy Bass
Deputy Commissioner Roland Lamb, Phila. Dept. of Behavioral Health

Mike Newall, Columnist, Philadelphia Inquirer
Gilberto Gonzales, Kensington community activist
Quetcy Lozada, Councilwoman Maria Q. Sanchez's Office
Pastor Michael Couch, Kensington activist
Louis Cain, Addiction Healthcare Provider, Goldman Clinic
Praise 107.9 FM will be onsite. Pastor Albert Johnson of Mt. Tabor AME Church will welcome and pray for the community.