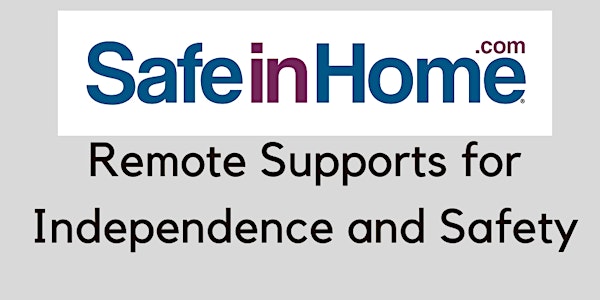 'Safe in Home® Remote Supports for Independence & Safety' Seminar
Safe in Home® offers remote support, sensory and assistive tech, person support & more to help your loved one with I/DD be more independent.
About this event
Would your loved one with I/DD like to become more independent?
Whether living at home, supported living or independently, Safe in Home® offers:
Remote Support Staff
Sensory Technology
Person Supported
Assistive Technology
and more!
Presented by Peggy DiSalle, Safe in Home® Western WA Regional Rep
Hosted by Island & Skagit County P2P Programs
Questions: E-mail Skagit P2P at p2poffice@sparckids.org
NOTE: On the day of the event you will receive an email with the ZOOM link to join the seminar.
*This event may be recorded. By registering for this seminar you are acknowledging your consent to be recorded. You may block your camera/audio access if you do not want your image/voice to be recorded. The chat box/Q&A feature will be available for those who do not want to be on the recording.