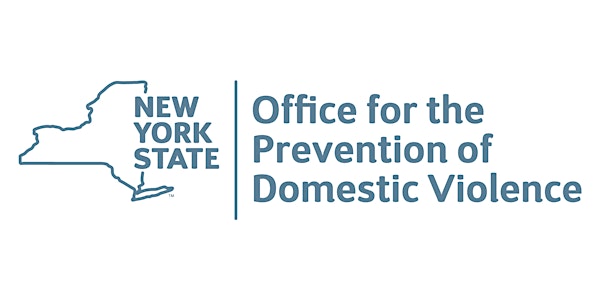 Safe Housing Symposium: Intersection of Homelessness and Domestic Violence
Location
Empire State Plaza Convention Center
279 Madison Avenue
Albany, NY 12242
Promoting Survivors' Housing and Economic Well-Being Through Innovation and Collaboration.
About this event
Safe Housing Symposium: The Intersection of Homelessness and Domestic Violence
September 12th & 13th 2022
The Housing Learning Consortium is comprised of NYS domestic violence providers participating in the Safe Housing Options Grant. As a part of the Consortium's work, OPDV is bringing together national experts, advocates, state coalitions, survivors, and allies through a statewide symposium.
This one-and-a-half-day symposium features presentations, workshops, and discussions regarding all stages of housing survivors and their children. Our goal is to create opportunities for advocates and experts alike to share resources, strengthen collaborations, and consider innovative solutions that support survivors' housing needs and economic well-being.
(Registration deadline is Friday, September 2nd)
Agenda
Day One | September 12th, 9 am to 4 pm
Opening Panel: Affordable Housing
This panel explores strategies and innovative work that the domestic violence field can implement to address the lack of affordable housing for survivors. Panelists will discuss the challenges of creating affordable units and resources for survivors.
AM Breakout Sessions:
Workshop 1: Implementation of Domestic Violence Housing First Model. This session will examine the main pillars of the Housing First Model for survivors of domestic violence. The presenters will provide a concrete example of implementing the Housing First Model and the changes necessary to become a housing-first program.
Workshop 2: Coordinated Entry and Victim Service Providers.This session will provide information about Coordinated Entry and the role of domestic and sexual violence service providers. Representatives from NYS CoCs and Victim Service providers will discuss establishing a client-driven, trauma-informed, culturally relevant assessment, tools, and referral procedures to address survivors' safety and confidentiality needs.
Workshop 3: Department of Housing and Urban Development 101 (Utilizing HUD Resources and Grants for DV survivors). This session will feature a presenter from HUD who will share tips and resources for navigating HUD housing and homelessness programs to support survivors of domestic violence and sexual assault.
Working Lunch: Panel discussion and Q&A | State Agency Funding. This panel will feature presenters from various state agencies who will discuss housing funding streams for survivors of domestic violence. Presenters will speak to examples of successes, challenges, and limitations of the current projects utilizing funding streams in downstate and upstate New York. Complimentary boxed lunches will be provided to all participants
PM Breakout Sessions:
Workshop A: Homeless Management Information System (HMIS) and Comparable Databases. In this session, there will be a discussion of the challenges of gathering and sharing housing data for survivors of domestic violence due to confidentiality requirements. They will explore comparable databases as one of the solutions to the HMIS requirement of HUD funding. Audiences will also receive information on the latest updates on the comparable databases and HUD requirements.
Workshop B: Housing Rights for Survivors (Successfully Protecting Housing Rights of Survivors). In this session, presenters from the New York State Division of Human Rights will provide information on the housing rights of survivors and how to submit complaints to their office. In addition, the Legal Aid Society of Northeastern New York will speak about the process of securing survivors' rights.
Workshop C: Empire State Supportive Housing Initiative (ESSHI)'s Recipients: Program Perspectives. This panel will feature domestic violence programs that receive Empire State Supportive Housing Initiative (ESSHI) funding. Panelists will present innovative ways of securing capital funding and creating housing for survivors of domestic violence.
Day Two | September 13th, 9 am to Noon
Presentation: Successful Collaboration of Continuum of Care (CoCs) and Domestic Violence Programs. The closing presentation will focus on practical and impactful examples of collaboration between CoCs and domestic violence service providers. Following the presentation, the participants will work in groups consisting of CoCs and DV/SA service providers to develop action plans for collaboration. A representative from the Safe Housing Alliance will facilitate a discussion on collaboration strategies, innovative ways of communication, sharing resources, and enhancing programs' capacities to apply for housing funds through HUD.
Location
Convention Hall, Empire State Plaza Concourse Level, Room 130, Albany, NY. Conference hall access for those with limited mobility.
Please note, the Empire State Plaza does not have a physical address that interfaces well with GPS, Google Maps, or other mapping systems. We suggest using the following GPS coordinates to direct you to the Visitor's Parking Lot: N 42.650674, W 73.7600
Directions to Empire State Plaza
Lodging
Registrants can use their Safe Housing Options Grant to cover expenses associated with attendance. OPDV has reserved a block of rooms at the per-diem rate of $114. per night available on a first-come/first-served basis.
The deadline for room block reservations has been extended to August 18, 2022.
There are numerous other hotel accommodations nearby as an alternative to those above.
Parking
Located beneath the Empire State Plaza and accessed through the I-787 Empire State Plaza exit. Visitors may be required to show a photo identification upon entry. Rate: $10 per day. This lot has designated accessible parking spaces.
Meals
A continental breakfast will be provided on both days. Complimentary boxed lunches will be provided on Tuesday, September 12th. Please indicate your lunch choice on the registration form.
OPDV is committed to providing access, equal opportunity, and reasonable accommodation to its services, programs, and employment. Please make all requests for accommodation at least ten days in advance.
Questions about registration and accommodation can be sent to DVsymposium@opdv.ny.gov
Registration deadline is Friday, September 2nd