Building Recovery: A Comprehensive Program for Survivors of Human Trafficking
About this event
Staff from Safe Harbor, the first agency in Central Virginia to provide comprehensive services for survivors of trafficking, will share their knowledge, expertise, and lessons learned. Additionally, joining Safe Harbor's staff will be Dede Wallace, Victim Assistance Specialist with Homeland Security Investigations, and Bonnie Price, Administrative Director from Bon Secours Health System.
Over the course of four Fridays in January 2021, attendees will receive a plethora of information including but not limited to: best practices for providing coordinated care in a residential program, common medical needs and other challenges for survivors of human trafficking, and trauma informed practice in individual and group work.
Participation and registration is free*. All sessions will begin at 10:00am EST and end at 12:15pm. Sessions will be held virtually and advanced registration is required. Participants are not obligated to but are encouraged to attend all sessions.
Each day has a unique Zoom registration. Participants will need to register and secure a ticket for each day in the series, a total of four, to receive the corresponding day's Zoom invitation link.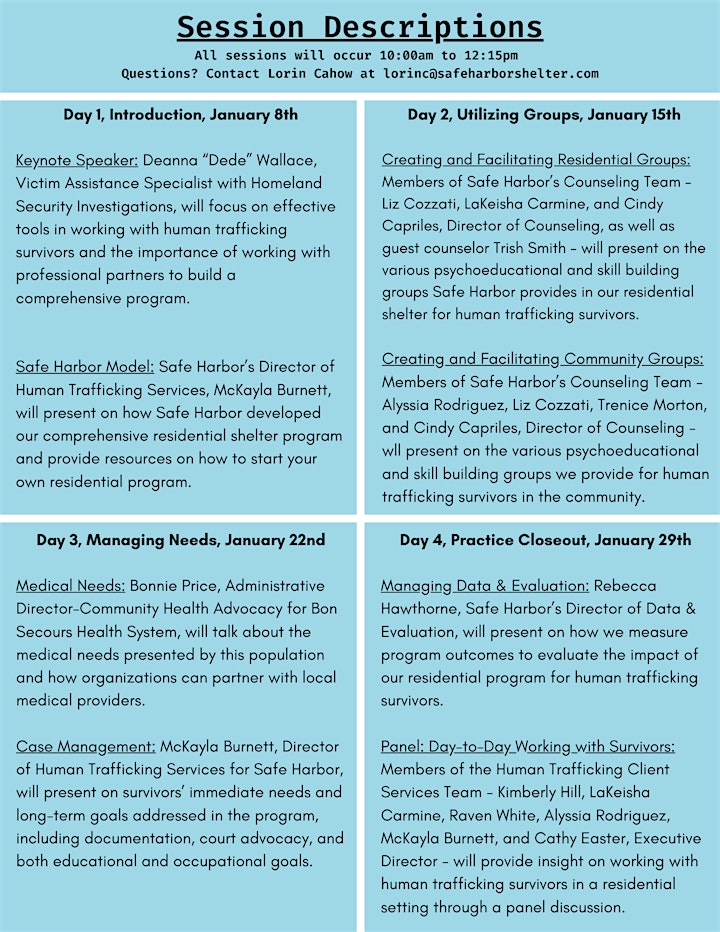 *There will be a charge for participants who wish to receive CEUs. This training has been approved by the National Association of Social Workers – Virginia Chapter for 8 Category I Continuing Education Contact Hours - Approval code: 210108SH