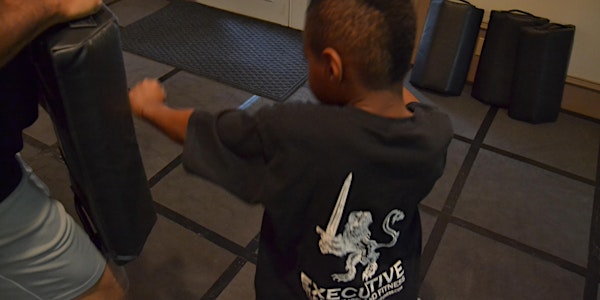 Safe Family Self-defense & Krav Maga, Parent & Child ages 8 & Up, October
When and where
Location
Executive Self-defense and Fitness, LLC 9630 Virginia Parkway W #300 McKinney, TX 75071
Refund Policy
Refunds up to 7 days before event
Description
Executive Self-defense and Fitness present a parent and child self-defense class – "Safe Family Self-defense". The four week sessions will cover situational awareness, how to handle verbal and physical conflict and will concentrate on real application techniques of self-defense which are Krav Maga based. These are skills which translate into learning to deal with bullies, building self-esteem and overall confidence. The sessions are open to children ages 8 years old and up with a parent or guardian as their class partner. Parents will work with their child throughout the four week session as their partner in the class. Each session requires registration and tuition. Wear normal workout attire or comfortable clothing. Bring a water bottle to each time.
Who: Ages 8 and up with Parent/Guardian
What: Safe Family Self-defense & Krav Maga
When: 4 total classes in each session.
Session 2 Class Dates:
October 1 – 6pm to 6:45p
October 2 – 6pm to 6:45pm
October 15 – 6pm to 6:45pm
October 22 – 6pm to 6:45pm
Where: Executive Self-defense and Fitness
9630 W. Virginia Parkway #300
McKinney, TX 75071
469-777-6621
www.ExecutiveSelfDefenseAndFitness.com
Tuition: $125 for one parent and one child registered together as partners. EARLY BIRD REGISTRATION - SAVE MORE! Includes 4 week training session, one t-shirt for child and one t-shirt for adult.
*T-shirt style preselected by studio
*No refunds after attendance of any class in the session
*If parent unavailable for a certain session, a guest adult may/should take their place as child's partner for that certain session.
*Registration is for one child and one adult and is not to be used interchangeably between multiple family members.
About the Instructors:
Matt Cole has been training at ESDF for three years. Matt has 10 years of experience coaching youth sports combined between his two daughters, is a volunteer for his Church's youth program and co-leads a middle school Bible study at First United Methodist in downtown McKinney. Matt is also a regular chaperone for youth camps and field trips making him a valuable asset in leading our Youth Training Program at ESDF. His favorite quotes are from Teddy Roosevelt, "Do what you can, with what you have, where you are." and from a sign from his 8th grade math teacher's classroom, "Tell me, I'll forget. Show me I'll remember. Involve me, I'll understand". He brings both of those in spirit to class every night as he helps in the progression of new students.
Cedric Jordan is Krav Kick Instructor at Executive Self-Defense and Fitness, LLC. He has over 14 years of Martial Arts experience and currently holds a 3rd Dan (Degree) Black belt in TaeKwonDo and is a certified NASM Mixed Martial Arts Conditioning Specialist. Cedric enjoys practicing hand to hand Combative Arts and Defense and is involved in the Krav Maga instructor training program at ESDF.
Cedric's Certifications, Licenses, and Training Areas:
NASM Mixed Martial Arts Conditioning Specialist (MMACS)
Certified Instructor, Tae Kwon Do
3rd Dan (Degree) Black belt, TaeKwonDo
Combative Arts and Defense
Krav Maga Practitioner