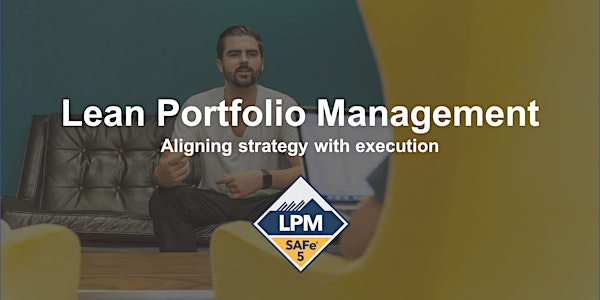 Multiple dates
SAFe® 5.1 (LPM) 2 Days Classroom Training in Springhill, NS
Welcome to VistaEdutech .
Date and time
November 24, 2022 · 9am - October 23, 2026 · 1am AST
Location
Business Centre /Meeting Room Springhill, NS Springhill, NS, NS B0M 0B2 Canada
Refund Policy
Refunds up to 7 days before event
About this event
Course information
In this Two-day workshop-style course, attendees gain the practical tools and techniques necessary to implement the Lean Portfolio Management functions of Strategy and Investment Funding, Agile Portfolio Operations, and Lean Governance.
Participants in the course have the opportunity to capture the current and the future state of their portfolio with the Portfolio Canvas tool and identify important business initiatives for achieving the future state. Participants also explore methods to establish portfolio flow with the Portfolio Kanban and prioritize initiatives for maximum economic benefit. The course also provides insights on how to establish Value Stream Budgets and Lean Budget Guardrails and measure the Lean portfolio performance.
Why Lean Portfolio Management?
Organizations that focus on defining projects that span more than a year often get stuck in situations where teams are incentivized to meet out-of-date project goals, instead of delivering value early or seeking early feedback on market-fit. Lean portfolio management methods help organizations:
● Shift the operations focus to delivering incremental value at shorter cadences for larger initiatives.
● Leverage the cadences to achieve shorter feedback loops. Feedback collected via internal teams, external focus groups, customers, or end users helps measure progress towards the organization's target outcomes.
● Ruthlessly apply the feedback to reinvest in ideas that produce good outcomes and downshift on ideas that do not. Produce good outcomes and downshift on ideas that do not.
Lean Portfolio Management, informed by lean principles and built through a better understanding of customer value (and how to deliver it quickly), remedies some common pain points in large organizations.
Topics Covered
• Introducing Lean Portfolio Management (LPM).
• .Establishing Strategy and Investment Funding.
• Applying Agile Portfolio Operations.
• Applying Lean Governance Implementing the LPM function.
Why Vistaedutech Inc?
We are known for our hands-on training with tools, techniques, and real-time artifacts. We provide post-training support catered to the individual needs of the participants. Please connect with our lead trainer Suchitra Sharma (LinkedIn) for any questions. Thanks.
What the participants get:
● Attendee PDF workbook (Digital)
● Course certificate of completion
● Preparation and eligibility to take the SAFe® LPM certification exam
● One-year membership to the SAFe Community Platform
● Remote learning via SAFe® Virtual Classrooms
● One-year membership to the SAFe® Community Platform
● Earn 24 PDUs and 24 SEUs
The following individuals will benefit from this course:
● Executives and Leaders (CIOs, CEOs, CFOs, CTOs and VPs)
● Enterprise Architects
● Product Managers and Solution Managers
● Business Unit Managers
● Program Office Personnel
● SPCs and Enterprise Agile Coaches
● Human Resources
● RTEs
● Epic Owner
Prerequisites for the Certified SAFe Lean Portfolio Manager training
1. The course is open to all, regardless of experience.
2. Familiarity with Agile will help you best benefit from the course.
3. Prior experience in a SAFe environment is beneficial.
4. Prior training in Leading SAFe® or SAFe® PO/PM would be of further advantage.
Exam Details
● Duration: 90 minutes
● Number of questions: 45
● Passing score: 32/45 (71%)
● Competency level: Foundational difficulty; Competent, some knowledge or experience; can perform tasks with assistance
● Question format: Multiple choice (one answer) or multiple select (2-3 answers)
● Delivery: Web-based, closed book, no outside assistance, timed
● Access: Community Platform upon completion of the course
● Languages offered: English
● Cost: First attempt included in the course registration fee if taken within 30 days of course completion
Price per participant:
Early Bird Price: $1799
Regular price: $1999
For more information, Cancellation, and Refund
Email: info@Vistaedutech.com
Tel: 281-810-9891 (USA)
Vistaedutech website: https://Vistaedutech.com
*To know more about Corporate and group Discount and money back, Contact us on chat, email or phone.
About the organizer
We are a leading certification training provider for working professionals. We provide industry specific customized training for our corporate clients.
Please contact us for more details.