Description
SAFe® 4.0 Scrum Master with SSM Certification
In this two-day course, you'll gain an understanding of the role of Scrum Master in a SAFe enterprise.
Unlike traditional Scrum Master training that focuses on the fundamentals of team-level Scrum, the SAFe 4.0 Scrum Master course explores the role of Scrum in the context of the entire enterprise, and prepares you to successfully plan and execute the Program Increment (PI), the primary enabler of alignment throughout all levels of a SAFe organization.
Discover how to build high performing Agile teams by becoming a servant leader and coach
Audience
Intended for people new to the role of the Scrum Master, or people wanting to better understand the role and how it fits in a SAFe enterprise, attendees typically include:
New or existing Scrum Masters
Team Leads
Release Train Engineers
SAFe
®

Certification

Attending this course prepares you to take the SAFe 4.0 Scrum Master exam in order to receive the SAFe Scrum Master (SSM) certification.
What You Get
The class registration includes:
Printed workbooks
PDF workbooks
Course certificate
Eligibility to take the SAFe 4.0 Scrum Master (SSM) certification exam
Learning Objectives
After this course, you should be able to:
Describe Scrum in a SAFe enterprise
Perform the role of the Scrum Master in SAFe
Facilitate Iteration Planning and effective Iteration execution
Support effective Program Increment execution
Build high performing teams by becoming a servant leader and coach
Pre-requisites
There are no prerequisites to take this course. All stakeholders working in a Lean-Agile environment or transformation are welcome to attend.
Annual Renewal
Renewals are from the date of certification.
Renewal fee: $100
10 Professional Development Units
Professional Development Units (PDUs)
Attendees may be eligible to apply for 16 PDUs toward continuing education requirements with the Project Management Institute (PMI) for PMP or PMI-ACP certifications
Scrum Education Units (SEUs)
Attendees may be eligible to apply SEUs under category C, toward earning or renewing their CSP through Scrum Alliance
Instructor(s)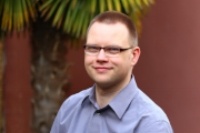 Michael Kusters
Agile - Framework Agnostic Coach & Trainer
Harnessing the massive power of frameworks like Scrum, Kanban, XP, LeSS and SAFe, Lean and Six Sigma, Michael draws on nearly two decades of experience for the benefit of his clients. His career brought him through many different traditional and agile roles - from functional specialist all the way to CTO.
Michael works with all kinds of companies, including famous DAX corporations. He collected experience in education, telecommunications, e-commerce and insurance as well as many other verticals and has a reputation for pragmatic, effective solutions. When Michael isn't busy helping others succeed with agile, he enjoys creating his own products: tabletop games and books. His book "
The Spirit of Scrum
" is available on LeanPub and he is currently writing the brainteaser "
Extreme Agility
".