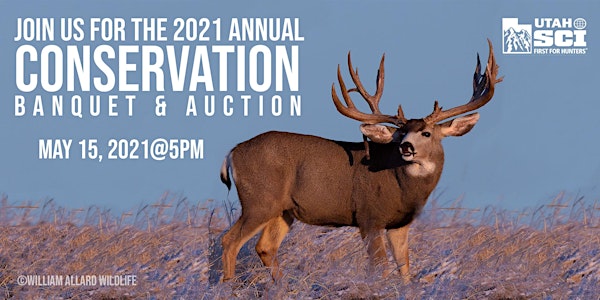 Safari Club Utah 2021 Annual Conservation Auction & Banquet
Let's Make An Impact! Join us May 15th to support wildlife conservation here at home and the protection of your right to hunt world wide.
When and where
Location
Davis Conference Center 1651 North 700 West Layton, UT 84041
About this event
Early Bird Special - If you register on or before May 3rd, you'll be entered for an Early Bird only raffle for a select piece of hunting equipment.
Our 2021 banquet will feature over $400,000 worth of conservation permits, donated hunts, hunting equipment, and gear to be given away through games, auctions, and raffles including one only for youth.
This year's event will feature Chris W. Cox. Formerly of the NRA, Chris has spent his career fighting for all of our rights to bear arms in this country. We look forward to spending the evening with Chris and hearing his address.
Further details are available now at our website
Conservation Permits that will be auctioned:
GO6803 – Utah Mtn Goat – Central Mtns, Nebo
BI6516 – Utah Bison – Hunter's Choice – Late Season Henry Mountains
DB1004 – Utah Mule Deer – Paunsaugunt
DB1012/DB1019/DB1029 – Utah Mule Deer – Fillmore/Oak Creek (Multi-Season)
DB1056 – Utah Mule Deer – Book Cliffs
DB1021 – Utah Mule Deer – North Slope, Summit
DB1042 – Utah Mule Deer – West Desert, Vernon (Muzzleloader)
PB5042 -Utah Buck Pronghorn – Pine Valley
PB5041 – Utah Buck Pronghorn – Panguitch Lake/Zion, North
PB5027 – Utah Buck Pronghorn – Book Cliffs
PB5033 – Utah Buck Pronghorn – Fillmore, Oak Creek
PB5050 – Utah Buck Pronghorn – West Desert, Riverbed
PB5049 – Utah Buck Pronghorn – Southwest Desert
EB3099 – Utah Bull Elk – Southwest Desert (Muzzleloader)
EB3100 – Utah Bull Elk – Wasatch Mtns (Muzzleloader)
EB3040/EB3041 – Utah Bull Elk – Central Mtns, Nebo (Multi-Season)
EB3038/EB3039/EB3126 – Utah Bull Elk – Central Mtns, Manti (Multi-Season)
EA1179 – Utah Antlerless Elk – Manti, Central Mtns (Multi-Season)
EA1179 – Utah Antlerless Elk – Manti, Central Mtns (Multi-Season)
EA1178 – Utah Antlerless Elk – Cache (Multi-Season)
EA1178 – Utah Antlerless Elk – Cache (Multi-Season)
EA1180 – Utah Antlerless Elk – La Sal (Multi-Season)
EA1180 – Utah Antlerless Elk – La Sal (Multi-Season)
EA1182 – Utah Antlerless Elk – South Slope (Multi-Season)
EA1181 – Utah Antlerless Elk – Plateau (Multi-Season)
EA1181 – Utah Antlerless Elk – Plateau (Multi-Season)