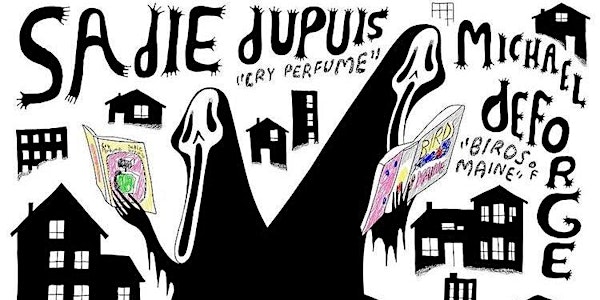 Sadie Dupuis / Michael DeForge Book Event!
Authors Sadie Dupuis (Speedy Ortiz/Sad13) and Michael DeForge stop by the Happy Dog for a special book tour appearance!
When and where
Location
The Happy Dog 5801 Detroit Ave Cleveland, OH 44102
About this event
Sadie Dupuis is the guitarist, songwriter & singer of rock band Speedy Ortiz, as well as the producer & multi-instrumentalist behind pop project Sad13. Sadie heads the record label Wax Nine, edits its poetry journal, and has written for outlets including Spin, Nylon, and Playboy. She holds an MFA in poetry from UMass Amherst, where she also taught writing. Mouthguard, her first book, was published in 2018 (Gramma); Cry Perfume, a second poetry collection, releases October 2022 via Black Ocean. Her most recent studio album is Sad13's Haunted Painting (2020). She is an organizer with the Union of Musicians & Allied Workers and its local UMAW Philly.
Michael DeForge lives in Toronto, Ontario. His comics and illustrations have been featured in Jacobin, The New York Times, Bloomberg, The Believer, The Walrus and Maisonneuve Magazine. He worked as a designer on Adventure Time for six seasons. His published books include Very Casual, A Body Beneath, Ant Colony, First Year Healthy, Dressing, Big Kids, Sticks Angelica, Folk Hero and A Western World.
His completed daily comic, Leaving Richard's Valley, is archived and available to read on Instagram.