Sacred Wounds: a night of erotic ritual centering the Asian diaspora experience, as channeled through a predominantly femme + queer lens.
About this event
"When people talk about traveling to the past,
they worry about radically changing the present
by doing something small.
But rarely does anyone in the present
think they can radically change the future
by doing something small." – Unknown
In our last installment, we gathered together to conjure the future. We took a moment to bring closure the parts of the past… gave permission for a new type of Being to exist, and sparked new visions to emerge. The caveat? We never said it would be easy. We must gather again. And we will continue to gather with intention. Because it really takes something to bring dreams to fruition -- that is ... CREATION.
Step into a Brave New Space. We will no longer be silent; we no longer carry shame; and we embrace the healing of ancestral trauma. We love who we have become, and we are here to happily provide a dose of sexual energy and creative rage to help germinate new seeds:
What do we (you)want?
Where do we start?
Who is aligned?
And so it begins… The Initiation.
Join us Saturday, April 10th (international time zones below)
Sacred Wounds' producers and hosts:
Opening invocation:
Poppy Liu, star of NBC's Sunnyside and Mercy Mistress webseries
Featuring:
Afterparty DJ:
Filmed LIVE at Mistress Justine Cross' Dungeon East in Los Angeles.* PS-- Join us in celebrating the rebirth day of Wang Newton!
All tips will be split with performers, with a portion of ticket sales proceeds supporting AAPI Women Lead. We proudly support anti-oppression focused non-profits such as AAPIWL, who has a long track record of doing grassroots work to end racial and gender violence in relation to the Asian diaspora and BIPOC communities. Their work is more important than ever, in light of recent violence. Thank you in advance for your ticket purchase and contribution, and, more importantly for standing with us.
We consider donations approximately $30+ USD a full circle/pay-it-forward energy exchange - please know your contributions also allow us to give complimentary access to marginalized communities, out of work artists, countries with disadvantaged currency exchange. Our thanks to you. (part of the above mentioned communities? Please DM us for complimentary entrance mysacredwounds@gmail.com. No tip obligation nor guilt)
*Dungeon East is available for rent at a special rate for our Sacred Wounds community. Please DM mysacredwounds@gmail.com if interested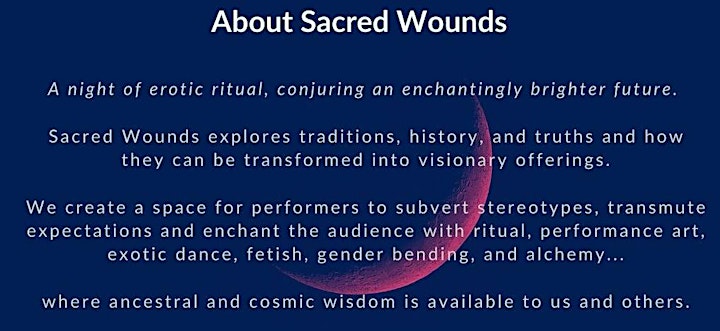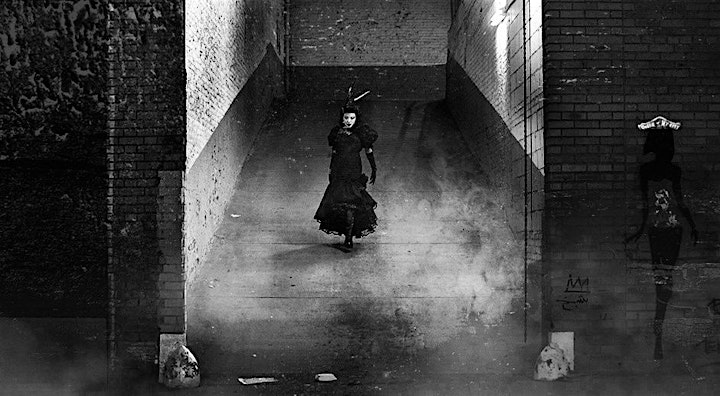 SHOWTIME: INTERNATIONAL TIME ZONES
Saturday April 10
LA -7pm pt
NYC - 10pm et
Sunday April 11
London - 3am
Berlin - 4am
Manila/Taipei - 10am
Seoul/Tokyo - 11am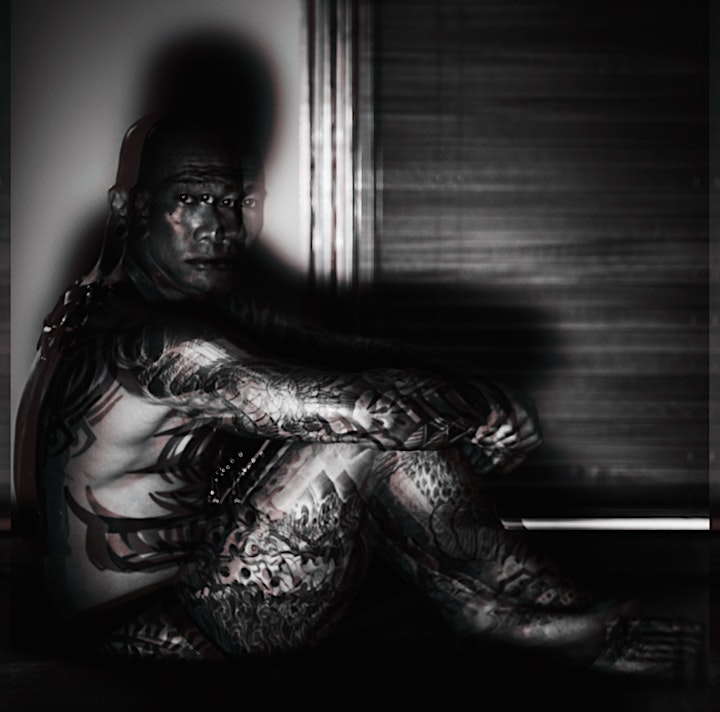 SACRED WOUNDS HOUSE RULES
Our space and time together is SACRED, obvi
Don't act a fool, No creep vibes
We reserve the right to uphold the integrity of said space by any means
Audience is expected to self manage integrity (i.e. 1 ticket $8 USD per person per household, as if you are at public venue; no recording full show or reposting full acts, only short social media posts; no sharing tix link after purchase)
DISCLAIMER
Content may be extra spicy for some! At times sour for others. Taste at your own risk. (but trust us, it's delicious)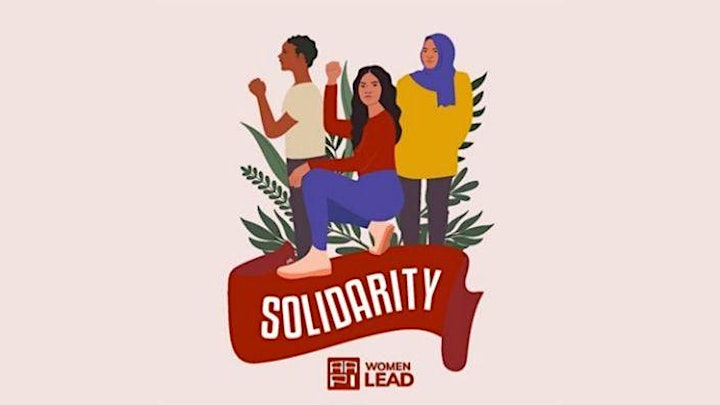 ABOUT THE MOVEMENT
AAPI Women Lead and #ImReady Movement aims to strengthen the progressive political and social platforms of Asian and Pacific Islander communities in the US through the leadership of self-identified AAPI women and girls. Our goal is to challenge and help end the intersections of violence against and within our communities. We do this work in solidarity with other communities of color.
AAPI's Founder and Director is Dr. Connie Wun. Please give both a follow!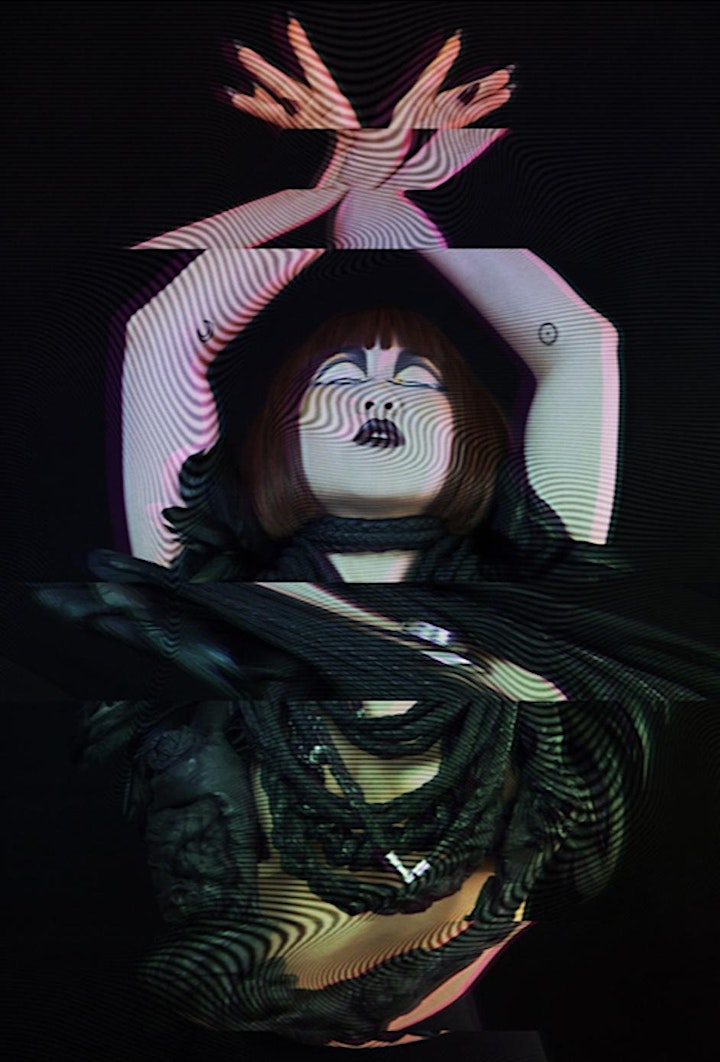 About the Producers
Sacred Wounds sprang from the vision of performance artist Kayla Tange (AKA Coco Ono, pronouns she/her, additionally a well-established burlesque and exotic dancer persona). She works with various communities on social justice advocacy. From hours of conversation and years of criss-crossing, she aligned with fellow performer Dr. Wang Newton (pronouns she/they and he when performing in masculine drag). A recognized drag king , "Dr. Wang" has been a long time emcee and producer of various big stage burlesque, drag, and fetish shows. Alongside being a film and stage actor, Wang has been a facilitator of breathwork meditation. Both artists are 15 year+ veterans and share a passion for the healing aspect of self expression.