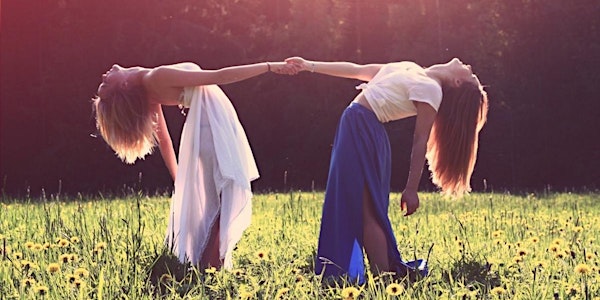 When and where
Location
Scarborough Community Hall 1727 14 Ave SW Calgary, AB Canada
Refund Policy
Contact the organizer to request a refund.
Description
Powerful, practical, deeply rooted in self-love and gentleness and kindness. These circles will help you connect with and understand your feminine energy like never before
---
These circles are for women who want to learn how to love themselves, support and be supported by other women, who want to own their sexuality, free from any shame and guilt and fear that they might still carry in their bodies from their past.​
These Sacred Women's Circle are for you:
​If you want more in your relationships - more passion, deeper connections
If you are ready to let go and step into your full Feminine Power
If your heart is longing for more
If you want to live fully and love freely
This journey will combine Eastern Classical Tantra and Western Neo-Tantric knowledge and practices to open your heart, to experience in your own body what it means to connect with your heart and your (life force, creative) energy.
​You will have your own Intention and your own Journey. We'll weave it together in a Circle - so we can all support each other and create the Transformation and Change you want in your life.
---
​Introduction to the Sacred Women's Circle - Celebrate the Divine Feminine
Wednesday, May 29 - 7pm - 9:30pm
Scarboro Community Center, 1727 14 ave SW, Calgary
One Evening $30
This evening is free for women who sign up for the 4 week Women's Circle: Journey Through the Chakras
Come and join me for a beautiful, passionate, connected, loving evening as we reclaim the powerful feminine energy found within and surrounding us all. The feminine within us needs sacred space to be, to breathe fully, to celebrate, to be SEEN. To hold and to be held. To show up - exactly as we are - and be accepted and nurtured. It's so healing and so powerful. We'll laugh together, we'll cry together, we'll open our hearts and we'll go home filled with love.
​The evening is about sisterhood, connections, authenticity, healing and connection. With yourself, your heart, your body, and your Spirit. Then with others. Then go home feeling nurtured, inspired, and heart wide open, and share it with the world.
This is a stand alone evening. You do not need to attend the remaining dates to be part of this night. Register and come and learn about me, the community, and Tantra.
​Join us to celebrate the divine feminine within.
---
Women's Circle - Journey Through the Chakras
June 05, June 12, June 26, & July 03, 2019
Scarboro Community Center - 1727 14 ave SW, Calgary
​4 Weeks: $ 149
Early Bird Special $ 111 (Ends May 08)

What's Included:
4 Week journey through the Chakras
1 Bonus Week of feminine connections, dance, and sisterhood
4 Weekly live sessions in a small group
Tools and weekly practices that you can use anywhere.
Accountability and Practice partner to support you on your journey
Our Journey will Include:

Root Chakra - Our sense of belonging, our connection with Mother Earth. It establishes the deepest connections with your physical body, your environment and with the Earth.
​Sacral Chakra - Your passion and pleasure center, reconnecting to our sexual energy (and our innocence), healing of sexual shame.
​Solar Plexus Chakra - Embracing our power (and connecting our sexuality and our power). Never lose yourself in a relationship again, or feel dis-empowered in your relationship to sex)
Heart Chakra - The gateway to your Soul, opening our hearts, opening to Love, being Love. Through this Chakra we release anger, jealousy, and fear, finding Compassion and Joy.
Throat Chakra - Finding your voice, asking for what you want, freedom ofSelf-Expression. This Chakra is the voice of the body and allows the energy from the other Chakra to be expressed.
​​Third Eye Chakra - Connecting with your Intuition and Foresight. It allows you to experience clear thought and vision, allowing you to access inner guidance, to cut through illusion and access deeper truths.
Crown Chakras - Connecting the Spirit, the Universe, the Source, God/Goddess, your Higher Power. It connects us with Divine Intelligence and Divine Grace.
​Integration - When our Chakra's are perfectly aligned with the universal flow of energy, every aspect of our life becomes harmonious and joyful. We reclaim perfect health, and our love and passion for life becomes renewed
In these 4 weeks we'll journey through this map together. Each one of you supported in your own process;Seen, Understood, Honored, and Deeply Connected.
---
​Everyone is welcome, women of any age, race, sexual orientation, marital status.No prior experience is required, just a commitment to yourself.​​
Let me know if you have any questions - and please join us.