Event Information
Location
Wilkinsburg
809 Center St
Wilkinsburg, PA 15221
Refund policy
Refunds up to 30 days before event
Description
On Saturday October 13, 2018 FISTERRA PROJECTS presents a "Sacred Space Tour" of churches, mosques, and historic buildings with arts programming. Activities are free and open to all ages.
There are over 25 stops open for the tour, most will host a visual or performing artist. The tour is self-guided: walk, pogo, bike or hop on our free shuttle bus.
We invite you to be part of this event, presented by the Wilkinsburg Community Development Corporation, the Wilkinsburg Arts Council, the Office of Public Art, Neighborhood Allies, in partnership with Preservation Pittsburgh, the Pittsburgh History and Landmarks Foundation, Wilkinsburg Historical Society, Pittsburgh Urban Christian School, and the Rotary Club of Wilkinsburg/Rotary Square.
Use our detailed Google Map to learn about the history and schedule for each location as you go.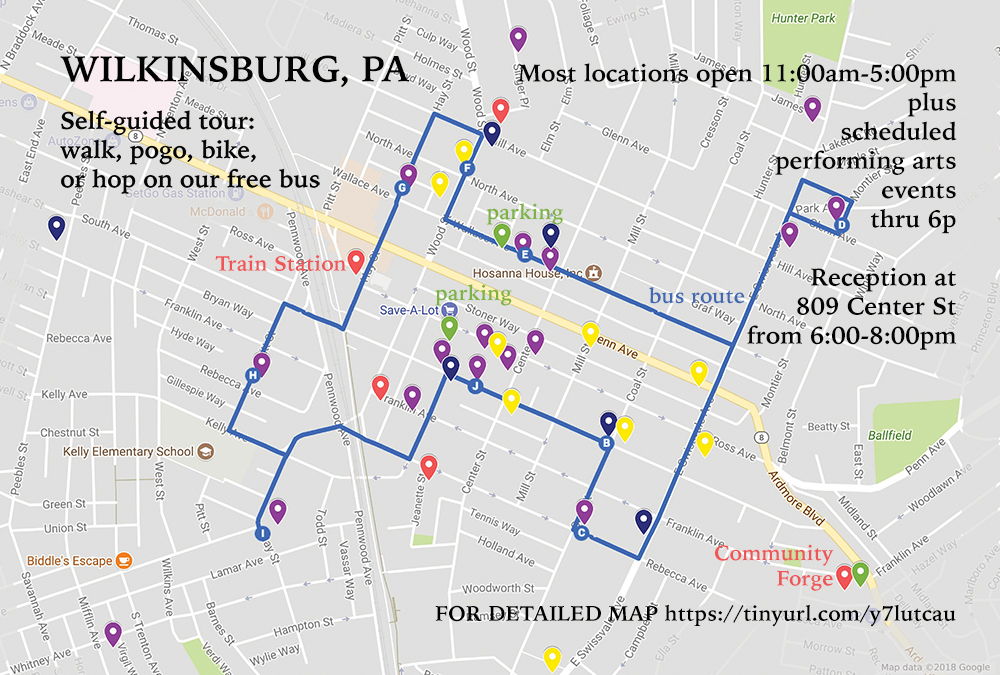 Locations Hosting Visual or Performing Artists:
Wilkinsburg Train Station, Hay St @ Ross Ave
Poetry by Ken Chute, 11:00a
Mifflin Avenue United Methodist, 905 Mifflin Ave
Eli Alfieri and Friends Music, 11:30a
Second United Presbyterian, 300 Hay St
David Westfall Organist, 12:00p
St. James Catholic, 718 Franklin Ave
Michael Kearney Organist, 12:30p
Mulberry Community Church, 601 Wallace Ave
Godfrey McCray Jr Music, 1:30p
Covenant Fellowship Reformed Presbyterian, 1300 E Swissvale
A cappella psalm singing, 2:00p
ST Mark AME, 1409 Montier St
Original Play about Story of Job, 2:30p
Community Forge, 1256 Franklin Ave
Barrels to Beethoven, repeats 3p-5p
South Ave United Methodist, 733 South Ave
CMU Creative Expression/Mayor Marita Garrett 3:30p
St. Stephen's Episcopal, 600 Pitt St
Neighborhood Youth Outreach Project, 4:30p

St. Mark AME Zion, 807 Ross Ave
Music, 5:00p

Pittsburgh Urban Christian School, 809 Center St
Student art + Gershon Mitchell speaker on Human Dignity, 5:30p

Christian Church Wilkinsburg, 748 Wallace Ave
Frank Hightower Visual Art, 11a-5p

Yingling Mansion, 1300 Wood Street
Amy Fisher Historic Church Photography, 11a-5p

First Spiritualist Church, 1318 Singer Place
Art and furniture collection, photography, 11a-5p

A Peace of Mind, 620 Wood St
Natiq Jalil Artist, 11a-5p

Landmarks Preservation Resource Center, 744 Rebecca Ave
James Shipman Sculpture, 11a-5p

Gethsemane Holiness Church of God in Christ, 744 Ross Ave
Flowerhouse Visual Art, 11a-5p

RECEPTION: Pittsburgh Urban Christian School (PUCS), 809 Center St
DJ Gusmuvee, 6-8p
Contact us to get involved @ info@fisterrastudio.com
Fisterra Projects is a 501(c)3 nonprofit arts organization.
We are grateful for the generous support of the Heinz Foundation and Hillman Family Foundation.
Location
Wilkinsburg
809 Center St
Wilkinsburg, PA 15221
Refund policy
Refunds up to 30 days before event