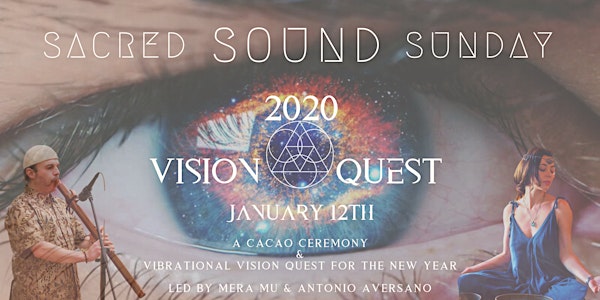 SACRED SOUND SUNDAY: 2020 Vision Quest
A Cacao Ceremony & Vibrational Vision Quest for the New Year!
When and where
Location
Fairfax Community Church 2398 Sir Francis Drake Boulevard Fairfax, CA 94930
Refund Policy
Contact the organizer to request a refund.
Eventbrite's fee is nonrefundable.
About this event
What is your VISION for the New Decade? Join us for this Month's...
SACRED SOUND SUNDAY: 2020 Vision Quest
A Cacao Ceremony & SoundBath to access Clarity and Clear Vision for this New Year and Decade we have entered into...
The evening will be orchestrated by the unified forces of certified sound practitioner Mera Mu & Ceremonial Cacao facilitator Antonio Aversano. We will open the evening with a Cacao Ceremony, using this beautiful plant medicine to bring us into deep connection with our inner wisdom and sight. We will then lead everyone through a guided meditation and sound journey to access the true clarity of our innate guidance and return with the highest vision for our future.
For this offering, we will be bathing you in a healing symphony of…
• Alchemy Crystal Singing Bowls
• Healing Voice
• Djembe
• Didgeridoo
• Flute
• Gong
• Koshi Chimes and more…
Doors at 5:30 PM | Ceremony begins at 6PM and goes until 8:30PM – No late entry once sound begins...
Sliding Scale $35 - $45 (Sound + Cacao) | $30 Early Bird Tickets
⫸ Please bring yoga mats, pillows, blankets, eye covering, essential oil, crystals…anything to make you comfortable and enhance your sound meditation experience
SACRED SOUND SUNDAY is a bi-monthly sound bath meditation where we come together in community at the end of our week to RELAX, REPLENISH, and RE-HARMONIZE the body, mind, and spirit.
----------------------------------------------------------
WHAT IS Sound Meditation?
Sound Meditation uses sound, rhythm, and vibration to bring people into deep states of relaxation, healing, and meditation. Through the process of brainwave entrainment, sound meditation can lead listeners to profound states of consciousness that allow them to connect deeply with their inner world and individuated experience of source creation. The experience is designed to enhance peace, harmony, health, balance, abundance, and personal evolution in all aspect of people's lives. 
For thousands of years, world cultures, religions and mystic traditions have used the power of sound, rhythm, and chanting to induce meditative states that expand one's consciousness and heal the many layers of body and mind. Modern Science has now begun to validate what the world's spiritual traditions have known for ages – that sound has the power to positively effect our physical, emotional, and mental well-being.
BENEFITS of SOUND MEDITATION
• Increases feeling of well-being and inner harmony
• Enhances clarity, focus, and self-awareness
• Activates the Parasympathetic Nervous System, reducing anxiety and stress hormones.
• Balances to the Endocrine, Metabolic, Nervous, and Digestive Systems
• Effective in relieving Chronic Pain, TMJ, Migraines, and more…
• Releases natural opiates, decreasing Depression
• Aids in releasing emotional trauma and blockages
• Balances the right and left brain hemispheres
• Induces brainwave states ideal for healing, meditation, and profound revelations.
ABOUT MERA
_____________________________________________
Mera Mu is Certified Sound Practitioner, Yoga Teacher, Performance Artist, Songwriter, and Vocalist. She leads soundbath meditations and vocal empowerment workshops around the Bay Area and is a creator of ceremonial performance art that aims to infuse the healing nature of sound, movement, archetypal storytelling, and ceremony into deeply moving and entertaining performance pieces. 
Mera's approach to "teaching" or "healing" is radical embodiment that acts as a mirror, giving permission for others to uncover their unique expression. She believes there is nothing to teach or heal, only things to re-discover within ourselves. Mera focuses primarily on the voice, breath, and movement as a tools for empowerment, healing, expansion, and expression.  For more information on upcoming offerings, music, and one-on-one sessions you can follow at...
www.iamladymu.com
Instagram - @Iamladymu
ABOUT ANTONIO
_____________________________________________
Antonio Aversano is a Soul Ally who supports people in remembering the Gift of who they are and their Soul calling here on planet Earth. He has been guided to work with people through ceremonial gatherings, small group empowerment experiences, and one on one awakening sessions. Antonio is also on a lifelong journey of answering the call of the Divine to serve as a vessel of Light through the vibrations of Sound. You can find out more about him and his offerings at...
www.AntonioAversano.com.