Sacred Sound Fundraising Wellness Concert
For Healing People in Puerto Rico
With Gong & Singing Bowls Maestro Satya
And An Ensemble of Professionals He Trained

Saturday, October 6, 2018 from 6:00 PM to 9:00 PM (EDT)
Event Details
Sacred Sound Wellness and Stress Reduction Concert
Fundraising For
Healing People in Puerto Rico
With
The World-renowned Gongs & Tibetan Singing Bowls Master
SatyaBrat
With
An ensemble of Players He Has Trained
Followed By

An Auction of Energy~Body~Mind Healing Sessions
And
High-Quality Large Modern and Rare Antique Tibetan Singing Bowls

This event is a unique opportunity to experience deep healing on all levels while providing financial support to healing people in Puerto Rico's Vieques Island which suffer from radiation poisoning exacerbated after Hurricane Maria.
For a description of the Sacred Sound Concert Healing and Stress Reductions benefits click here: sacred-sound-wellness-concert.
To find more about Satya Brat's Academy of Sound Healing click here: https://iash.in/
Serving Those Who Serve (STWS) (www.stws.org) is a nonprofit that was formed to provide holistic healing modalities to people affected by 9/11. Since then STWS has worked with veterans, active duty personnel, people affected by Hurricane Sandy and refugees. 
 STWS is organizing this sound bath concert in partnership with Satya Brat's Academy for Sound Healing and the West End Presbyterian Church. This Fall STWS will provide its Ayurvedic Cleansing and Immune Support Herbal formulas for people in Puerto Rico's Vieques Island. STWS is also planning to send a multi-disciplinary team of trauma therapists and holistic healers to Vieques Island.
As a result of 60 years of the US Navy using Vieques Island as a testing ground for radioactive ammunition, people who live in the Island are eight times more likely to die of cardiovascular disease and seven times more likely to die of diabetes than others in Puerto Rico, where the prevalence of those diseases rivals U.S. rates. Cancer rates are 30% higher than they are on Puerto Rico's main island, hypertension rates are nearly 400% higher and roughly 80% of residents test positive heavy metals like lead, mercury and arsenic.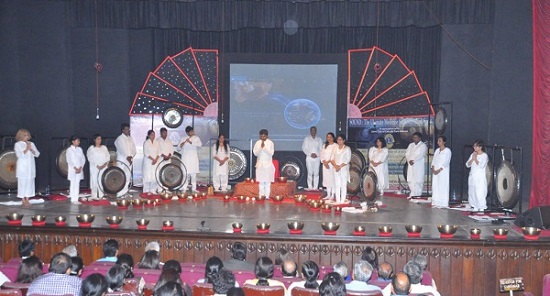 When & Where

West End Presbyterian Church Also known as the home for Romemu Synagogue
165 West 105 Street
On the Northeast Corner of 105 Street and Amsterdam Avenue
New York, New York 10025


Saturday, October 6, 2018 from 6:00 PM to 9:00 PM (EDT)
Add to my calendar