Join Dr. Wennifer (Wei-Ni) Lin for a journey into the Goddess cultures of matriarchal societies to reattune the symbols guiding our actions.
About this event
In this three-part series, we journey through birth as a pivotal rite of passage where the woman dances on the threshold of life and death -- experiencing the raw, intimate and ecstatic primalness of her sexuality and life-giving powers. By studying symbols and images that span from ancient Goddess civilizations to more recent cultures, we see how a woman's innate potency embodies what ecofeminist, Gloria F. Orenstein, calls the three facets of "matristic creation" -- procreation, cosmic creation, and artistic creation.
In matriarchal/matristic (mother- and goddess-centered) cosmologies, how is the vulva and woman's sexuality portrayed as sacred and how does this inform us as contemporary wombyn? Who is the traditional midwife, and what can we learn from her story of eclipse and resistance in the span of HERstory? Who is the wise witch, why has she been demonized for her healing ways, and how do her herbal concoctions and songs continue to empower and liberate the woman as she is in the transformational rite of birthgiving?
Whether you are a maiden, mother, or crone, whether you identify as female, male, hermaphroditic, or gender-neutral, these life-giving models inspired by the primordial mother as creatrix help us remember, revision, and reclaim a once and future matristic world grounded in values of inclusivity, interconnection and nurturance -- qualities that are more needed than ever in this present time.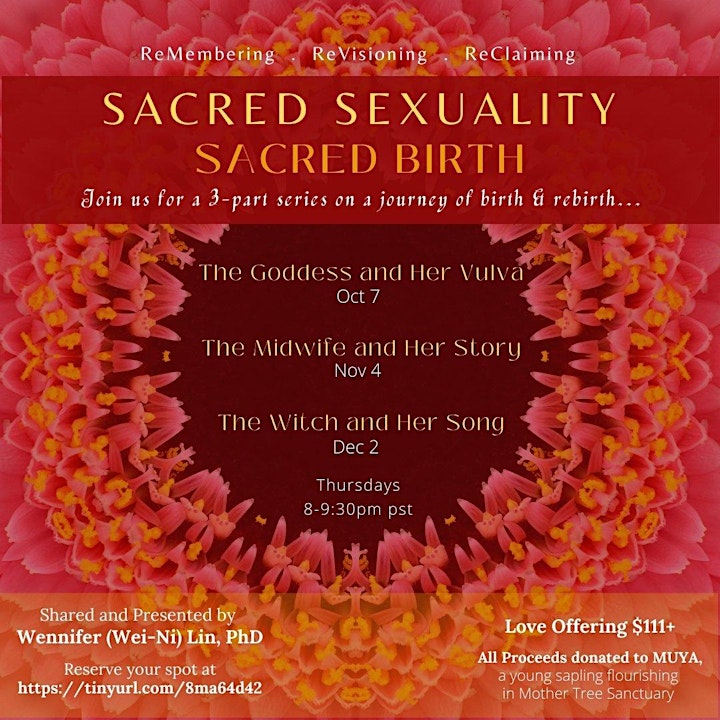 Organizer of Sacred Sexuality: Sacred Birth, with Mother Tree Sanctuary