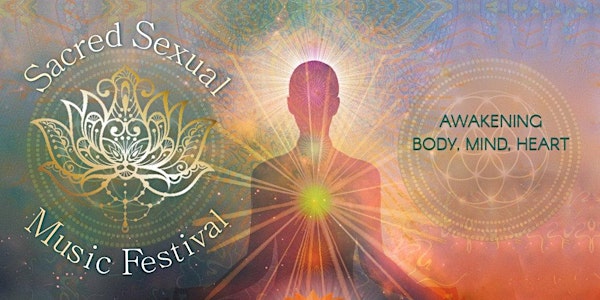 Sacred Sexual Music Festival
Welcome to a 3-day music festival that speaks to Sacred Sexuality! This is for anyone and everyone who is interested in conscious sex.
Refund Policy
Contact the organizer to request a refund.
Eventbrite's fee is nonrefundable.
About this event
Transform your life through education, inspiration, and music!
JOIN the
Sacred Sexual Music Festival!
You will receive:
❤️ 3 days of interactive original content
❤️ Recordings for three months
❤️ Yoga and movement
❤️ Community networking
❤️ Music and dance to uplift your HEART and SOUL!
Let's take this time of great change to experience more of reality and of ourselves, to live more truthfully, to see the world with fresh eyes.
​The Festival highlights the importance of:
❤️ Healthy, shame-free pleasure
❤️ Education around sexuality
❤️ Conscious divine awareness of our bodies
❤️ Info on tantra and sexual shamanism
❤️ Healing issues around sexuality
❤️ Respect and honor for our sacred bodies
Sexuality is so often underground, ignored, or unconsciously acted out.
The exploration of this territory - consciously and respectfully - tends to be liberating and powerful.
The Sacred Sexual Music Festival is an educational, social, and spiritual gathering place for those who seek to listen deeply, share, heal, transform, laugh, cry, play, and remember when our bodies were seen and known as sacred.
SEE SacredSexualMusicFestival.com for more info!
Sacred Sexual Music Festival - Online
April 16, 17 & 18, 2021
April 16 from 6 p.m. to 9 p.m. (PST)
April 17 & 18 from 10 a.m. to 6 p.m. (PST)
​
LIVE in Pacific Standard Time (PST)
(Los Angeles, San Francisco, Vancouver)
Find YOUR time zone https://www.timeanddate.com/worldclock/
APRIL 16, 2021
6 pm WELCOME!
6:05 pm Heal Your Psoas & Expand Your Sexual Essence with Dr. K. Hope McNiven
6:45 pm TAKING Pleasure with Corinne Underwood
7:15 pm Therapeutic Kink with Dominic Lord
8:15 pm The Sacred Sex Worker - Healing the World with Chenoa Bhakti
9 pm It's a wrap! Prepare for a full day tomorrow!
APRIL 17, 2021
10 am Kundalini Yoga with Guru Karam Kaur
11 am Sexual Organs Reflexology Zones with Tamarah Blossom
11:45 am The Sacred Voice - The Link Between Vagina & Voice with Anna Beaumont
12:30 pm Anna Beaumont
12:45 pm Orgasmic Birth with Morgaine Owens
1:45 pm Presence & Pleasure with Sheryl Watson
2:45 pm MUSICAL BREAK
3:30 pm Chant Your Heart Open!
3:45 pm Sacred Blood: Menstrual Wellness with Corinne Underwood
4:15 pm Playing with Power Dynamics with Sonya Braich
5:15 pm Will Blunderfield sings (& info about butt plugs!)
5:30 pm Zen Meditation with Rob Inglis
6 pm A peaceful evening to you. More tomorrow!
APRIL 18, 2021
10 am Blessed Booty Shake with Tamarah Blossom
10:15 am What's Next for Men? with Ryan Thomas
11 am How to Talk to Teens About Sex with Erin Delaney
11:30 am MUSICAL Break
12 pm THE Sacred Spots with Lisa Archibald
12:45 pm Sexual Solutions for Natural Men with Ian Faulkner
1:30 pm Chant Your Heart Open!
1:45 pm Tantric-O-Energy with Mare Simone
2:30 pm Numerology and Sexuality with Joseph P. Ghabi
3 pm When Sexual Energy Arises in Therapy with Gyan Amin
3:45 pm Let's Talk LIBIDO! with talk show host and sex therapist Sue McGarvie
4:45 pm Pussy Reclamation with Julia Goudkova & Amanda Kroetsch
5:40 pm Closing Meditation with Joseph P. Ghabi
6 pm Aho. Closing. Time well spent.
​
By stepping into a higher vibration, with a healing and joy-filled musical backdrop, the Sacred Sexual Music Festival not only informs that sexuality is to be respected, honoured, and our birthright, it also normalizes this concept and invites conversation that inspires us to create positive change in our communities.
​
Featuring Musical Guests ...
Chant Your Heart Open!
Anna Beaumont
Will Blunderfield
​
The Festival is open to anyone and everyone who is interested in conscious sexuality.
Let your heart, mind, and spirit be touched at the Sacred Sexual Music Festival.
​
This year our intent is ...
"Coming into right relationship with self, soul, and earth
will create the revolution we are longing for.
The reclamation of Eros (love) is deep feminine medicine for our times."
~ Kate Joyner, Founder of Elemental Eros
​​
SEE SacredSexualMusicFestival.com for more info!
​
LEARN. EXPERIENCE. FEEL.
Join us for this transformative event.
It's time.