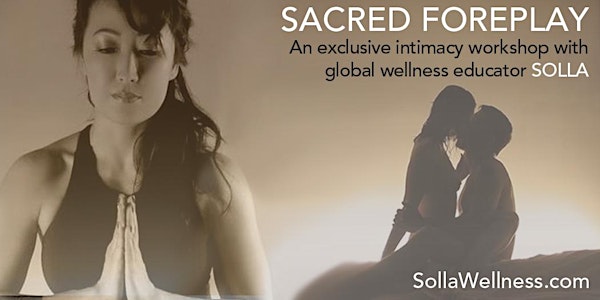 SACRED FOREPLAY
When and where
Location
Centre de Yoga & Naturopathie Av. Du Casino 48 1820 Montreux Switzerland
Refund Policy
Contact the organizer to request a refund.
Description
What if it were possible to

feel incredible, live longer and look younger... while having the best sex of your life?

Join renowned Global Wellness Educator Solla in Montreux, Switzerland for an exclusive, advanced work/playshop...
SACRED FOREPLAY & SEXUAL VITALITY
Explore ancient Taoist & Tantric practices and discover life-changing secrets for health, longevity, sexual vitality and conscious intimacy.
Learn to...

Increase blood flow to the genitals

Increase stamina and sexual energy
Improve sexual health & function

Experience deeper connection with your partner
Enjoy wave upon wave of rich, full-body orgasms
Achieve harder, longer-lasting erections
Prevent prostate cancer
Hormone balancing
Increase lubrication and sexual pleasure
Look and feel younger
Reverse the aging process
This one-of-a-kind event includes:
Internal Organ Detox Therapies (Chi Nei Tsang & Kar Sai) for sexual health
Ancient Taoist Jade Egg practices for women's health & sexual vitality (jade egg will be provided free at the workshop - an $85 value)
Male Sexual Energy Cultivation & Seminal Fluid Retention for peak vitality
Shared Sexual Energy Cultivation for couples
How to make love for HOURS... DAYS... LIFETIMES...
How to practice Self Care for longevity & self-love
How to deepen your love in partnership
How to open all your senses, chakras and heart to expand your love to others
A beautiful Adoration Puja Ceremony

Register now. Space is limited.
This event is primarily for couples. You may attend if you're single but please bring a partner to practice with.
The workshop will begin promptly at 1:30pm and will end at 8:30pm.

Cost (includes jade egg - an $85 value):
CHF 325 per person when prepaid
CHF 500 per person at the door
Don't miss out on this incredibly rare opportunity to turbo-charge your sexual vitality, expand your capacity for joy and ecstasy, and engage in deep, conscious intimacy.
Register today to reserve your spot!

Keep in mind, this is a community heart friendly workshop with NO nudity.
We hope to enlighten with practical useful information that will allow couples the empowerment to nurture the heart, body, spirit.
ALSO~~~
On November 18, 19, 20, 22 Solla will be available for a limited number of Private sessions (by appointment only):
*60 min Chi Nei Tsang and Kar Sai Massage—CHF 200
*90 min Chi Nei Tsang and Kar Sai Massage-–CHF 250
*90 min Tantra Sacred Journey Sessions–––––CHF 450
Questions about the event?
Montreux Contact:
Patrick Nolfo
079 219 5200
info@yogacenter.ch
---
Solla is a Global Wellness Educator and Professional Holistic practitioner with experience in medicine, psychology, therapeutic bodywork, meditation and ancient Taoist energy/longevity practices. Her global workshops, private sessions, and consultations awaken people to empower their lives through the mastery of personal health, wellness, sexual vitality, practices of conscious connection and sacred love.
Solla has a uniquely diverse background that includes serving as a Combat Medic in the US Army, being a nurse in Obstetrics and Gynecology, Pediatrics, Geriatrics, academic studies in Pre-Medicine, Masters Degree in Spiritual Psychology, as well as studies in various forms of meditation, certifications in yoga, nutrition, and a wide variety of therapeutic healing bodywork modalities.
As a Universal Healing Tao Instructor and Tantra Practitioner, she has had extensive training and certifications by numerous legendary teachers, including Taoist Grand Master Mantak Chia, Tantra Master Charles Muir, and Dawn Cartwright.
Additionally, Solla is a highly sought after Holistic Practitioner for her Advanced Mastery Level 5- Chi Nei Tsang (Life Pulse Massage) and Kar Sai Nei Tsang expertise.
Her work across the globe integrates more than twenty years of experience into a series of simple but powerful practices designed to help awaken people all over the world to master their health, empower their lives, increase their sexual vitality, and experience the deep and lasting rewards of conscious intimacy.
Her videos and live testimonials can be seen in Solla Piz Utube channel. Solla on Facebook.
For more on Solla, visit SollaWellness.com