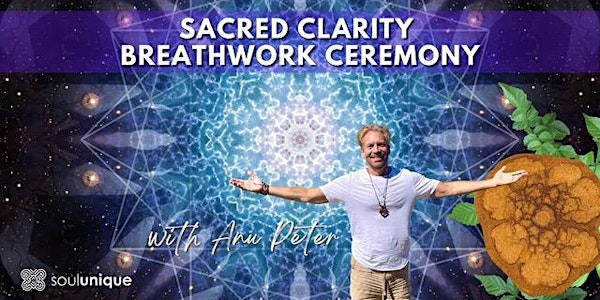 Sacred Clarity Breathwork Ceremony
Experience Clarity to clear old thoughts and conditioning - open doors to expanded perspectives, inner guidance, self love, forgiveness.
When and where
Location
New Mission Yoga 2415 Mission Street San Francisco, CA 94110
Refund Policy
Contact the organizer to request a refund.
Eventbrite's fee is nonrefundable.
About this event
Join Anu Peter as he guides you in a powerful session of Clarity Breathwork. As a shamanic practitioner skilled and experienced in ministering sacred plant medicine ceremonies, Anu Peter treats Breathwork as a similarly sacred practice, giving it wings to support the clearing away of old energies, patterns, conditioning, thoughts, and emotions, and removing our blocks to expanded perspectives, inner/higher guidance, self love and forgiveness, and personal clarity. Anu Peter will skillfully guide you to merge your inhale and exhale into a pattern of continuous circular breathing. When you relax into this circular breathing, it becomes effortless, and you are taken on a somatic, experiential inner journey which may surprise you with its depth. Many say the experience of breathwork can be as powerful as taking a psychedelic, and indeed, breathwork does give us access to similar altered states. By changing the balance of CO2 and oxygen in our body, breathwork makes our blood more alkaline, which creates changes in our brain; this decreases the activity in the prefrontal cortex, allowing us to step beyond our ego and everyday mind, and to access valuable insights and broader perspectives about our selves and our lives.
How to Prepare
Anu Peter suggests you prepare yourself by coming to the ceremony with an open mind and heart, as well as with strong and clear intentions for what you would like to receive or get out of your experience.
What to Bring
Wear loose, comfortable clothing and bring layers as body temperature can vary in this work. Bring a mat or pad – Anu Peter highly recommends that you bring a comfortable, cushioned pad such as foam or blow-up camping mat. You'll be lying on your back for the session, and being comfortable without the hard floor interfering with your process can make a big difference. Anu Peter also recommends that you bring a small item of personal importance to place on the ceremony altar, as well as a blanket and a water bottle.
Health Notifications for Breathwork
Breathwork is a powerful practice that creates subtle, temporary changes in our brain chemistry, enabling us to step into altered states of expanded consciousness. If you have any history (current or past) of cardiovascular issues, mental/emotional health challenges, physical limitations, epilepsy, recent surgery, or other mental or physical health challenges, you may want to check with your doctor before embarking on a journey with breathwork. If you are experiencing mental or physical health challenges, please be responsible for your own integrity and well-being, and please inform Anu Peter of your condition before any breathwork ceremony.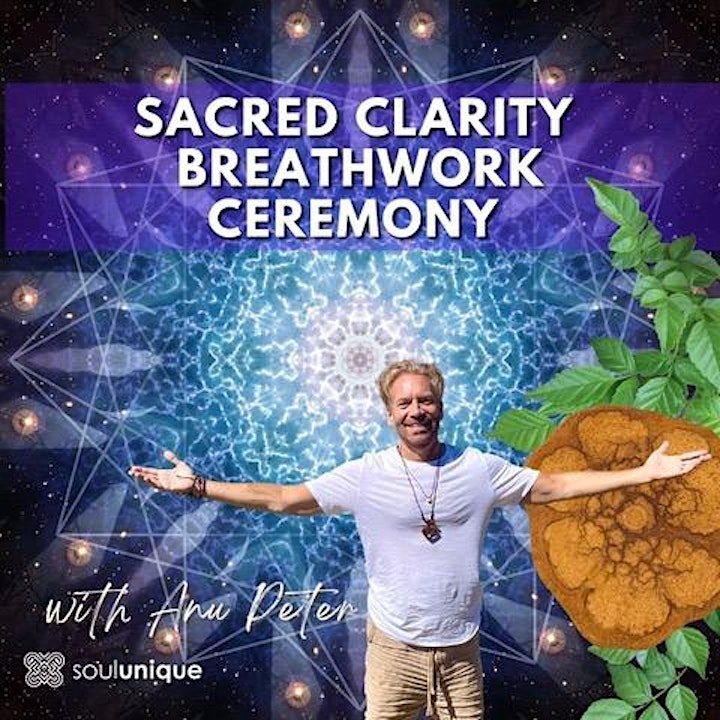 Anu Peter is a gay, cis gender male (he/him) on his own quiet, personal, spiritual-multidimensional path. Anu Peter is a Clarity Breathwork practitioner, Reiki Master, sound healer, certified somatic psychedelic integration guide, and also a professional singer and musician. He has trained with the indigenous Shipibo-Konibo in Ayahuasca curanderismo and vegetalista practices in the Peruvian Amazon jungle, with The Foundation for Shamanic Studies, and with California Institute of Integral Studies. He is a certified somatic integration guide for Peru's AYA Healing Retreats, and an ordained sacred ceremony minister for Rae of Light Ministries. His calling to be of service to personal and planetary awakening, healing, and transformation is his most fervid endeavor. For more about Anu Peter, visit SoulUnique.com.