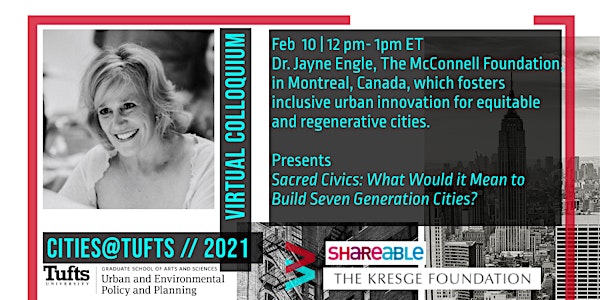 Sacred Civics with Jayne Engle
What would it mean to build seven generation cities?
Refund Policy
Contact the organizer to request a refund.
About this event
We're collectively experiencing an epochal moment when humanity and the earth face unprecedented existential challenges. How can we value what matters for the common good and transcend dominant city-making paradigms in this context? A sacred civics invites us to recognize the spiritual and sacred dimensions in people and cities and to imagine reshaping our settlements as life-centered places, where local residents build regenerative economies in relationship with nature, and where we rise to be our best selves, for the good of current and future generations. How might we redefine and build infrastructure for an urban recovery that addresses the reality and possibilities?
This event is part of a special eight-session event series hosted by professor Julian Agyeman and Cities@Tufts and sponsored by Tufts University and The Kresge Foundation with media partner Shareable.net.
2021 Spring Cities@Tufts Colloquium Series
Feb 3 – Isabelle Anguelovski: Green Privilege to Green Supremacy
Feb 10 – Jayne Engle: Sacred Civics
Feb 17 – Greg Watson: Organizing for Food Sovereignty
March 3 – Setha Low: From Spatializing Culture to Social Justice
March 10 – Jay Pitter: Exploring the Invisible Woman
March 31 – Anne Beamish: The Garden in the Street
April 7 – Sheila Foster: Co-Cities
April 14 – SPA presents Kurt Kohlstedt (99% Invisible Podcast): The Past, Present, and Future State of Cities
More information can be found here: www.citiesattufts.com/colloquium-series-2021
Limited space is available. Pre-registration is highly encouraged.
The speaker:
Dr. Jayne Engle leads Cities for People, an initiative of the McConnell Foundation in Montreal, Canada, which fosters inclusive urban innovation for equitable and regenerative cities. Cities for People aims to increase equality; strengthen the city as a commons; and enable city change labs, explorations, and transformation networks. Prior to McConnell, Jayne co-founded or ran various multi-sectoral work in Canada, the US, Eastern and Western Europe, and Haiti in areas of urban participatory regeneration, policy innovation, collaborative governance, and post-disaster social change.
The Series Hosts:
Cities@Tufts is a cross-disciplinary academic initiative that recognizes Tufts University as a leader in urban studies, urban planning,, and sustainability issues. Anchored by the department of Urban and Environmental Policy and Planning, it aims to highlight our impressive contributions in community strategy, civic democracy, ethnographic research, urban and community health, food justice and security, urban politics and economics, social inequalities,, and GIS. Cities@Tufts works with students, academics, policymakers and planners, businesses and community stakeholders to develop cross-disciplinary and cross-sector collaborative and community-based research. We aim to develop solutions to today's urban challenges and opportunities based not on presupposed notions but on being critical: first asking the right questions.
Shareable is an award-winning nonprofit media outlet, action network, and consultancy. Our mission is to empower communities to share for a more resilient, equitable, and joyful world. We inspire social change by publishing solutions-based journalism, running campaigns, and helping our consulting clients achieve their goals through sharing. For more information visit shareable.net.
The Kresge Foundation was founded in 1924 to promote human progress. Today, Kresge fulfills that mission by building and strengthening pathways to opportunity for low-income people in America's cities, seeking to dismantle structural and systemic barriers to equality and justice. Using a full array of grant, loan, and other investment tools, Kresge invests more than $160 million annually to foster economic and social change. For more information visit kresge.org.