| | |
| --- | --- |
| Sacred Beauty Salon Series | |
Event Details
Welcome to SACRED BEAUTY SALON SERIES  - AWAKEN THE GODDESS WITHIN
Explore the divine nature of your beauty in this live, 4-part workshop series presented by makeup artist, natural beauty expert and wellness coach Rebecca Casciano. Join in empowering conversations and beauty rituals that support the modern day goddess- you! Learn how the art of makeup can be used as a tool for self-love, expression and creativity. This unique, fun series will take you through 4 sacred dimensions of inner and outer beauty, bringing them together in a way that has never been done before!
Here's what each session entails:
Learn practical makeup skills from an experienced professional makeup artist and educator, using organic, natural and effective cosmetics. Watch Rebecca's detailed demos featuring her favorite products, tips and techniques to create a glowing complexion, alluring eyes, a powerful pout and fabulous features. Then receive Rebecca's personal guidance while you practice them on yourself, enabling you to easily recreate them!
What makes this workshop so special, is that you will also delve deeper into the relationship between how you look and how you feel. Participate in meaningful exercises and rituals, such as writing and affirmations, designed to enhance and transform the way you see yourself and the world around you. Join Rebecca and a Sacred Beauty Circle of like-minded women and embrace a fresh approach to our physical and spiritual selves.
Introducing the 4 dimensions of Sacred Beauty:
FOUNDATIONS OF BEAUTY   3/8/15
Explore the roots of your relationship with beauty and transform old limiting beliefs
Learn how to get glowing skin for Spring with the right foundation, concealer and blush 
SEEING BEAUTY   APRIL 4th
Rediscover and examine the way you see yourself, your environment and others 
Learn how to complement and define your eyes with eyeshadow, eyeliner and mascara 
SPEAKING BEAUTY   MAY 3rd
Reclaim the power of your words to affirm, inspire and create more beauty from within
Learn how to use the transformative power of lipstick to make your personal statement
LIVING BEAUTY   JUNE 7th
Create powerful practices that will bring more beauty into your life on a daily basis

Learn how to enhance your natural beauty with real-life highlighting and contouring techniques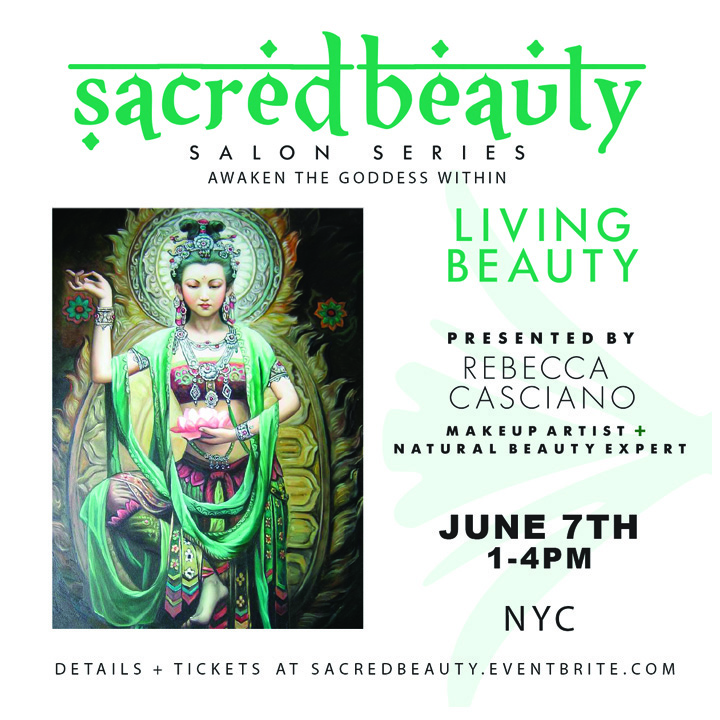 Do you want to:   
- rejuvenate your femininity, feel more sexy and goddess-like everyday
- release toxic thoughts and products, creating a healthier beauty routine
- rediscover what truly makes you feel beautiful, inside and out 
- energize your natural magnetism and attract more romantic love in your life
Sacred Beauty Salon Series was created especially for you!      
 "Not only does Rebecca have an expansive knowledge of green beauty products, she knows how to use them to create the most stunning looks. She is also a wonderful teacher, so any look she creates I feel confident replicating myself!" -Sara Jane Mercer, Wellness Coach
"Rebecca has a wonderful instinct for what suits your face and she helped me feel more confident about adding some "flair" in my makeup. I was elated with the new look she created for me and have been enjoying recreating it everyday since!" - Sophia, Dancer
Grab a girlfriend or two and get your tickets for this celebration of the divine feminine.
Space is limited and tickets are discounted up to 10 days before event, so don't miss out!
(Tickets are transferable, but non-refundable)
Product + gift bags sponsored by:

When & Where

Sacred Beauty HQ
27 W. 24th St.
Suite #700A
New York, NY 10010


Organizer
Rebecca Casciano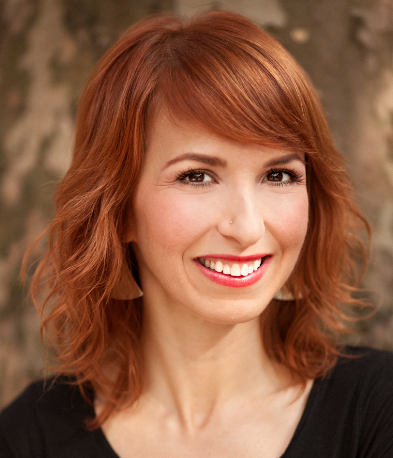 Rebecca Casciano is makeup artist, natural beauty expert, coach and founder of Sacred Beauty Salon Series. Rebecca's mission is to empower women to discover the connection between their inner health and outer beauty. She offers signature services including makeup applications and one-on-one makeup lessons, as well as her group talks and workshops.You can find her latest makeup editorial work in Thoughtfully magazine, where she is the resident makeup artist and beauty editor. Learn more about Rebecca and her services at www.rebeccacasciano.com
Sacred Beauty Salon Series