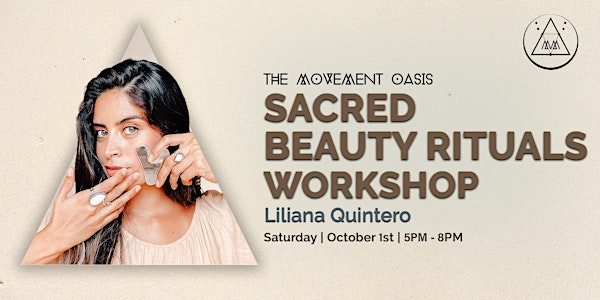 SACRED BEAUTY RITUALS WORKSHOP
Learn ancient traditional holistic beauty methods in a 3 hour workshop in one of the most beautiful places of Miami.
When and where
Location
The Movement Oasis at Plant the Future Event Venue 185 Northeast 84th Street Miami, FL 33138
Refund Policy
Contact the organizer to request a refund.
Eventbrite's fee is nonrefundable.
About this event
A Movement Oasis Workshop
In Wild Beauty Ritual Workshop you will be guided into a sacred journey of self-discovery and self-love. Reconnecting you with your true inner beauty and your Wild Divine Femine Essence. Three ancient technique Gua Sha , Facial reflexology and Facial Cupping with guided meditations for a unique and unforgettable day.
🧖‍♀️Facial Gua Sha Ritual
Learn different powerful and effective facial rejuvenation techniques to sculpt and lift facial contours by undoing old expression patterns, releasing deep seated tension, increasing blood circulation, removing stagnant Qi, blood and lymph, and encouraging myofascial release, and lovingly release any blockages to your natural radiant divine essence.
🧖‍♀️Facial Reflexology
You will focus on creating balance, homeostasis, calming our nervous system and removing blockages in the Female Reproductive System aka Sacred Womb Space via Facial Reflexology. An ancient Vietnamese & TCM holistic practice that's been around for over 5,000 years. All while encouraging deep diaphragmatic breathing to get the body in the parasympathetic state, of rest and digest to truly allow healing to take place.
🧖‍♀️Facial Cupping
With this ancient beauty practice you will exercise and rejuvenate facial muscles to promote circulation. All while supporting lymphatic drainage, which can help clear away toxins and promote a more toned, sculpted, brighter, and lifted appearance. Facial cupping has also been shown to increase oxygen-rich flow, induce collagen production, release deep seated facial tension and emotional blockages on the face.
What you will learn from this workshop
✔️A road map for self- awareness and Self- Love
✔️Tools to take home to practice everyday
✔️A new perspective of natural beauty
✔️Learn how to take care of your face from within
✔️ Rejuvenate
✔️ Create balance & harmony & symmetry
✔️Promote Healing
✔️Awaken your divine feminine essence
✔️Ignite your inner flame to glow from within.
What you will need:
✨Clean Face
✨You are welcome to bring you own oil ( we will also offer you some oil at the workshop)
✨Tools . We offer you to buy the tools for a unique special rate. ( *Check our Add Ons)
------------------------ NOTE -------------------
Please be aware you are not able to do this workshop if you have had Botox, Fillers in the past two weeks.

About the teacher
Liliana Quintero, founder of Wild Lily Organics, a conscious, organic, vegan, and sustainable personal care brand offering sacred beauty rituals through ancient holistic alternatives to health and beauty. Facial Gua Sha Expert, Facial Reflexologist, Breathwork & Red Tent Facilitator. After 15 years of working in the Beauty Industry as a Licensed Esthetician, Liliana followed her heart into the world of healing, spirituality, holistic traditions, and sacred woman traditions. She works one-on-ones and has developed online and in-person workshops. Liliana's work is in helping women to nourish their Wild Divine Feminine Essence through self-love, self-discovery, and self-empowerment.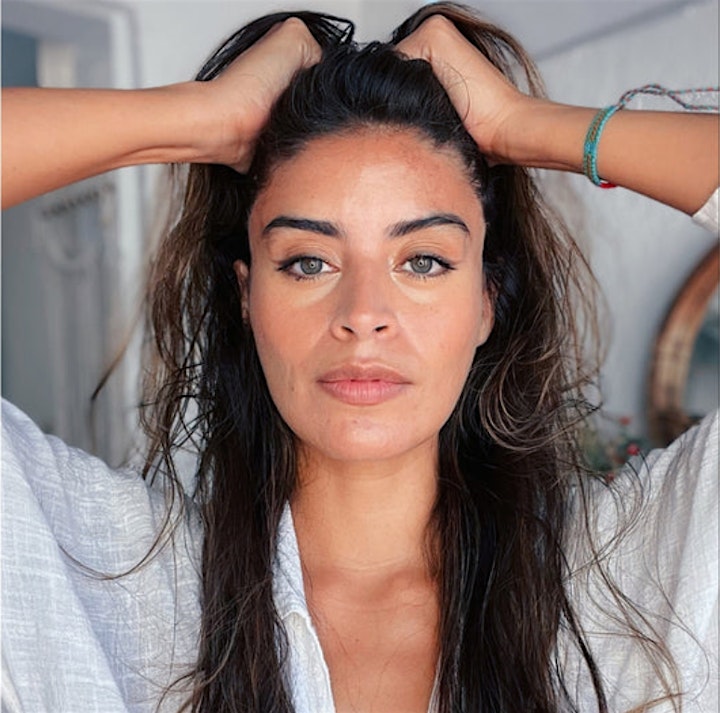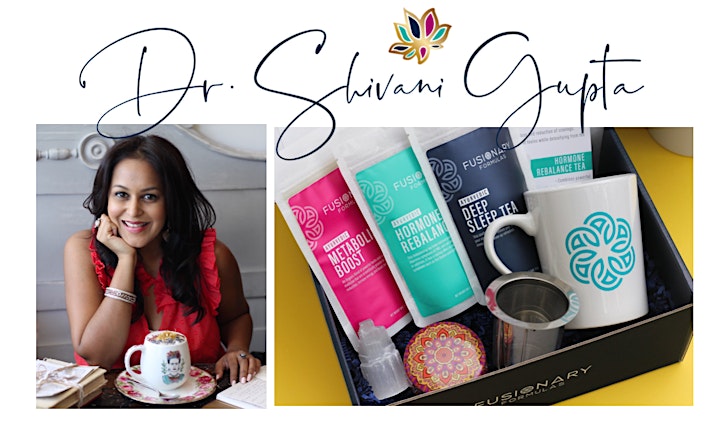 Enjoy a cup of tea and learn more with Dr. Shivani Gupta about her fusionary formula to rebalance the hormonal function.
🍵This all-natural formula combines powerful plant-based agents such as fennel seeds, Tulsi and Shatavari to help balance your hormones and stabilize mood during your menstrual cycle and can boost your libido.
🍵This powerful Organic Tea Blend with Sencha green tea from Japan and Holy Basil has a strong adaptogenic behavior, which influences hormone function and slows the aging process.
🍵This complex Ayurvedic Formula has a cooling effect on menopause symptoms such as hot flashes and night sweats.
Ingredients
🌱 Fennel seeds: Support bowel health and aid digestion, and it is known to be a significant source of antioxidants.
🌱Tulsi: Is an adaptogen herb that helps to balance hormone levels, specifically by decreasing cortisol. Supports the adrenal system, which during menopause, fluctuates hormonally.
🌱Shatavari: Powerful, adaptogenic herb that supports women through all stages of the female reproductive cycle.
🌱 Fenugreek: Is highly regarded for its ability to normalize blood glucose, an attribute which is supported by antioxidant, neuroprotective and the ability normalize blood lipids.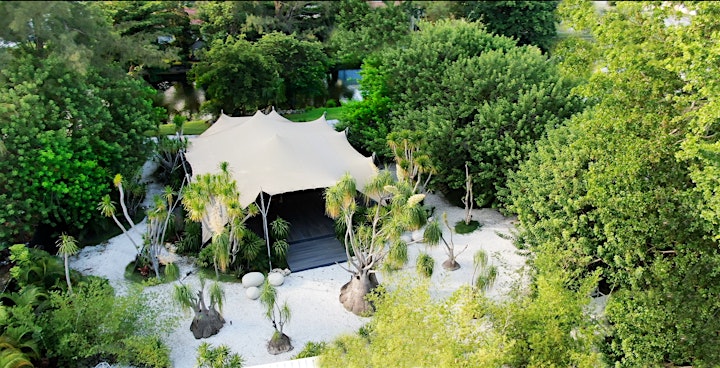 🏕 Where: The MoveMent Oasis at Plant The Future. 185 NE 84 st, Miami, FL 33181.
🚗Parking: There is a few parking spaces within the property. ( Please be mindful to park your car so others can leave easily) There is also street parking alongside the streets of The Movement Oasis at Plant the Future and you can also use Citadels parking in front.
✅ Bring: comfy out door clothes, a clean face, reusable water bottle. ( please do not bring plastic water bottles) 🙏🏼
🧘🏻‍♀️Workshop for all levels. Ages +15.
🎟 Tickets: Registration is thru Eventbrite or you can pay thru Zelle (production@themove-ment.com) or Venmo (@themove-ment)