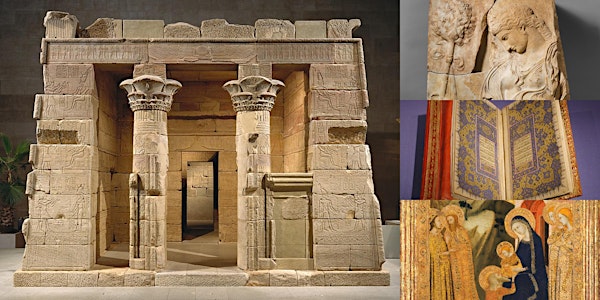 'Sacred Art at the Met: From the Pharaohs to the Old Masters' Webinar
Can't make it live? Register and get access to the full replay for one week! New York Adventure Club | www.AdventureClub.com
About this event
Among the two million artworks in the collection of the Metropolitan Museum of Art, a comparative few have been held up as sacred — that is, objects that have been revered and worshipped across centuries and that seem to transcend our ordinary, day-to-day world. What significance did these objects have to the people that worshiped them, and why do they have an aura of holiness even today? It's time to uncover a collection of masterpieces at the Met like never before.
Join New York Adventure Club as we virtually travel over continents and across millennia, discussing sacred objects from five of the Met's curatorial departments: Egyptian Art, Greek and Roman Art, African Art, Islamic Art, and European Paintings.
Led by author Patrick Bringley — whose memoir about working at the Met, All the Beauty in the World, is forthcoming from Simon & Schuster — this virtual journey through the Met and its startling and beautiful works of sacred art will include:
A quick primer on the definition of sacred art, and what it means to different communities and civilizations
A discussion of the historical and spiritual significance of particular artworks, while also drawing connections and thinking broadly about concepts such as "the sacred and profane"
A stop at the famous Temple of Dendur to discuss the Egyptians' unique concept of time, which was thought to come to a dead stop inside sacred spaces
A visit to a Congolese "power figure" so magnificent that not even its maker dared handle it upon completion.
A look at art that deals with drinking paraphernalia from a Greek symposium, where one imbibed the spirit of Dionysus with every sip of wine
Where to find a complete Quran about the size a walnut along side a seven-foot-tall version made of the emperor Timur
Early Renaissance paintings of the Adoration and Lamentation of Christ that curiously contain some of the same emotions
Afterward, we'll have a Q&A with Patrick — any and all questions about sacred art at the Met is welcomed and encouraged!
Can't make it live? Don't worry, you'll have access to the full replay for one week!
See you there, virtually!
*Immediately upon registering, you will receive a separate, automated email containing the link to join this webinar
**For the best possible viewing experience, please ensure you're using the latest version of your internet browser — Google Chrome is the most compatible. Exact technical requirements and a webinar user guide will be shared in the automated confirmation email upon registration.
***A full replay of the experience will be available to all registered guests for up to a week
About Patrick
Patrick Bringley worked for ten years as a guard in the galleries of the Metropolitan Museum of Art. Prior to that, he worked in the editorial events office at The New Yorker magazine. He lives with his wife and children in Sunset Park, Brooklyn. All the Beauty in the World: The Metropolitan Museum of Art and Me will be published by Simon & Schuster on February 14, 2023.
Disclaimer
By attending a New York Adventure Club experience, you accept our terms of service.
Photo Credit: Main - Wikimedia Commons
Categories: Virtual, Art & Entertainment